Feature
Maintenance Windows
Pause your monitoring when it suits you and avoid false positive
alerts cluttering your inbox with RapidSpike Maintenance Windows.
---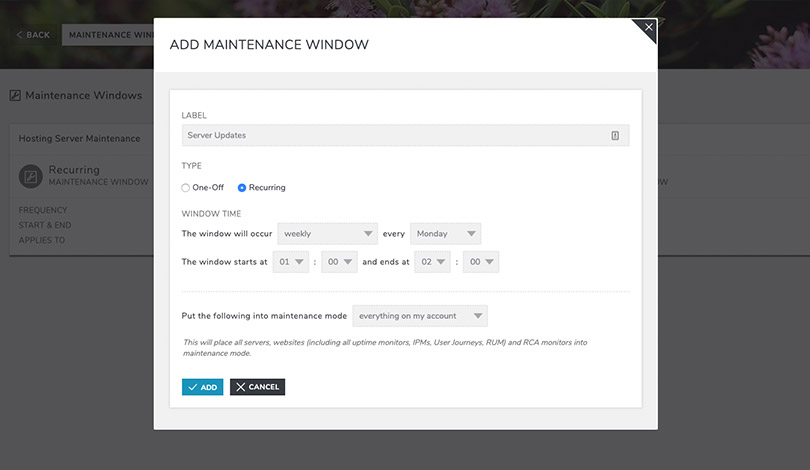 ---
---
AUTO-PAUSE YOUR ALERTS
Take control of your monitoring platform
---
Maintenance mode is a simple and easy-to-use feature designed for development teams with regular or expected downtime occurring on their platform. RapidSpike is designed to run 24/7 checking your infrastructure for issues, relaying accurate dashboard statistics whenever downtime occurs.
However there will always be times when you need to run system updates that necessitate downtime and at those moments it's important that your monitoring software doesn't record these false-positives which skew your stats.
In addition, these scheduled or known downtimes often take place at off-peak periods – such as in the early morning – and it pays to avoid waking your entire team with phone/sms notifications!
---


Configuring maintenance windows
Maintenance windows can be configured to run as a one-off or as regularly scheduled events, taking place daily, weekly or monthly.
You can configure the exact start and end-time of the window to be sure that you catch any genuine issues with your infrastructure rebooting.
Finally, the windows can be configured to pause monitoring on your entire account, or on selected websites within your account.
---
HOW DO YOU GET MAINTENANCE MODE?
The Maintenance Mode feature forms a part of our paid Plans.
To reach Maintenance Mode, click Alerts in the main app menu, then on Maintenance Windows in the side-menu – you'll then be able to create a window, configure settings and choose what to pause.