Assurance
Domain name monitoring
Monitor for the expiry of your domain names, protect against Domain Hijacking and ensure you are notified of any changes to your WHOIS records with RapidSpike Domain Monitoring.
---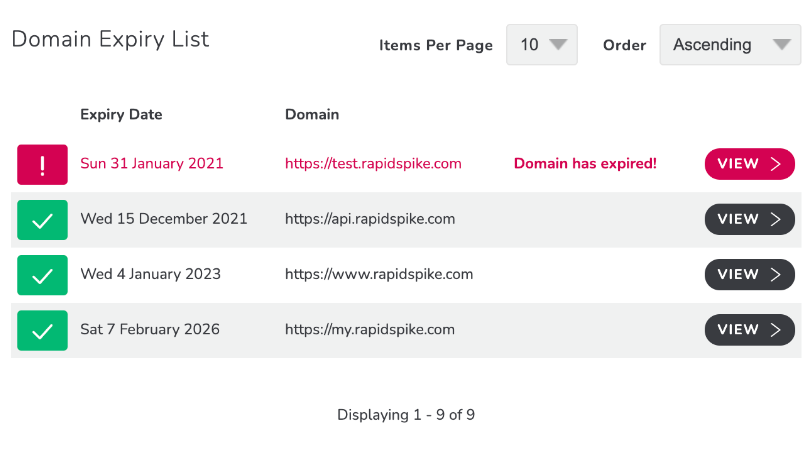 ---
WHOIS DOMAIN MONITORING
Is your domain safe & secure?
---
Your domain name is responsible for driving customers to your website as well as ensuring you receive business critical emails. Letting your domain name expire is a problem that has been faced by many organisations through simple oversight.
RapidSpike provides Domain Monitoring to ensure that you are kept notified of the important information regarding your registered domain names and their associated whois records.
As well as performing this domain expiry check we also actively monitor your domain whois records and notify you if anything does change.
---
Never miss an expiry
Regular and timely notifications will warn you of an upcoming domain expiry, so you never risk losing a domain. These notifications can be sent to multiple recipients so you can be sure to never miss and important renewal.
Track registrar, nameservers
The Domain Name Monitor tracks all parts of your domain WHOIS record and instantly notifies you if we notice that something has changed from a previous value. This allows you to investigate and hopefully prevent any security breaches before they occur.
Notifications
Once configured, we regularly check the expiry date of your domain names and notify you using your preferred notification method starting at 30 days before the expiry date. We then enable further monitors to send weekly and then daily reminders to ensure that you do not miss the expiry of your domain. When the domain name has been renewed, the notifications stop and we then note the new date of expiry.
Monitor any domain registration
The Domain Name Monitor can be added through the user interface for any domain that is configured in the system. Even if you have hundreds of domains, we can monitor each of them to provide the same level of protection for all of your domain names.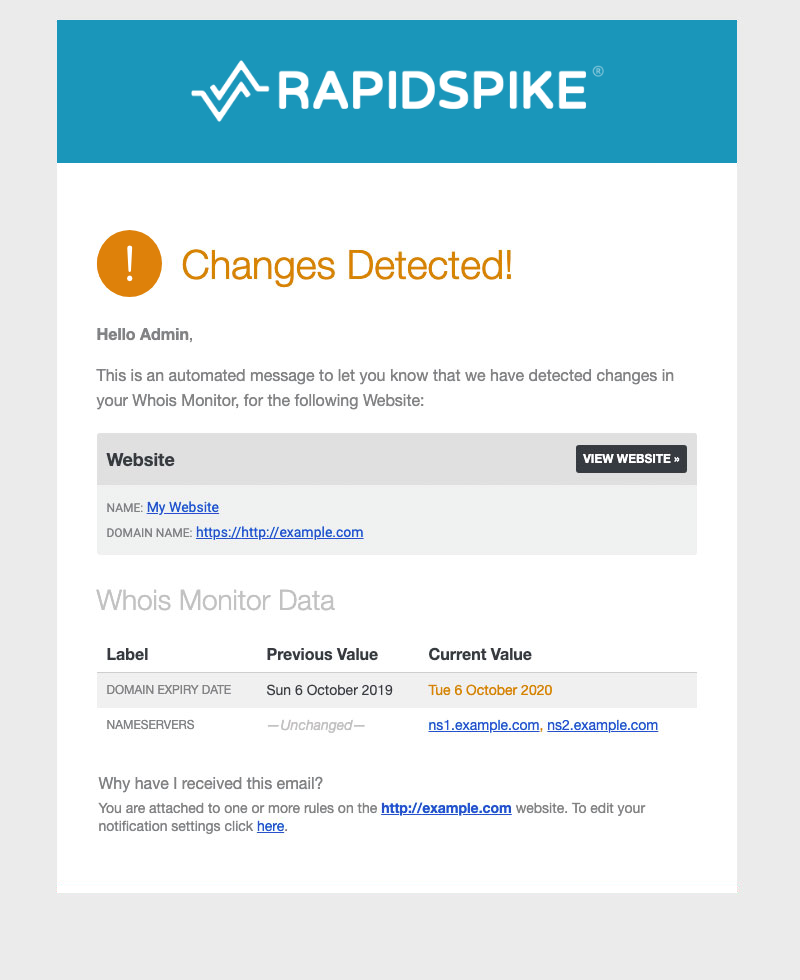 Domain Name Dangers
It's important to be aware of the potential dangers surrounding your domain name – if an individual gains access to it they then have the power to redirect your traffic and take control of any email using that address.
Domain Hijacking is where a third party takes over your domain either through exploiting a vulnerability or social engineering and convincing the domain registrar to change the domain settings.
A common scenario for Domain hijacking is where a third party would change the name servers associated with your domain name in order to redirect your website users to another website.
This type of attack is commonly used in Phishing attacks so that your users are tracked into entering the secure credentials to the untrusted and rogue site in order for the third party to further leverage these for financial gain.