Assurance
API uptime and
response monitoring
Monitor your API endpoints using our HTTP POST monitor, capable of sending a request body and matching the response against an expected value with RapidSpike API Monitoring.
---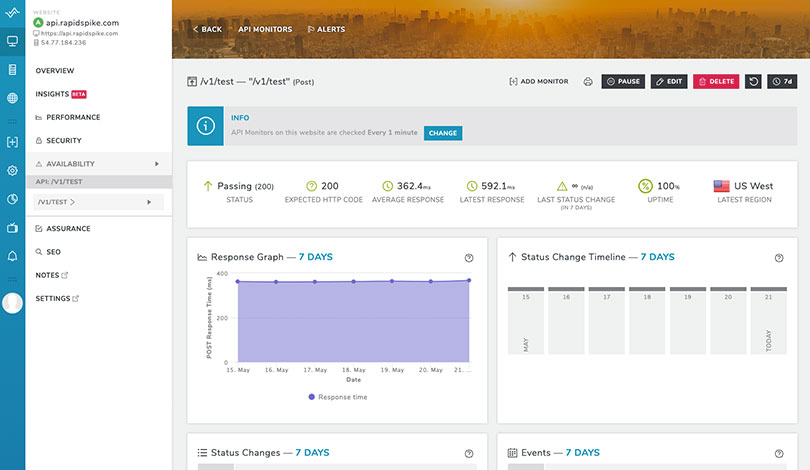 ---
API (HTTP POST) Monitoring
Monitor your API with this useful tool – tracking uptime and response values and utilise our powerful alerting system for when errors occur.
---
Monitoring your API Endpoints
Similar to our Page Monitors, which use HTTP GET, the API Monitor checks for the uptime of an endpoint using HTTP POST, PUT and DELETE.
The dashboards in RapidSpike will track and graph the response time of your endpoint, along with logging any status changes that might occur. Testing will take place from servers in our infrastructure around the world, ensuring that your API remains live and fully assured at all times.
---
Track issues quickly and accurately
API Monitors are covered by our extensive alerting system – which enables you to create separate delivery methods for different team members, allowing you to escalate problems the longer they persist.
Sending and receiving data
In addition to uptime, the API monitor can be configured to send a request body to your API and to expect a response.
You can choose between plain text, JSON and XML formats, and can configure any sort of request to be sent. We then allow you to set a desired response, so you can check for an exact match or if your response contains a certain value.
---
Basic Authentication & Response Timeouts
Configure your monitors with a Basic Auth Username and Password and/or with a Response Timeout, which will trigger an error when the monitor exceeds a certain response time.