Availability
Automated, versatile & reliable uptime monitoring
Effortlessly add new websites and servers – your monitors will be created
in seconds, lowering the time it takes you to assure your business.
---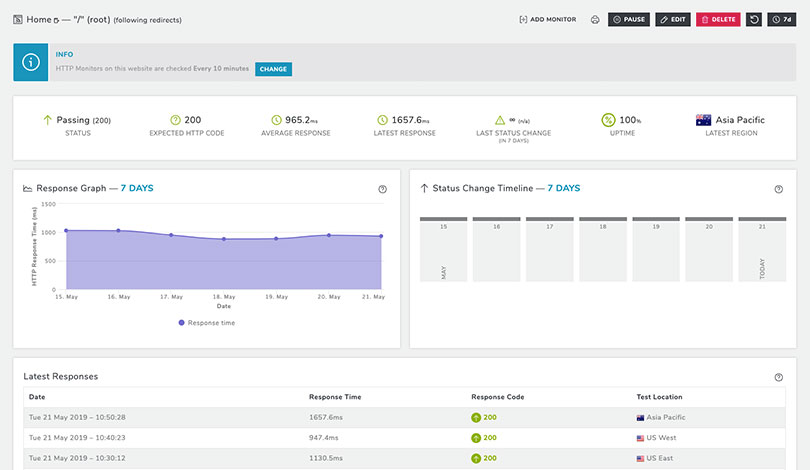 ---
---
24 / 7 / 365 NOTIFICATIONS
Get notified of your down-time on the go
via phone, text or email
Receive instant notifications via SMS, email, voice call, Slack channels, WebHooks, PagerDuty, Pushover, Microsoft Teams/Office 365, public status page, or through our in-app messaging – the choice is yours.
---
---
Always-on monitoring
RapidSpike monitors can run at up to 1 minute intervals. If you don't require this level of sensitivity, you can configure RapidSpike to only notify you after a certain duration has passed.
Sensible notification settings
Our system groups your notifications – if you have a website with lots of page monitors that all go down at the same time, we aim to send a single notification rather than dozens.
Crisis escalation for support & dev teams
For larger support teams, multiple notification rules can be triggered on a single issue – notifying different team members the longer your outage lasts.
Resilient and reliable testing infrastructure
Leveraging our global network we double-check failing monitors from other locations around the world before we notify you – so you can be confident that we haven't notified you without good reason.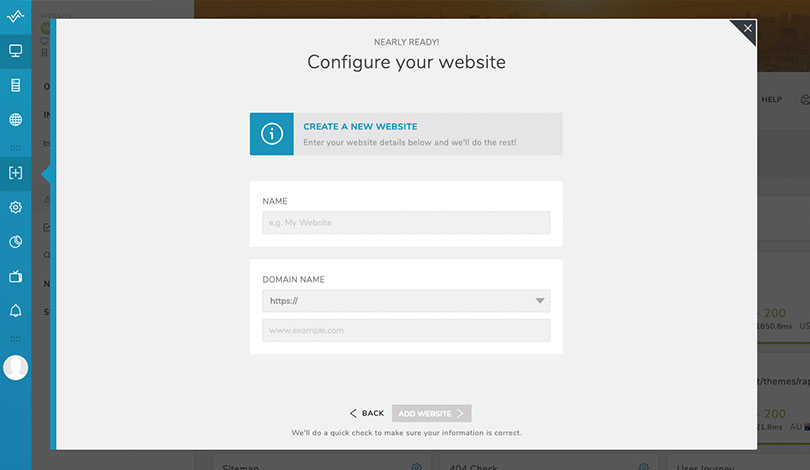 RAPID ACCOUNT SETUP
Add monitors to your account in seconds with scanning & monitor auto-detection
Adding a new website takes just a few moments – during which time the RapidSpike system will scan and detect recommended monitors for your hosting server ports, website pages, SEO, domain name – and more.
Robust and reliable testing infrastructure
RapidSpike is a cloud-based service, meaning that our infrastructure does not rely on a single server or testing location to verify your uptime.
---
Utilising the power of the cloud
We have servers all around the world able to test your website/web server. Our current test locations are spread across Europe, North America and Australia.
If we detect a problem with your website our system will first verify it by retesting from another location. This ensures we don't send you false positives in the event of a wider network issue.

Superfast analytics
RapidSpike has been designed to be superfast and effortless to use, accessible from mobile and tablets as well as desktop computers. We have also developed a TV Mode, with an interface designed for display on large screens and visible from a distance.
---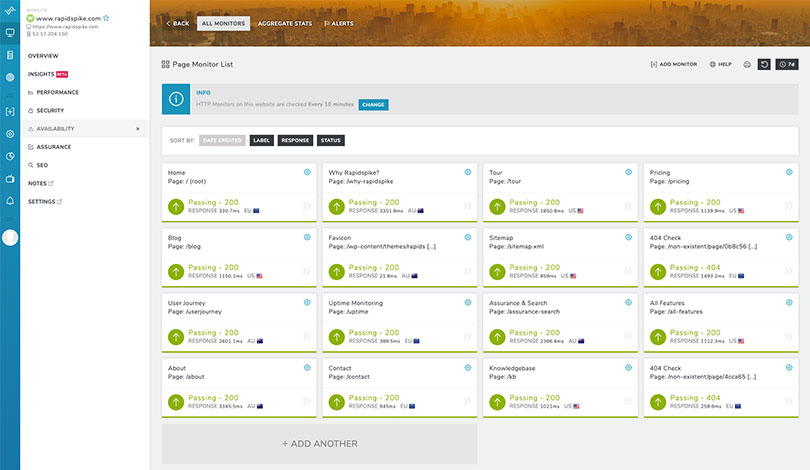 Website/app management from one dashboard
We do all the heavy load to help you identify the root cause of the problem fast. Regardless of where the problem exists, we will provide you with all the information you need to remedy the issue.
We are committed to providing you with accurate, relevant performance information. RapidSpike reports are elegant and easy to understand to help you get the message across, fast.
---
Basic Authentication & Response Timeouts
Configure your monitors with a Basic Auth Username and Password and/or with a Response Timeout, which will trigger an error when the monitor exceeds a certain response time.
---
Features checklist
---
Notifications via email, SMS, voice call, Slack, PagerDuty
Ping, TCP, HTTP monitors
Cloud-based testing service
Duration every 1 min up to 60 mins
Monitor auto-discovery
Set notifications per website/server
Share accounts with multiple users
Escalate alerts to different users
Toggle notification sensitivity
Public status pages
Dynamically suggests important monitors
Global testing network