The 'Open' action instructs the browser to open a URL. This can be used to quickly navigate to a specific page. We recommend using clicks to navigate to a particular page but there are times when an 'Open' is more appropriate. A good example of this is if you need to visit another site in the same journey. We recommend using one site per journey but there are scenarios requiring multiple sites.
To use the 'Open' action, copy the URL link you want to visit and input this into the action. This will add a standard link into your journey and will load the URL once it reaches the action.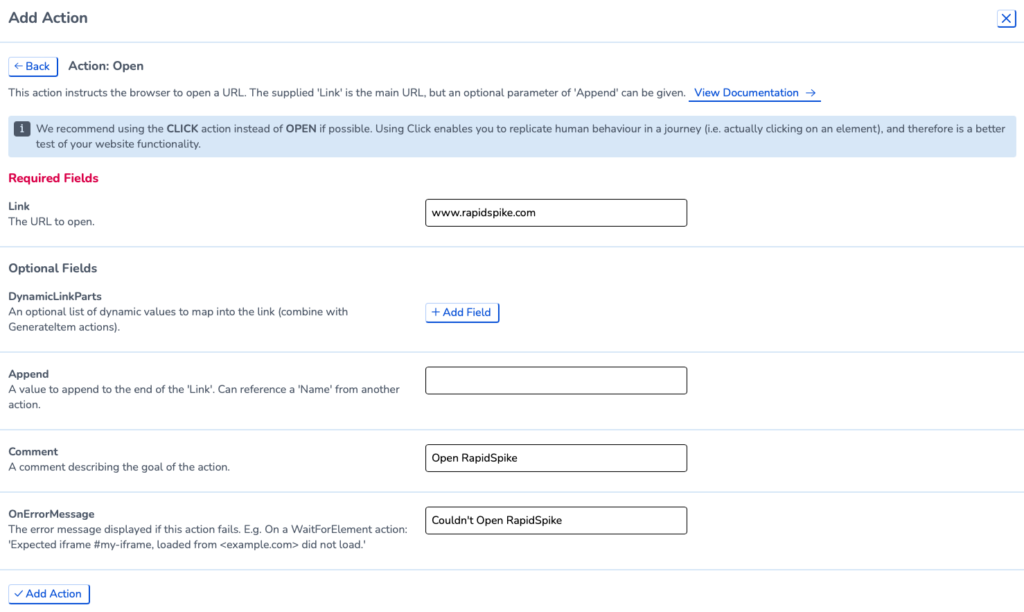 There are also some optional fields to this and you are able to add Dynamic Link Parts as well as add a value to append to the end of the link. Particularly with the Dynamic Link Parts, this provides the opportunity to add randomisation and increase the monitoring capabilities of your site. An example of this would be cycling through a variety of products in the same journey.
We would recommend putting this action at the start of a step, immediately followed by a 'Wait for Element'. This will ensure the page loads correctly as there may be slight delays especially if you are accessing a completely different site.