Configuring Real User Monitoring
RapidSpike Pro Plan's support the configuration of Real User Monitoring.
Real User Monitoring was first announced in September 2016 as a new feature to the ever growing list of features offered as part of the RapidSpike proposition.

Real User Monitoring allows you to track the performance metrics that your real users are experiencing. This advanced level of monitoring is achieved by installing some JavaScript tracking code to your website.
Once the code is active on your website, it is your real users who act as the client and their browsers communicate directly with our service in order to report back the real performance timings that they are experiencing.
To configure the Real User Monitoring service you need to browse to the website that you wish to configure and then select the option to Install R.U.M. This will present you with the screen as shown below: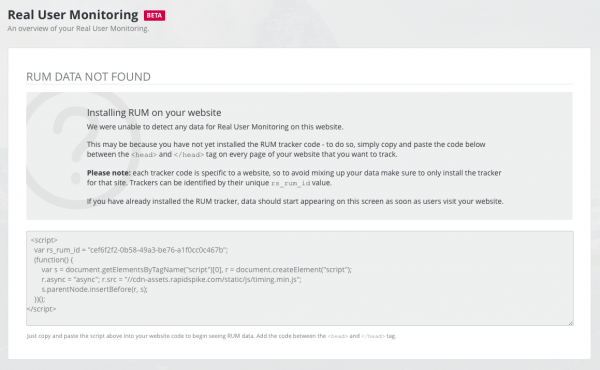 As Real User Monitoring is not configured on this website, you are presented with the JavaScript and instructions of how to install this into your website. Once this Javascript is installed on your website you will see results coming through to this same screen within a few minutes.