If you have multiple sites, pages and monitors it can be difficult to easily view the things that matter most in one place. To optimise your account we would highly recommend setting up Custom Wallboards.
The first step to setting up a custom wallboard is to ensure your tagging is in order. You can tag websites with anything such as location, type of site, projects or anything else you find important. It is worth noting you can tag sites with multiple tags and have monitors in multiple custom dashboards.
For the purposes of this article, we have user journey monitors set-up on a few high-profile websites. Each site has a location tag ("US", "UK", "DE") and a site type tag ("Ecom", "Video"), giving us a few potential custom dashboards we could save.

You can see on the right-hand side that the journeys are set-up in a few different places, for this example lets save a UK dashboard to only see journeys based in the UK. Firstly click "Filter" and search for the tag you will like to save.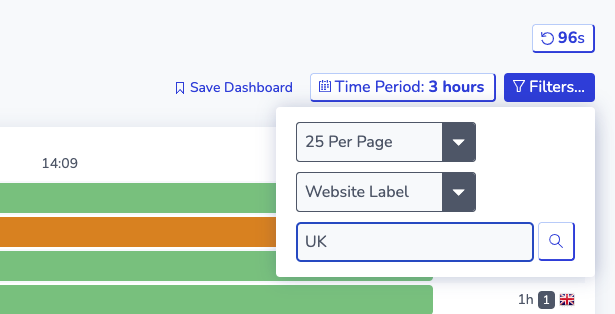 You will now see all the journeys with that tag.
Above the journey results click the 'Save Dashboard' button which will open up a field to type in what you would like to name this dashboard. Let's name this dashboard "UK Tests".
Click 'Save Dashboard" and you will see that is has been saved under "Saved Dashboards" to the sidebar.