Uptime Monitors are one of the most basic but also essential monitors when it comes to monitoring your website. When setting up your Uptime monitors through 'Websites' or 'Pages' you will be inputting the path, interval, location and more advanced options. This article will look at how to edit this and include:
Pausing your uptime monitors
Altering the frequency/location of Uptime Monitors
Deleting Uptime Monitors
Advanced Uptime Settings
Firstly log in to your RapidSpike account and select the website you want to edit your Uptime. Click the 'Options' button in the top right hand corner of the dashboard and select 'Edit Website'.

Pausing an Uptime Monitor
You will now see the settings panel. To pause an Uptime Monitor click the 'Pause' button in the centre of the page. This will keep the data you have collected and allow you to resume when needed. Just a note that if you are pausing due to maintenance work a window can be set up rather than manually pausing/resuming the monitor.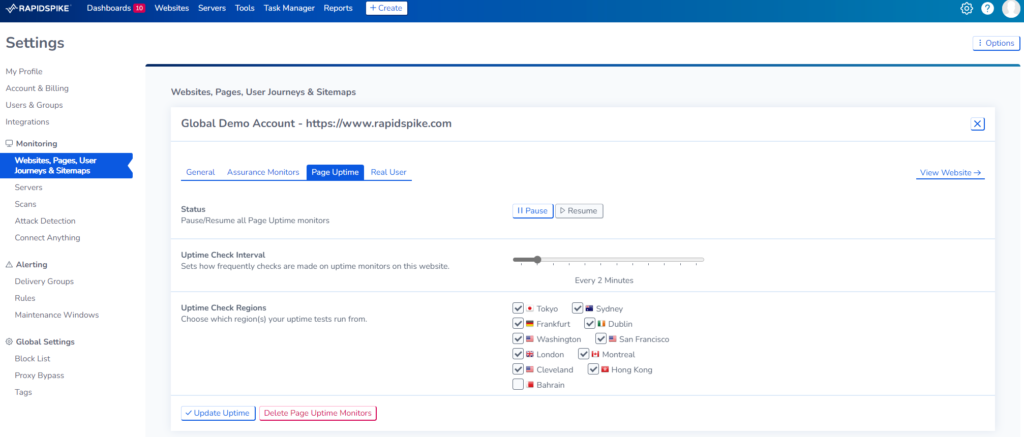 Deleting an Uptime Monitor
This panel also allows you to delete an Uptime Monitor. If you scroll to the bottom of the panel you will see a red box stating "Delete Page Uptime Monitor".

Editing Location/Frequency of the Monitor
To edit when and where the Uptime Monitor is running from. Click the 'Pages' option in the settings tree. You will se an interval slider to change the frequency of the monitor and a list of the Test Regions. Edit these settings according to your needs.
You will see another area for Pausing/Resuming and Deleting your monitors here almost identifiable to the specific monitor page. This however allows you to edit monitors in bulk if you have multiple Uptime Monitors active on one page/site.