I've set up my monitors, how do I create the alerts I need?
Once you've set up your monitors navigate into "Config" and select "alerts". From there you'll be presented with a few options. If this is your first set of alerts you'll have to create "Delivery methods". Delivery methods, in short, are the who and how (For example: Bob via email, SMS and Slack).
Note: Users can have more than one delivery method assigned against them. This is great for escalation or assigning certain alert types to different delivery methods.
These delivery methods can then be assigned to different notification "rules". To do this simply navigate to the monitor in questions rules on the left hand pane. This screen will allow you to add new, edit and delete rules.
These said rules can be as simple as;
"If the journey fails, and if this is the first occurrence then trigger the following delivery methods"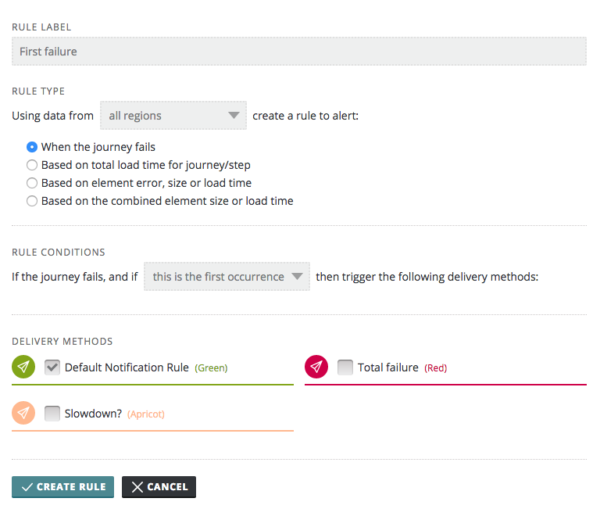 All the way through to;
"If the combined: file size of a specific element: Image is greater than" 8000kb for a specific step: Step 1 – Hit the home page and if this has happened before 3 times (in a row), then trigger the following delivery method…"