A Step-By-Step Guide
Create a User Journey
Synthetic User Journeys must be added to an existing website within your account.

Note: If the website hasn't been created yet, click the "Websites" button in the left blue menu, and then click the green "Add website button" at the top right.
Select the website you want to create the journey on

Click "Create" on the top navigation menu and click 'User Journey'

Make sure the correct site is selected for your journey to be added onto

Give your Journey a label – e.g. "Testing the Checkout", and add a description (optional).

You can adjust the check interval of the journey to run between every 5 minutes, and every 24 hours. Choose your journey type, depending on your plan you may be entitled to a video journey which records the synthetic user journey taking place, making issues easier to spot.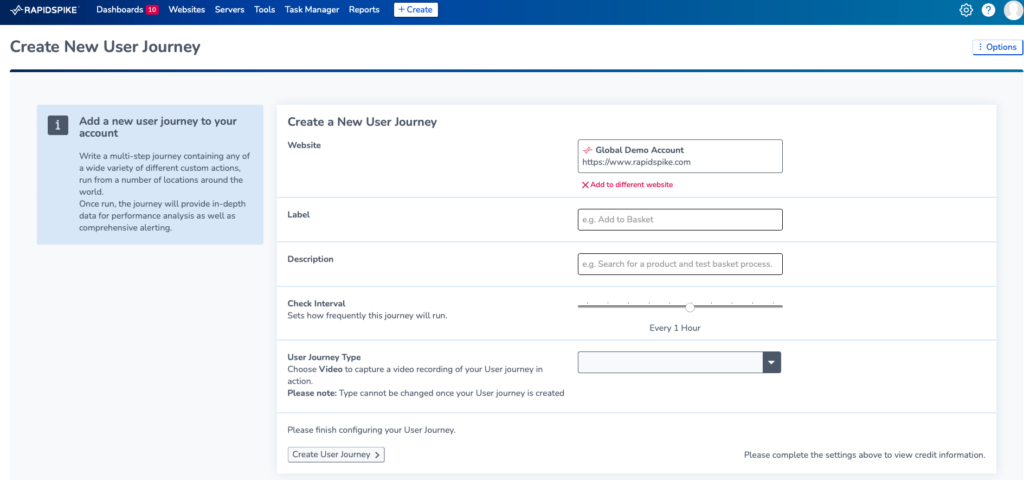 7. You can also select a range of regions you want your user journey to be tested from.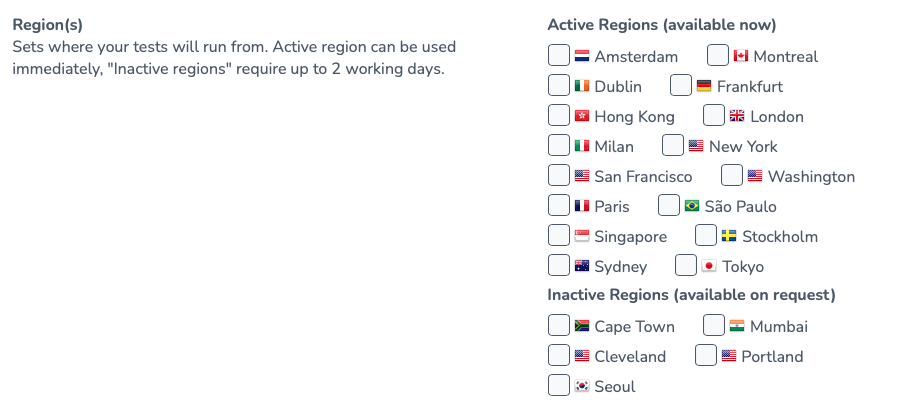 Note: The number of regions you choose to test from, and the frequency of the check interval you choose will influence the number of credits it takes for your user journey to run.
8. Once this process has completed, click "Create Journey" to see your new User Journey.
Writing a Journey Script
User Journeys consist of a series of Steps and Actions. Each Step corresponds to a single page on your site. Actions are the things you do on each page: e.g. take a screenshot, click a button, fill in a form.
To start scripting your journey, click "Script Editor".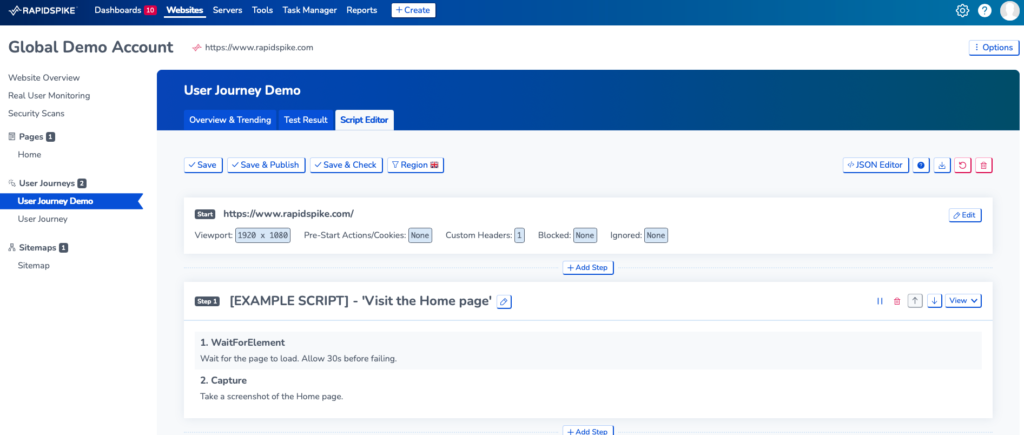 2. In the Script Editor screen, click "Add a First Step" to start writing your Journey, and give the step a name . E.g. "Visit Home page"
You will have the option to add recommended actions which most journeys use to save you some time, don't worry you can always edit these later if you change your mind.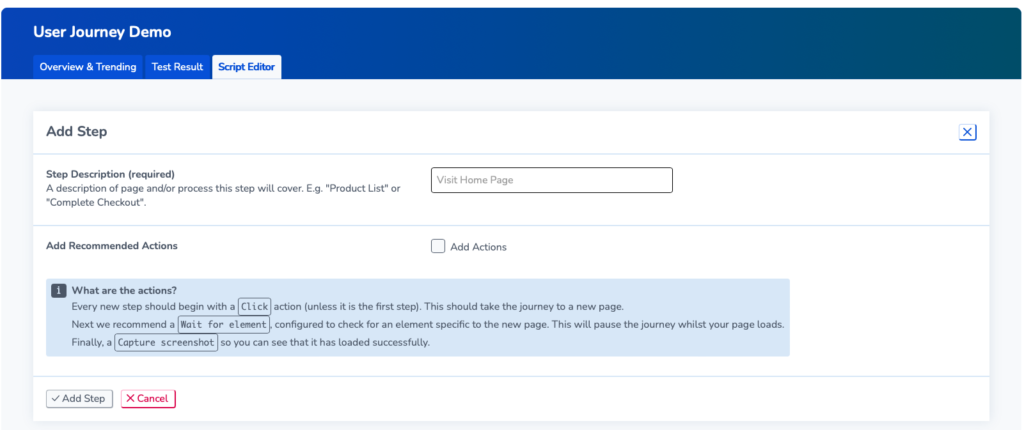 3. Then click the "Add Step" button.
4. Add actions to your first step by clicking the 'Add Action in the step box, this will open a selection window of a choice of actions you can add.

The first action is usually done with a Click action. (E.g. Click on the "Products" button in the website's navigation). To create a new action you will need the selector of the element you wish to interact with, and you can enter comments and on-error messages to help guide people interacting with your journey script in the future.
Tip:
If you're struggling to work out what 'selector' to use when interacting with an element on the page – try using the "Inspect Element" feature available in most modern browsers. To do this Visit your website, then right click and click "Inspect Element" on the element you want to click on. This will show you the source code, and you can get the CSS Selector from there. In Google Chrome, you can right-click on the source code in the Inspector and choose "Copy > Copy Selector" to get the exact CSS selector to use in the script.
5. When you're ready to move to a new page in the Journey, click "Add Step", you can choose the position each step is in to edit the order your journey goes through. You will have the option to pause, edit or delete each action and step in your journey to experiment and make changes.

Continue to add actions and steps to build up your Journey. As you go along, it's a good idea to use the "Save & Check" button in the top menu. This will run your Journey and return results – letting you know if your steps are successful.
6. Once you're happy with your script, remember to save your changes and finally, click "Publish" to begin testing your site.

See our blog post on User Journeys here!