Your RapidSpike monitors will gather a large amount of data and our reporting feature allows you to generate reports over a specific time period. These reports can be created on demand or scheduled and even emailed straight to your inbox on completion.
To access our reporting panel select 'Reports' on the navigation bar at the top of the page.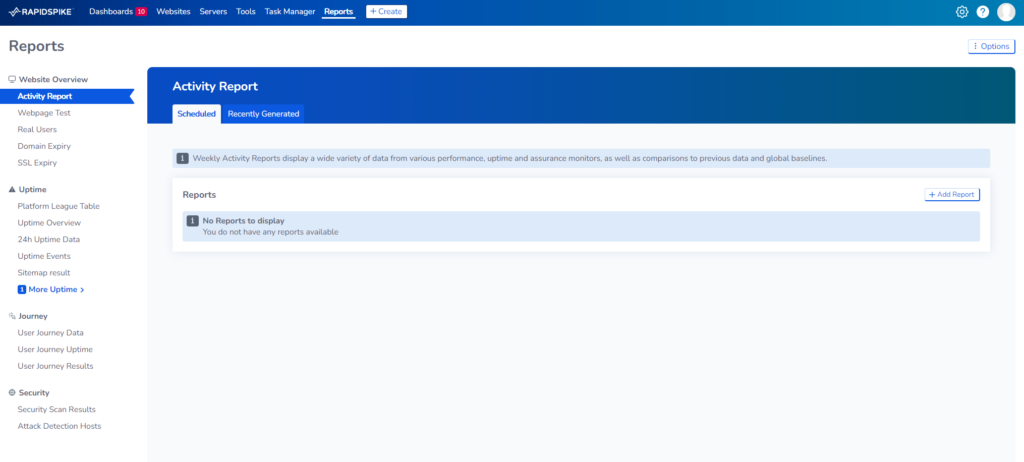 The reporting is separated into four sections:
Website Overview – This includes an Activity Report, Webpage Test, Real User, Domain Expiry and SSL Expiry
Uptime – Platform League Table, Uptime Overview, 24h Uptime Data, Uptime Events
Journey – User Journey Data, User Journey Uptime, User Journey Results
Security – Security Scan Results
Creating Reports

Firstly navigate to the Reports section and select the type of report you would like to create. For this article we are looking at the 'Uptime Overview'.
If this is the first report generated the dashboard will be empty however this is where your one-off and scheduled reports will be visible.
Press the 'New Report' button in the top right hand corner.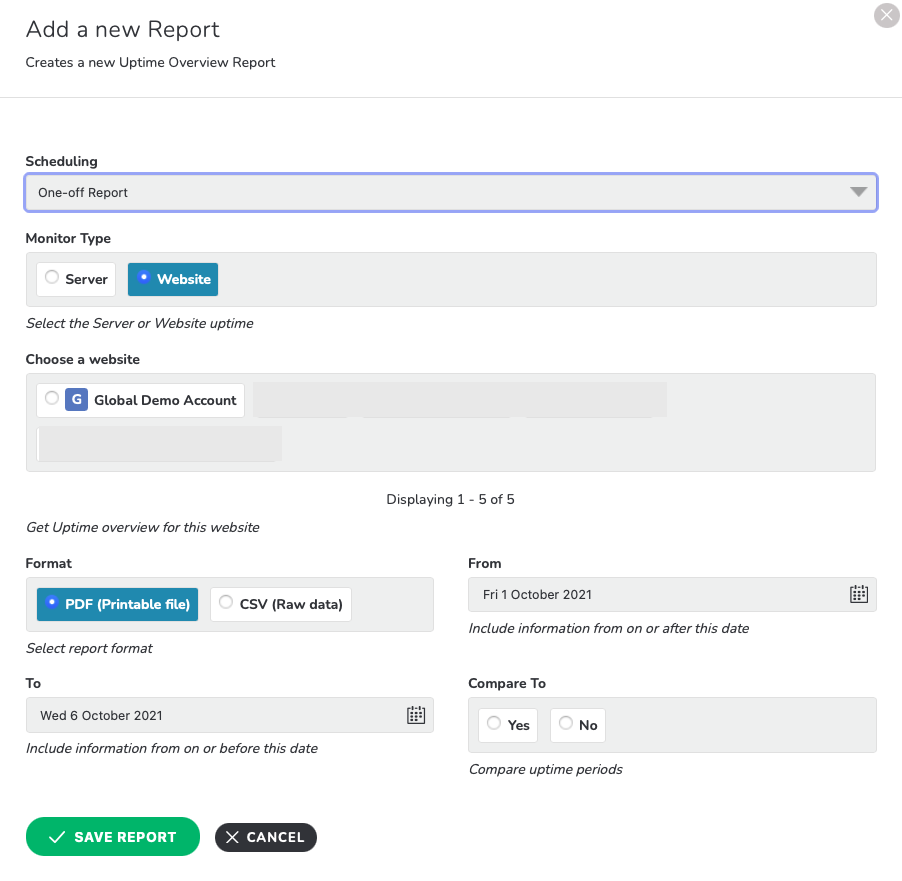 Firstly select whether you are wanting to generate a one-off report or a scheduled report.
Choose the website(s)/server(s) you are generating the report on.

Select the format you would like to download the report in, Generally this will either be a PDF or CSV file
Select the 'from' and 'to' dates you would like the data to cover
If you are creating a one-off report you are given the option to compare two periods. For example this can be useful for comparing two different months to monitor changes in performance.
If you are creating a scheduled report the next step is to add a label, this is the name that will be associated with the report

You will then need to select the frequency the report will be created. This can be either weekly, monthly or quarterly.
At the bottom of the form are the recipients, select the RapidSpike users you would like to receive the report.
You can also add additional recipients, these users are not on your RapidSpike account however will receive the report via an email to their inbox.
Press Save Report
You will now see a green 'Download' button at the top of your dashboard – This will display the report you have just generated

You can re-run one off reports at any time by pressing the 'Re-Run' button