Properly setting up your alerts is vital to getting the most out of RapidSpike. Our alerting suite can be as simple or as complex as you like and be tailored to your needs by alerting specific people/departments to the data they need access too.
Before setting up the alerts you need to create "Alert Delivery Groups", this makes it easier to send alerts to groups of people rather than alerts for individual people. For example you could set up groups for different departments with relevant alerting such as:
– Web Developer Team – Uptime alerting – Significant webpage load times
– Marketing Department – Web Vital Alerting – Google Lighthouse Monitoring
To set up your alerts, click the setting icon in the top right hand corner and select 'Delivery Groups' on the left sidebar under 'Alerting'.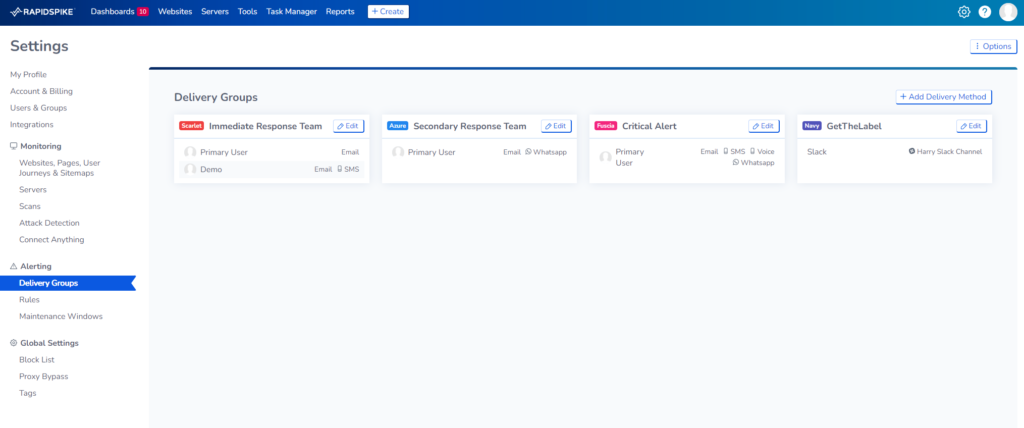 Select 'Add Delivery Group' to add a new a separate group for alerting. This process is very similar to editing delivery groups as you will likely already have at least one group for standard Uptime alerting.
Enter in a label for your new group and a colour for identifying different delivery groups at a glance. Next set up 'Sensitivity', this is the time allowed once we identify an uptime monitor as failing that we sent this group an alert. For example if you have an uptime monitor set to 5 mins and the monitor fails 2 mins into your site being down, if your sensitivity is set to 1 min you will essentially be alerted 3 mins after the downtime occurred. You can change this slider for different groups as a backup incase the primary users are unavailable.
In the 'Users' section you can choose how each person will be alerted within the group. As standard we user Email, SMS, Voice Call and WhatsApp however other integrations are also available. Just so you are aware some alerts such as SMS and Voice Call cost alerting credits which are allocated to your account in a monthly basis depending on your current plan. These are separate from your account credits and you can add more credits by speaking to your account manager.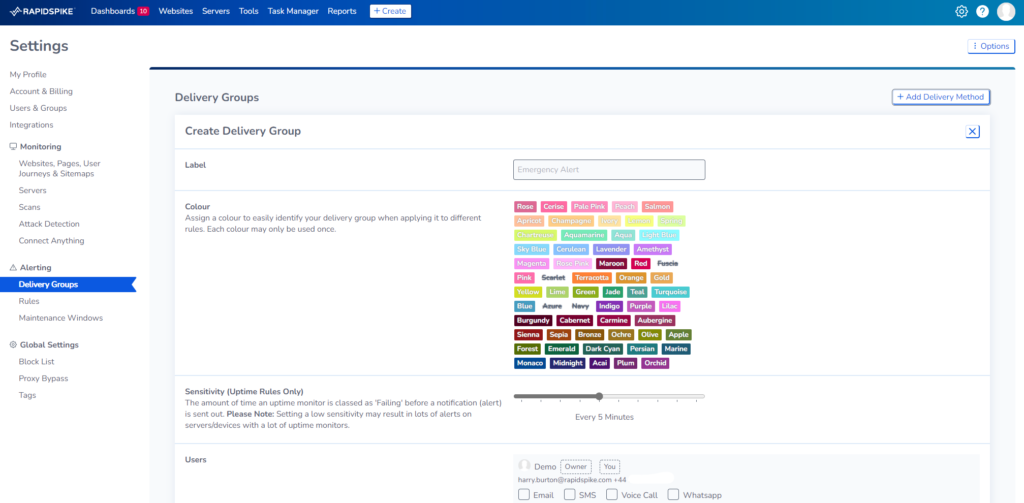 Further down you will see a list of our current integrations. When you first log in to the account you will most likely have no integrations set up however you can access this page through the link on this form or in 'Global Settings', 'Account' and 'Integrations'. Once added, tick the relevant integrations that you would like to be alerted by. If you don't see an integration which you use on a daily basis feel free to get in touch with support@rapidspike.com as we are often adding to the list.
Click 'Update' to add the new delivery group to your dashboard.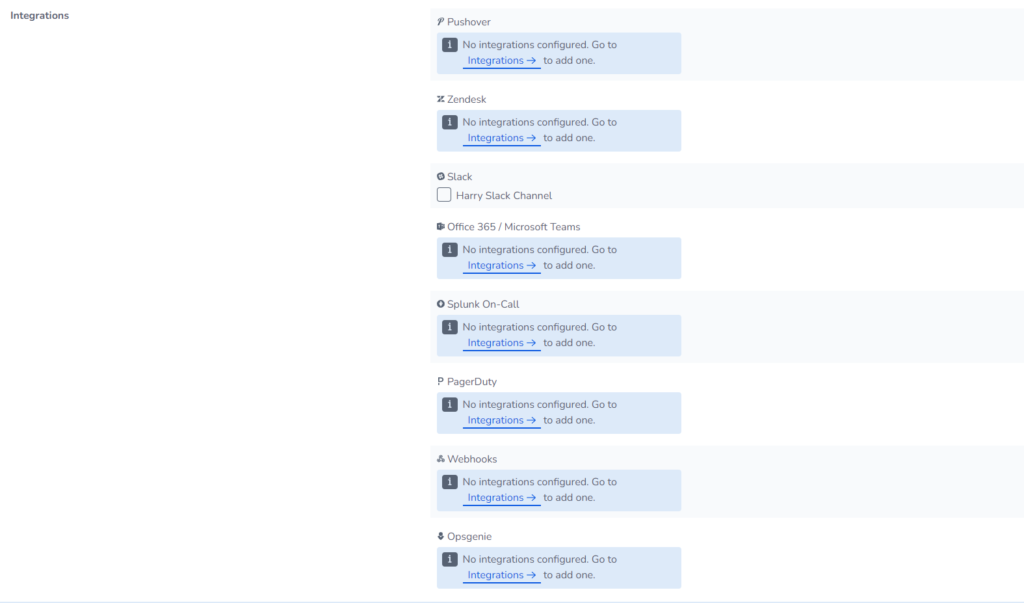 Now you are ready to set up alerts for your monitors. We offer a variety of alerts for your monitors from simple failure notifications to more advanced alerts. You can set up alerts for:
– Uptime Rules
– Assurance Rules
– User Journey Rules
– Webpage Test Rules
– Google Lighthouse Rules
– Web Vitals Rules
– Real User Rules
– Security Rules
– Connect Anything Rules
If you are unsure which alerts to set up we recommend reading our article on "Good Practises for Alerts" which gives a few suggestions of the different types of alerts we offer.