Synthetic User Journeys are vital tools in monitoring your site as they are highly effective in gathering the data you need most. Once you have set up your journey you may need to edit it's settings such as to change location, free up credits, delete and more.
This article will look at editing your journey settings and include
Pausing your User Journey
Altering the frequency/location of User Journey Monitors
Deleting User Journeys
Advanced User Journey Settings
PLEASE NOTE
If your journeys are managed please keep us aware of any changes you make to the journey or we would prefer contacting support so we can make the changes. This just enables us to keep track of changes that have been made so we can effectively manage the journey (Unless other arrangements have been agreed).
Firstly log into your RapidSpike account and select the 'Website' and 'Page' that your user journey is located on. Select the User journey you want to edit, this will bring you to the overview dashboard. Next, click the 'Options' button in the top right corner and then 'Edit User Journey'.

This will bring you to the primary setting of the journey, You will initially see settings for editing name, description and viewport.
Pausing your User Journey
To pause your user journey, scroll down to the section entitled 'Journey Status' and click the pause button. This will keep the data you have collected and allow you to resume at any time. If you are pausing due to scheduled maintenance be aware you can add a maintenance window into the journey to avoid having to manually pause/resume the monitor.
You will also see the option to put the journey in 'Draft Mode'. Essentially this just marks it as still being edited and is very similar to paused as it won't be collected data while in this mode.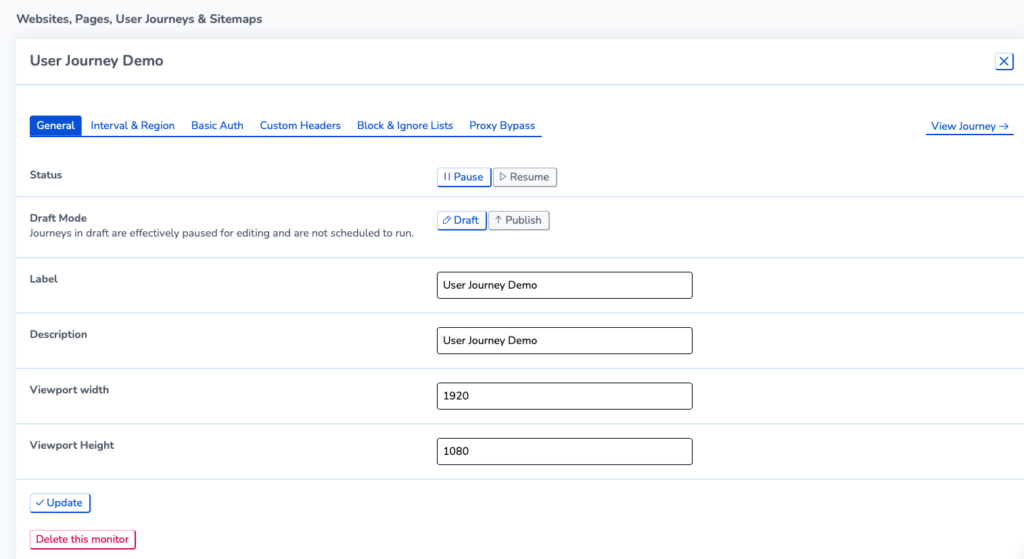 Altering the frequency/location of User Journey Monitors
To edit the frequency and location of your monitor, scroll down to the 'Interval & Regions' section. Here you will see a slider which allows you to edit frequency from 5 mins to 24 hours depending on your preferences. In this same section you will see a list of our 'Test Regions' incase you wanted to add, remove or replace the regions we are testing from. Just to note that this also displays inactive regions, ticking this bot will send us an alert and we will be in touch regarding creating this new region in RapidSpike.
At the bottom of this screen is the credit usage which will fluctuate depending on the options you have selected. If you don't have enough credits we would recommend evaluating your current credits in use or contacting your account manager for more credits.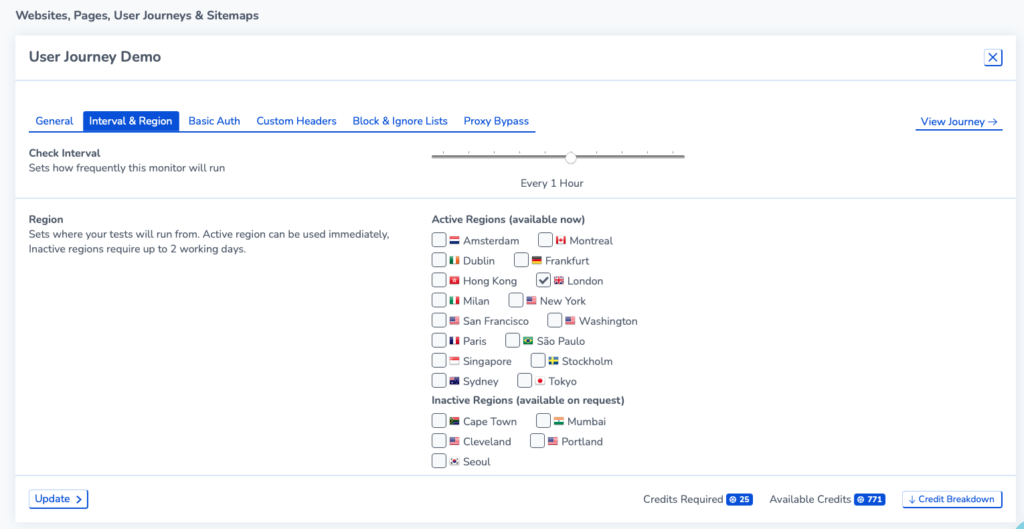 Deleting User Journeys
If you have decided that the user journey needs to be deleted, scroll to the very bottom of the page and you will see a red box with the title 'Delete this monitor'. If your journey is managed please do not delete the journey but instead reach out to support so we can discuss further. If you are sure click 'Delete this monitor'. This will delete the monitor and remove all the data that has been collected.

Advanced User Journey Settings
Finally we offer some more advanced settings for your user journey. Among other things these are primarily for ensuring the user journey runs successfully such as to bypass bot detection or perform more complex tasks. In the settings tree you will see these options:
Basic Auth
Custom Headers
Ignore Elements
Block Elements
Proxy Bypass
If you have any questions about these settings or anything else discussed in this knowledgebase article please get in touch with support! support@rapidspike.com