When you first create your RapidSpike account you will be the only user and will be set as the owner of the account. The owner of the account is the primary contact when it comes to account changes, renewals and when we need to urgently get in touch with a user (Unless other arrangements have been made).
If you are looking to change your account owner, please get in touch with support (support@rapidspike.com). If you are changing role or leaving your company if you can let us know we can make sure the owner is switched over at the right time.
This article will cover:
Adding/Deleting Users
Promoting/Demoting Users
Firstly login to your RapidSpike account and click the settings button in the top right hand corner. This will bring you to the 'My Profile' section of your account.
Click the 'Users & Group' panel which will bring you to the main users dashboard for viewing, adding and removing users.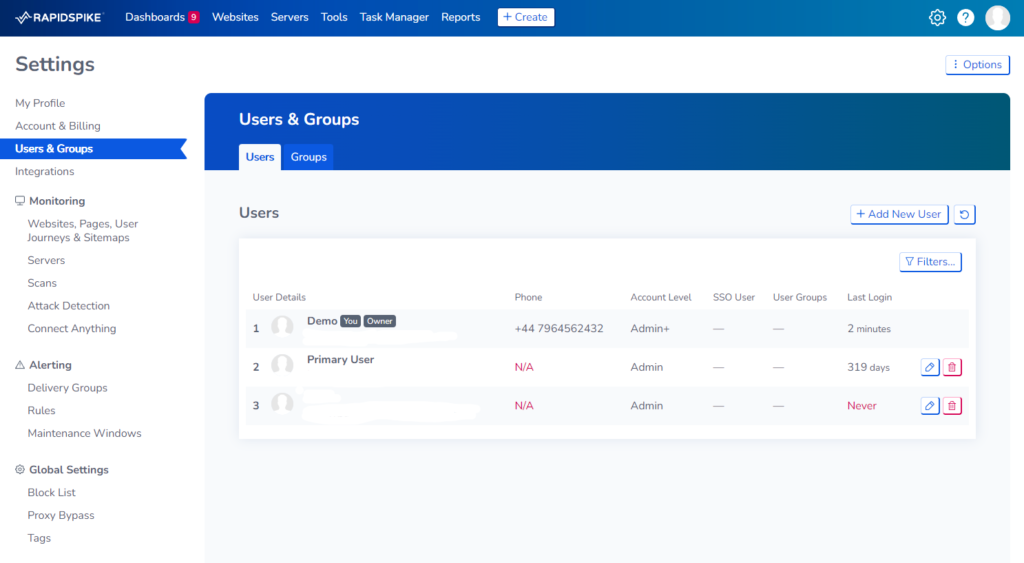 Adding a New User
This dashboard will list all current users on your account. To add a new user, click the 'Add New User' button at the top right hand corner of the Dashboard.

This will open a window for you to add the users email address, name and account privileges. Click 'Create User' which will create the account. The user will then receive an email from us to set up their password to gain access.
It costs 2 credits per user added so it is worth checking as a minimum annually to ensure that colleagues who no longer use RapidSpike are taken off the account.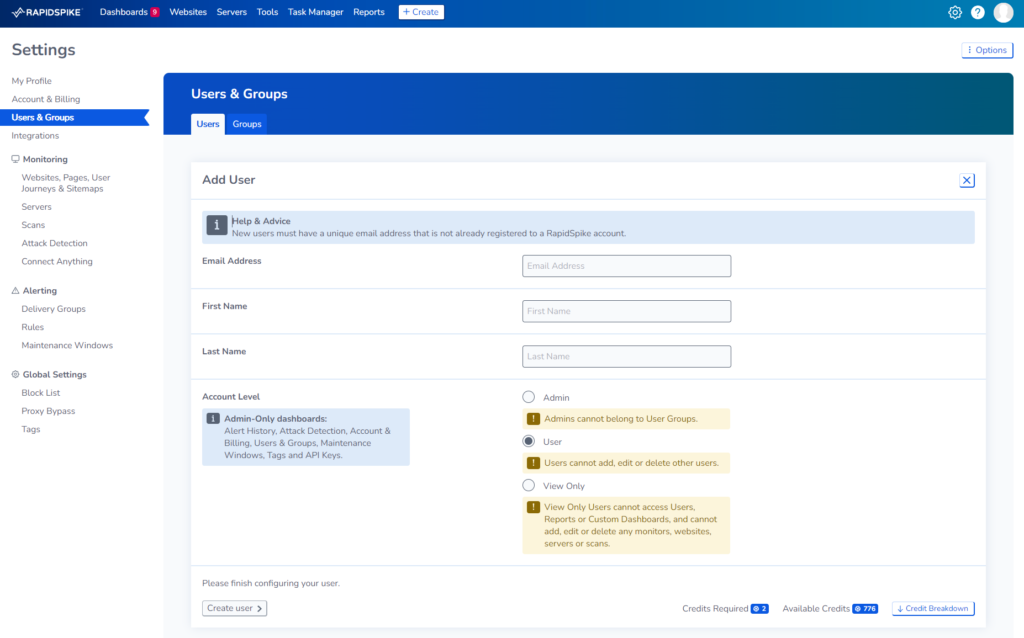 Deleting a User
To delete a user, find the user on the dashboard. If you have significant amount of users on the account you can search using the top right hand search bar. Click the red bin icon to the right of the use. You will then get a window asking if you want to permanently delete the user. Click 'Delete' and they will be removed from the account.

Promoting/Demoting a User
To promote or demote a user, click the pencil icon to the right hand side of the user. This will open up a window for editing user privileges as well as email address and name if needed.

We currently have four types of users on the account:
Owner – As mentioned in the beginning of the article this is the primary owner on the account and can only be changed through contacting support
Admin – Admin users have full access to your account and can add/edit/delete users
User – Users have access to all the data on your account apart from editing users and plans and billing which is restricted to Admins
View Only – These users have access to the monitors and can view data however can't edit, add or delete any monitors or users. They also can't view certain areas of the app such as planning and billing, Manage Users, Reports and Config.