Managed User Journeys are simply Synthetic User Journeys that we look after for you. They provide all of the benefits of a Synthetic User Journey without any fuss.
Depending on your support contract, the managed service may cover the following:
Creating your User Journey script so that it exactly follows a key process you need to monitor (e.g. Adding products to basket, going through checkout)
Ongoing support and maintenance on the script to ensure it works even after changes to your website
Alerting and support for any issues that occur on your site and are discovered by the User Journey
Creating Scripts
Writing User Journey scripts can be a tricky process. Our team are experts at writing reliable and effective scripts to follow your key processes smoothly and efficiently.
Ongoing Support
Websites change frequently and sometimes these changes can cause scripted processes to break. We will react to changes and adjust your scripts so that your monitoring remains constant.
Alerting
Your User Journey will be linked to our internal alerting system, so if something goes wrong our team is notified, we can investigate and provide assistance. Our Managed Service team is dedicated to keeping your sites running smoothly and aim to be highly responsive during our office hours of 9am to 5pm (GMT).
With our Managed Service we can help free up your team's time from investigating problems, and quickly provide root-cause analysis of critical failures or other site issues. This can be vital in helping to get things working smoothly again, keeping customers happy and improving site reliability.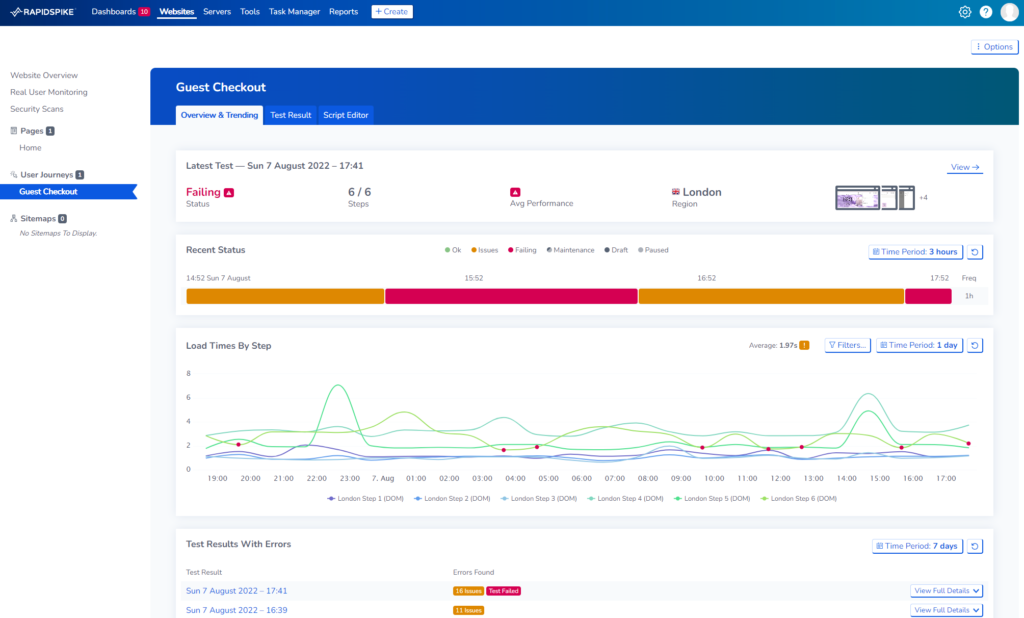 For example, if you make any updates to your site, the RapidSpike team will make edits to your User Journey to change any selectors that need changing or even the journey pathway.

Contact sales@rapidspike.com if you are interested in setting up a managed User Journey.