Individual page monitoring on your website is important to prevent losses, obtain the highest SEO ranking you can and to ensure your customers have the best experience possible. RapidSpike offers a range of Performance monitoring tools so you can keep your site running smoothly.
Navigate to your chosen website, and the page you would like to review performance statistics for. In the left blue menu you will the see different areas our Page monitoring is divided into:
Uptime:
You need to know if your website is down before your customers do – test your uptime and reachability from various locations around the world. Uptime performs a simple check to ensure your website is accessible, you can be alerted to any downtime events, the details of which are recorded.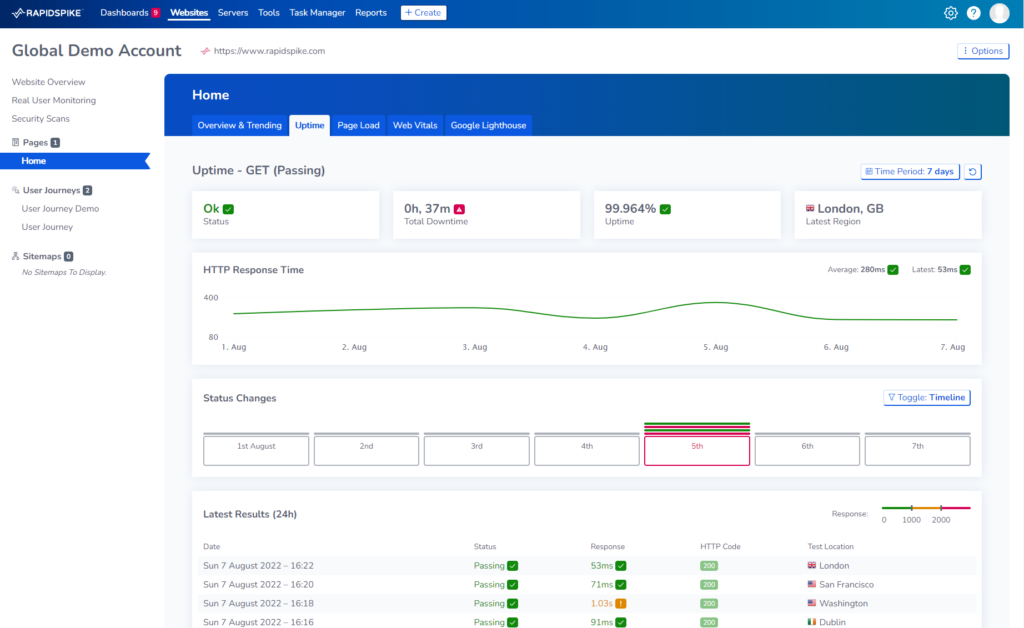 See here for more information about Uptime monitoring: https://www.rapidspike.com/availability-uptime-monitoring/
Page Load:
RapidSpike's Page Load Test contains breakdowns of page load statistics. This reliability tool indicates whether or not a page loaded properly, if anything was missing, or if any files were too big. These breakdowns can be a really good indicator for finding bottlenecks in networking, server or browser render times. You can select multiple test regions to run the test from, and how frequently you would like the Page Load Test to run.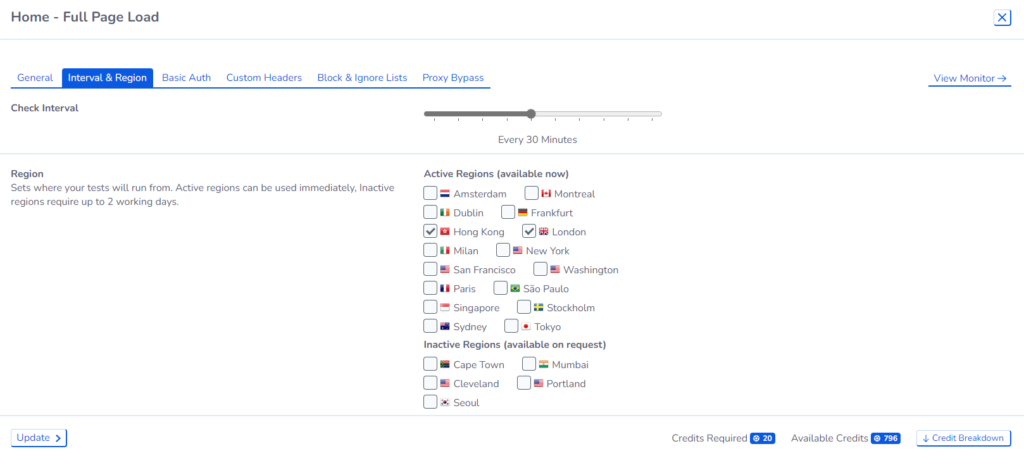 RapidSpike also provides the Page Load dashboard, which displays your page status so you can have a clear indication if any problems arise. 

Please see here for more information about Page Load Tests: https://www.rapidspike.com/kb/section-ipm-overview/
Google Lighthouse:
Schedule a regular Google Lighthouse audit of your page using settings of your choice (including different regions and mobile or desktop). Google Lighthouse audits contain a wide variety of vital information about performance, SEO, best practises and information about how to improve the accessibility of your site.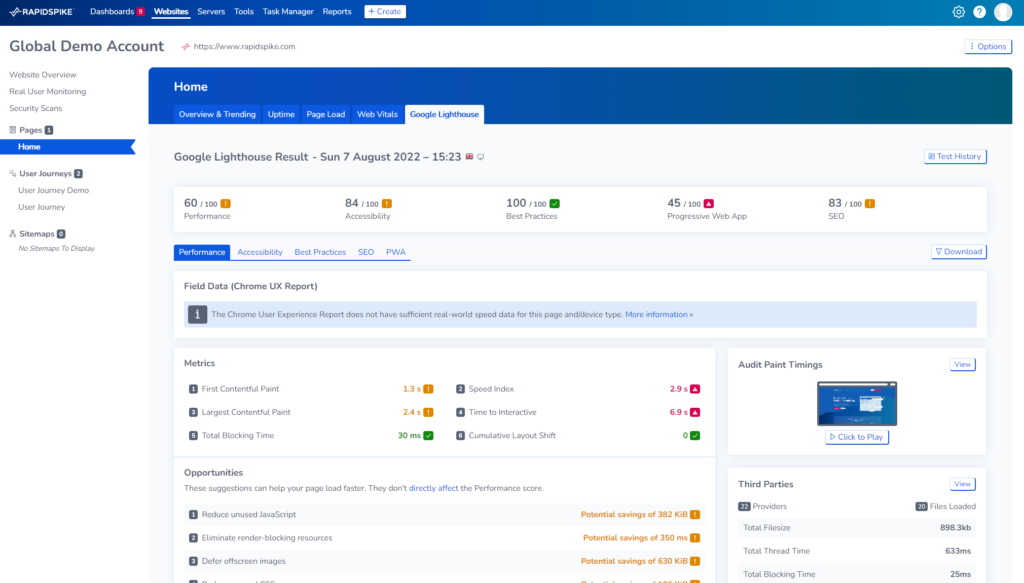 See here for more information about our use of Google Lighthouse: https://www.rapidspike.com/blog/google-lighthouse-audit/
RapidSpike Performance Monitoring with Web Vitals:
The RapidSpike Performance Monitor is our most in-depth performance monitor. We provide comparative statistics, allowing you to compare up to six different pages or tests at a time. You can also compare statistics between pages on different websites.
Firstly we have the Trend Graph, this displays how all performance metrics are being measured over time. You can switch between the different "Web Vitals" using the "Metric" button. Web vitals are the gold standard for performance statistics. We measure Largest Contentful Paint (LCP), First Input Delay (FID) and Cumulative Layout Shift (CLS); using a traffic light system to score them.
The Snapshot graph illustrates a single test in time alongside its results. By default the Web Vitals metrics are displayed but you can also include a wide range of other performance statistics.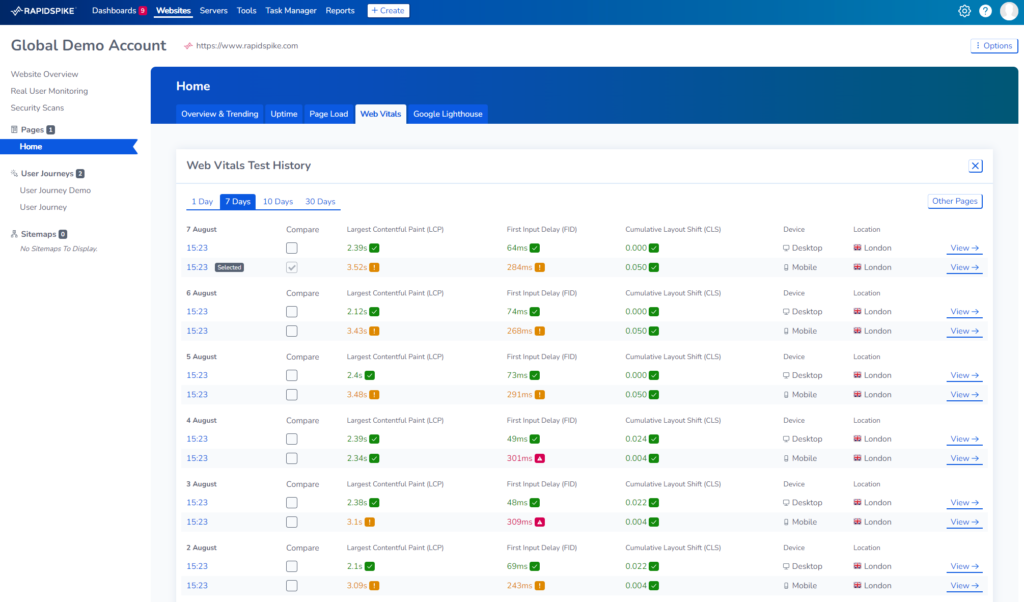 The timeline provides an illustrated breakdown of the page load from Time To First Byte, First Contentful Paint, First Meaningful Paint and finally to First CPU Idle.



We also provide a summary of the core statistics for your website page's performance, colour coding these using a traffic light system so you get the information you need as quickly as possible.

The Film Strip is a collection of screenshots taken every 0.5 seconds as the page loaded, providing you with a visual breakdown of the page's load time and progress.

Contact support@rapidspike.com if you have any questions!