User Journey: Test Issues
If you need to find out what went wrong and why, this screen has you covered. 
Go to Test Result in the left blue menu to review any issues occurring with your User Journey.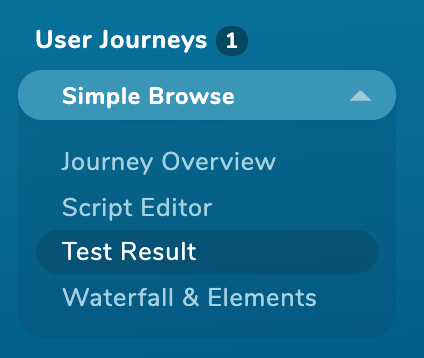 On this page, you can view the test result, go to the "Issues & Logs" tab to view the Browser Log and Server Log, or go to the "Script" tab to view each step of the User Journey to review where issues have occurred.

View Warnings
Warnings are triggered when your total test time exceeds your pre-determined alert threshold. You can configure the threshold per location on the Alert Settings page. If any threshold has been breached and a warning has occurred this will be outlined within the "A warning has been triggered" box along with further details.
Live Issues & Recent Alerts
In the "Dashboard" tab in the left blue menu, select "Live Issues" and "Recent Alerts" to see any current issues across all of your monitors on your websites and servers, or any notifications from RapidSpike.