Once your monitors have been set up, the next most important factor is to make sure your alerting suite is fully set up to make sure you are alerted to the data you need. We offer a wide variety of alerting options and occasionally add new integrations as and when they are request by customers.
To access the alerting panel, login to your account and click 'Global Settings' at the bottom of the left hand blue sidebar. Under 'Alerts' click 'Alert Delivery Groups' which will open a dashboard with your current alerting set-up. If you want assistance on setting these groups up please read our Knowledge Base article outlining how to set-up delivery groups.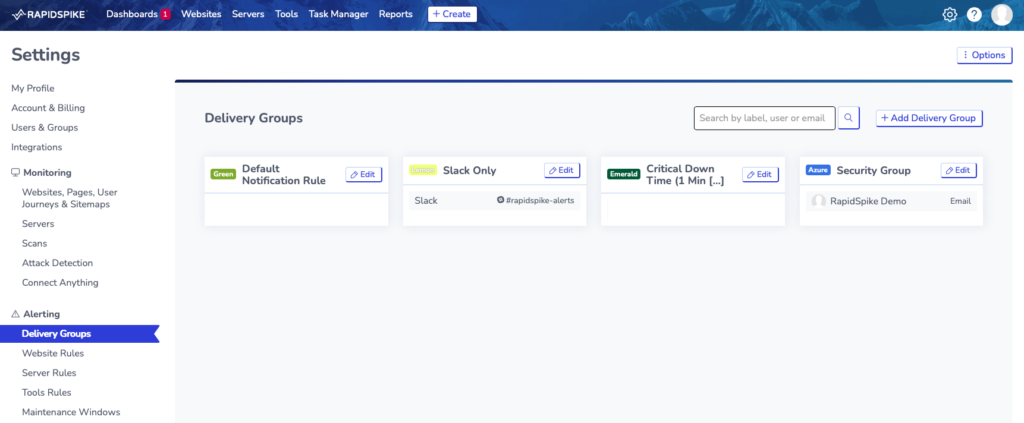 Select the delivery group which will bring up the users, alerting and integration options. Firstly we will look at the basic alerting options:
Email is the most common form of alerting. This is a good alert to keep ticked as you will receive an email with a link to your account for immediately accessing the data you have been alerted to.
SMS alerting we would recommend in particular for critical alerts such as Uptime issues and high load times for user journeys.
Voice Call's are perfect for the most urgent alerts. This is similar to SMS however you receive a call which is harder to miss than a text message.
Whatsapp is essentially an alternative to SMS alerting, offering more flexibility if don't user SMS often or have poor service where you are located,

Next, we will look at integrations. As previously mentioned we offer a wide selection of integrations so we can seamlessly work with the tools you use most. Here is a brief outline of the integrations we offer:
Office 365 / Microsoft Teams – This alerting sending notifications in the form of messages to individuals or groups of users. This is very effective if you have a group of people such as a 'Critical' team allowing everyone to get alerting at the same time.
Splunk On-Call –
Pushover –
Webhooks –
Opsgenie –
PagerDuty –
Slack – Integrating with slack is most effective using a slack channel. You will then receive notifications and everyone in the RapidSpike channel will be able to act on the alerts fast.
Zendesk – Zendesk integrations allow you to view alerts directly in your support platform.