Third parties are vital to almost every website. They can assist with marketing, product search, GDPR, facilitating sales, performance and much more. Keeping track of third parties can be difficult as they are managed outside of your company. If problems do occur without monitoring in place you are unlikely to have visibility until it is too late and affecting visitors (Downtime, poor performance, broken buttons/links etc.).
If the third party is collecting marketing data this isn't ideal however if it is performing a core function such as allowing customers to checkout this could cost thousands in lost revenue.
RapidSpike collects a large amount of third-party data from different monitors on your site (User Journeys, Page Load, Google Lighthouse). The Third Party dashboard makes checking your third parties very easy by displaying everything in one place.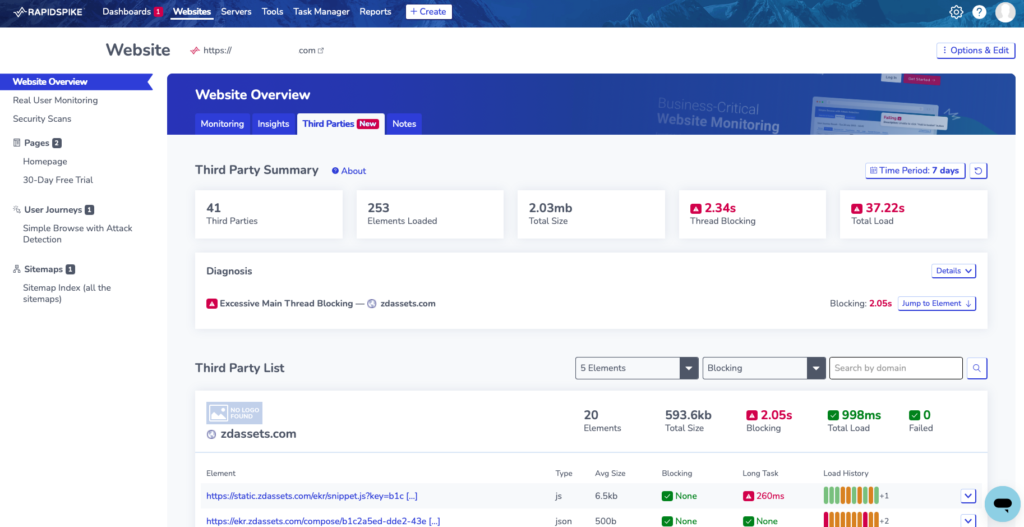 The Third Party Dashboard is located in the website overview. If you find this dashboard is blank it may be that you haven't set up monitors to collect this data.

The summary provides a high-level overview of the third parties we have found on your site. To ensure this data is as accurate as possible we would recommend setting up a user journey, scripted from the homepage to checkout (Or other core website functions). Here we provide metrics indicating overall third-party health such as thread blocking and total load. If these are flagged in red they may need further investigation.

Just below this section is the Diagnosis panel which is where you will find third parties which are contributing to poor performance and/or causing issues. Here you can view a few details and even jump to the element in question.

The third-party list is where you can check into each element the third party is loading on your site, how they are performing and see how they have performed over time. This allows you to separate the fast elements from the slow and perform diagnostics within each page. 

If you click the 'Show Details' arrow to the right of an element, you can see a full load history and pages where the element has loaded. We also provide load time in red, orange or green depending on its performance.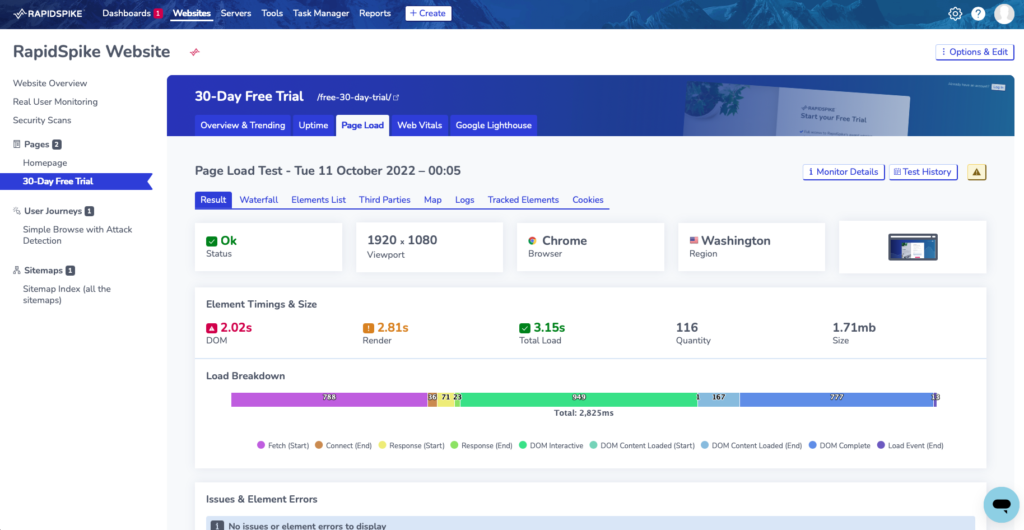 If you click the 'View Test' button it will take you directly to the test in which the element appeared. In particular, this can be useful for third party elements that are intermittent.