Performance
Track load times, detect issues & check your sites speed with a Webpage Test
Run simple tests or perform advanced testing with RapidSpike's Webpage Test
---
---
---
Supercharged single-page monitoring
Your uptime monitor may think everything is fine — the performance monitor will know for certain.
---
---
Monitor your page from a variety of world-wide locations, tracking performance by downloading the page resources and measuring their speed.
A vital part of your complete monitoring package, these monitors measure the parts of your pages that uptime monitors don't track. This includes major customer-affecting issues like poor performance and on-page errors.
---
Uptime versus Page Performance Monitoring
---
The uptime monitor only checks the page response.
Your page may be slow and full of errors and you would be none the wiser.
The Performance Monitor on the other hand checks every single page element (HAR file) and measures the overall speed of the page.
This allows the Performance Monitor to measure the performance of the page and detect subtle errors hidden within the page.
The Performance Monitor performs a Google Audit (Lighthouse) every 24 hours, returning detailed results after each run.
Track and benchmark vital page metrics
Page Performance Monitoring gives a wealth of information for every page, each time it runs. Currently our Performance Monitor runs from every 5 minutes to every hour, depending on the settings. These monitors can also track your site from a variety of locations around the world, giving you a crystal clear picture of your performance.
Benchmark page speed automatically
You can't manage what you can't measure – use the Performance Monitor to understand the what normal page performance looks like. Use this benchmark to set your tolerance threshold for future alerts.
Detect changes in page behaviour
If the page is slowing down there is probably a valid reason. The Performance Monitor allows you to set a performance thresholds so that changes in page speed can be highlighted.
Worst offenders
Understand the speed and overhead of every page element so that bottlenecks can be ironed out.
Geo-tag the page
Geo tag the page to identify the real-world location of each page component. You may be surprised by the results!
Visualise your website's true performance
Each Page Performance Monitor records a huge amount of data each time it runs. We store the page and download all resources/elements, recording full data including requests and responses. We also capture screenshots and paint timings.
Detailed Waterfall
The Performance Monitor tracks every element downloaded, and provides you with a full breakdown of event timings, request and response headers to explore.
Identify your performance issues in granular detail – find blocking or slow elements, server or network problems, element errors and failures.
Sort and reorder the list of elements loaded to view by speed or URL, and filter to view specific domains.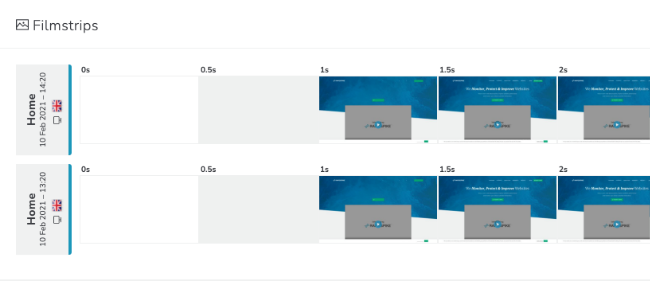 Page Screenshots & Paint Timings
View your site screenshots after each Performance Monitor test, so you can verify it has loaded successfully.
With the addition of Google Audit, we can also display the paint timings and provide a timings video so you can see how the site loads in real time.
IP Map
View every element loaded during the Performance Monitor test geo-located onto an interactive world map.
Easily identify the source locations of your entire page – a fantastic way to quickly determine the source of poor performance.
Each location pinned on the map will include all files loaded and their load times.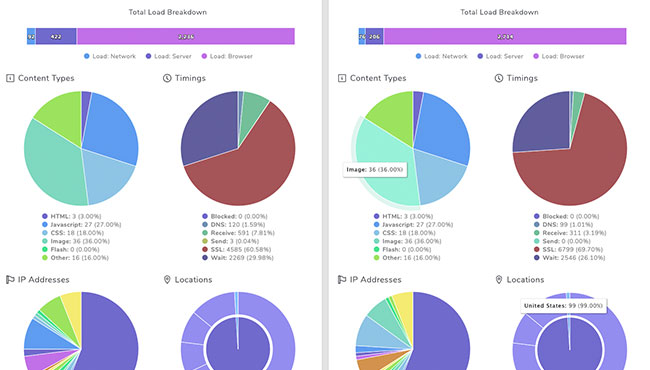 Compare Tests
Select two tests and compare their data in a single view, with our Compare mode.
Use compare to identify why a specific test was slow or had issues. Compare Mode shows you vital test data, location and timings as well as a full Waterfall view of all elements loaded.
You'll easily be able to see if specific elements were slow – and identify why by looking at the load breakdown.
Track 3rd Parties
See which 3rd Party tools on your site have the largest overheads – both in terms of file size and load time.
Monitor your add-ons to indentify which need replacing or might be causing performance issues for your customers.
The Performance Monitor will automatically group elements loaded from the same domains – so you can view combined as well as separate stats for each 3rd party file.
---
Plus tons more great data!
---
Worst Offenders
The Performance Monitor will show your worst performing elements for every test – so you can quickly identify and eliminate simple performance issues.
Server & Browser Logs
See the detailed logs produced by the Performance Monitor as it browses your page. Great for quick issue analysis if a problem occurs.
Performance Warnings
Set thresholds for your Performance Monitor performance and receive alerts when they're breached. The Performance Monitor will add also Warning flags to your graphs.
Cookie Log
View a full list of all cookies loaded on the page, great for complying with GDPR rules.
---
Find out more about our Performance Monitor – download our info sheet: