Security
Monitor Google Safe Browsing
Get notified if your website is on the Google Safe Browsing list, tracking
sites known to contain malware or social engineering.
---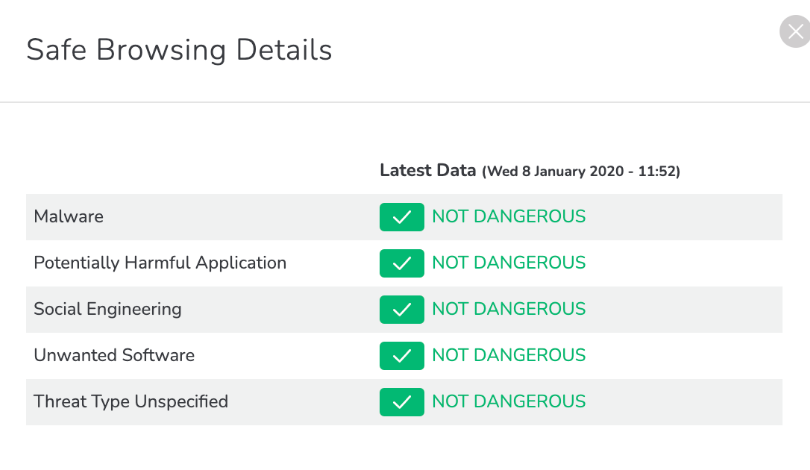 ---
---
What is Google Safe Browsing?
Ensure that your site has not been compromised and is available to users via the Google search engine.
This resource is maintained by Google, listing and tracking sites known to contain malicious code – malware, untrusted software etc – and social engineering tactics, such as phishing and other forms of deception.
Appearing on this list – for obvious reasons – is bad news.
What data do we record?
Once configured, your monitor will appear on the Overview page of the relevant website. The monitor highlights the current status – green for OK and pink if it fails the test.
The Safe Browsing list identifies several types of reasons why a website can be added to the list. These are:
Malware
Potentially Harmful Application
Social Engineering
Unwanted Software
Threat Type Unspecified
---
How do you get started?
The monitor can be added through the user interface for any website that is configured in the system. Just click "Add" in the main menu – you can attach this monitor to existing websites or create a new site.
The RapidSpike monitor is a paid plan feature.
Why monitor Safe Browsing?
Once a website is added to the Safe Browsing list users will see a warning in Google Search Results, and may be alerted by their browser if they try to visit the site. The warnings are stark red and unmissable!
For obvious reasons, being added to this list can result in very serious consequences for site traffic and customer trust.