---
We Monitor, Protect & Improve Websites
Detect client side data breaches, improve website performance
and monitor your critical customer interactions.
---
---
Enhance website performance and client side security
in a single platform
RapidSpike helps you improve your customer's digital experience by
monitoring, improving and protecting your website.
---
Monitor

Monitor everything from the customers perspective
Keep your business online by alerting for downtime, poor page speed and errors that irritate your customers.
Understand your most critical issues from the outside looking in, every minute, all day, every day because improving your online revenue conversion grows your business.
Protect

Protect your customers' data from hackers
Stop hackers in their tracks with data breach monitoring to detect website skimming, form-jacking and supply chain attacks.
We build an essential layer of external security with website-specific vulnerability scanning and other key security monitors to keep your valuable customers data safe.
Improve

Continuously improve your website performance
Make your website, better, faster and more efficient by tracking your website's performance in real time.
We gather page performance data, create key insights and audit pages against industry benchmarks to learn exactly why your pages are slow and how to speed them up.

---
---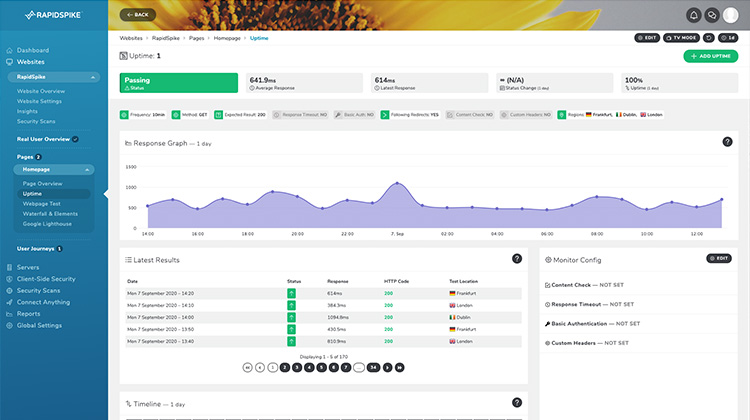 Monitor
Track user experience from the customer's point of view
Stay up and stay fast by measuring your digital platform, website and customer interactions in real time. For instance, check uptime, page performance and simulate user interactions on key critical processes, every minute, 24 hours a day, 7 days a week.
RapidSpike empowers you to monitor everything relating to you outward facing online business including uptime, speed, security and stability.
---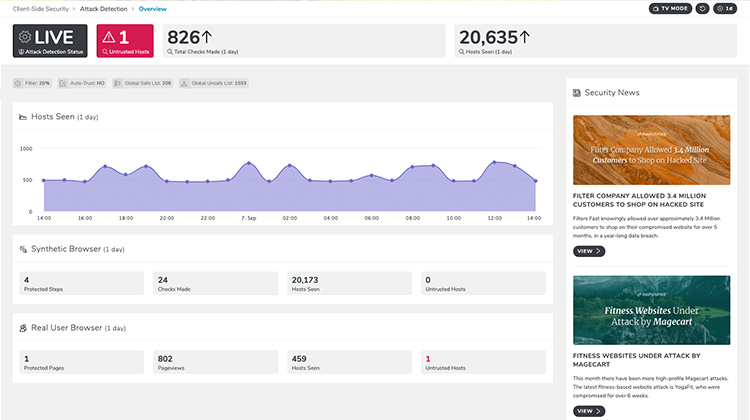 Protect
Defend against the world's most dangerous cyber threats
RapidSpike detects Magecart data breaches. Improve client-side security and defend against formjacking and supply chain attacks. Alert when your website has been compromised so you can react quickly, saving your reputation, reducing fines and protecting your customer's valuable data.
Keep ahead of direct threats to your digital ecosystem by scanning your websites for the latest vulnerabilities, and much more.
---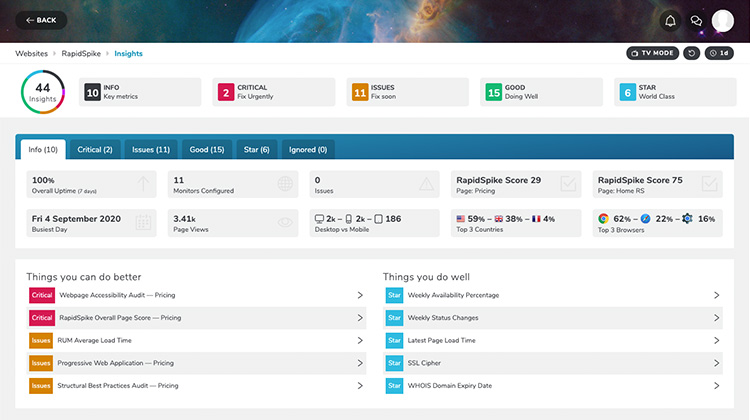 Improve
Identify the issues directly impacting your customers
RapidSpike analyses your data, finds problems and suggests solutions. Above all, we measure your site against global baselines, best practices and years of website performance and security expertise, helping you continuously improve.
Insights grades your website explaining why it's important to fix each issue, how you fix the issue and what score you need to get to the next improvement level.
---