Scheduled Google Lighthouse Audits
Run industry standard google lighthouse audits globally 24/7. Let RapidSpike be your 'single source of truth' and run audits continuously and consistently from the same machine.
What are Google Lighthouse Audits?
Google Lighthouse is an open-source quality testing tool built by Google. It
analyses a given url and performs a series of audits, with useful
recommendations on how to improve.
No need to run Lighthouse manually – schedule a regular audit of your site to be made automatically at an interval of your choice.
RapidSpike uses live test environments to simulate real conditions, which are more accurate than running tests locally.
Select locations around the world for your tests, and choose to audit via mobile or desktop.
Record your results and trend improvements over time. Export your results to save and share with your team.
Test your website worldwide
Choose when and where to run your Google Lighthouse audits.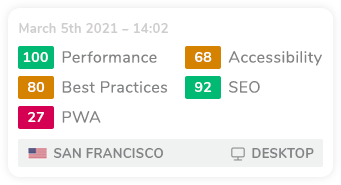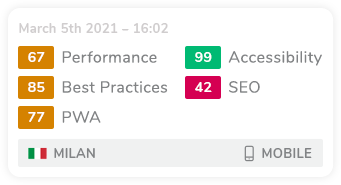 Google Lighthouse, But Better
All your audits, in full, returned in a clear and easy-to-read dashboard. Audits are categorised, so you can see what you passed, failed, and what audits are performed manually.
Each audit can then be opened to show a detailed explanation, remediation, plus a link to Google's resources.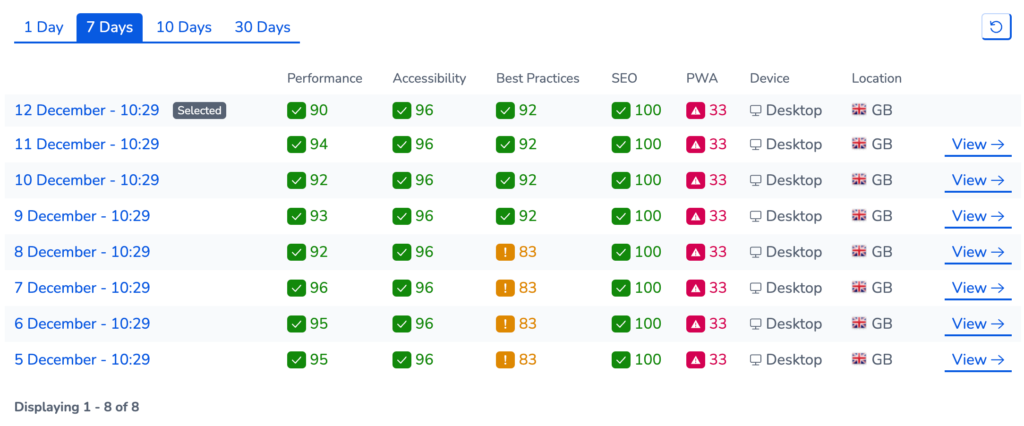 Seamless Scheduled Testing
Your audit scores trended over time, so you can clearly identify where you are improving and the areas you need to focus on.
We provide a filterable history, showing previous audit results. As we can provide Lighthouse progress over time, this means we can show you how your ongoing improvements are affecting your page.

"RapidSpike is intuitive to set up and to use. As a business we've been able to adopt their platform and get value from it straight away."
Pharmacy2u use RapidSpike to manage platform reliability and performance. They also use Google Lighthouse audits to identify and resolve issues across their website.
What Audits Are Available?
If you're not already using Google Lighthouse for improving your website, here
are a huge number of areas where it can be beneficial.
Performance
Shave seconds off your load time, optimise page elements and ensure users get the best possible experience.
Key Audits:
Web Vitals
Image Optimisation
Render-blocking resources
Accessibility
Ensure your site is fully compliant and accessible for all users regardless of their needs.
Key Audits:
Colour contrast
Image [alt] text
Language attributes
Best Practices
Check off useful and informative steps to improve your website or application following Google's recommended best practices.
Key Audits:
Secure connection (HTTPS)
Image aspect ratio & resolution
SEO
Cilmb the Google Search Results pages with a few fairly simple and easy amends to your website.
Key Audits:
Meta tags
Crawlable links
Valid robots.txt
Progressive Web-App
Maintain a fast and usable cross-platform application by following these audits:
Key Audits:
Content viewport size
Custom splash screen
Cross-browser compatibility
Making sense of the data
Improve your website's performance and overall rating by
using RapidSpike and Google Lighthouse
Execute Real Time Audits
We use real time audits so you're always up to date when you want to check your site.
Compare region and device
Test your website across multiple devices and multiple regions to see how it performs for different users.
Improve your Google ranking
Monitor your website's SEO performance so you can make it to number one on Google's search result.
Ensure it is a Progressive Web App
Deliver enhanced capabilities, reliability and installability while reaching any device – with a single codebase.
Enhance your site's availability
Improve your site's accessibility and availability. Ensure the site's content and all functionality works as expected.
Improve your code health
We check and highlight opportunities for you to improve the overall code health of your web app.