RapidSpike appoints Gav Winter as CEO
RapidSpike the web and real user application monitoring, analytics and security solution based in Leeds have appointed Gav Winter as their new Chief Executive Officer.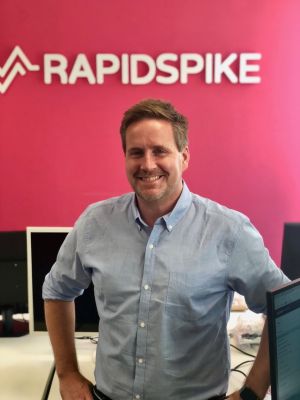 Andrew Mason and Robin Hill co-founded Rapidspike after selling RandomStorm to Accumuli (now NCC) in 2015, and have since helped found other businesses like the Data Protection People, Information Security People and Pentest People.
Winter who founded The Test People in 2006 and was instrumental in helping win numerous fast growth awards (Deloitte, TechTrack100) and personally was also a 3 time winner at the Yorkshire IoD Director of the Year awards winning 2 SME awards and the overall award for Yorkshire in 2015. He then went on to merge them with Centre4Testing in 2015 to create Ten10 who are the largest independent testing company in the UK with over 250 consultants.
Mason, Hill and Winter met in 2011 when completing the Goldman Sachs 10000 small businesses course and have separately become 3 of yorkshire's most well known and successful 'tech' entrepreneurs in growing RandomStorm and The Test People respectively. The three have ambitious goals to become a world leader in real user, synthetic and secure application monitoring & analytics, with the dream to join the likes of SkyBet and CallCredit and become a 'Yorkshire Unicorn'.
Mason said: We were looking for an industry leading CEO to take RapidSpike to the next level and the timing was perfect for Gavin to join the management team and lead the future direction of the business. Having known Gavin for the last few years. we are excited to finally be leveraging our combined talents to transform RapidSpike into a world beating platform.
Winter exclaimed: I'm delighted to be the new CEO of RapidSpike and looking forward to working with some great people. The platform, the company setup and the team building it are a rare gem. Rapidspike is a great all round monitoring platform but there are particular aspects that I believe are world leading, and we intend to focus on ensuring that we use these to grow the business to its full potential.
Hill added: It feels like the stars have lined up and I am delighted to welcome Gavin to our senior management team. Gavin's appointment as CEO, reflects the progress we are making as we continue to focus on expanding opportunities in both the retail and digital sectors.
About RapidSpike
RapidSpike is a platform that scales for all sizes of business – from small online shops to large multinationals. Our platform enables you to monitor simple availability metrics all the way up to complex multi-step interactions. We want everyone to understand how their users interact with their platforms so we can help them optimise their product for better business outcomes.