The World Cup Of Websites
RapidSpike CEO, Gav Winter recently spoke about the World Cup of websites. If you missed the write up, you can catch up in full, here…
If the World Cup was decided on teams' website performance, Serbia would be lifting the trophy for the 2022 tournament.
That's the findings of the Web Vitals Index – a league table powered by next-generation website monitoring specialist, RapidSpike.
The list triangulates a range of metrics including Google's Core Web Vitals three-pronged user experience benchmark, as well as website performance over time, accessibility, page structure and reliability.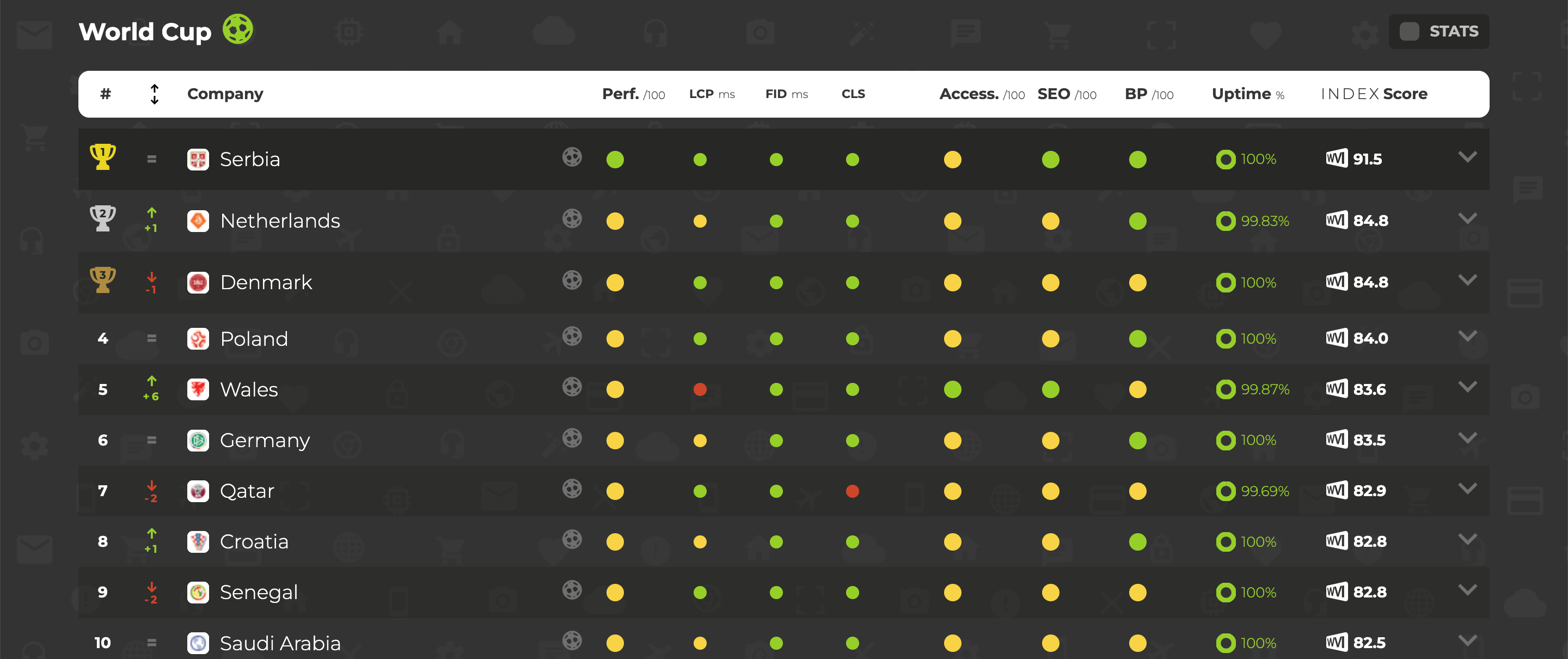 And with a score of 80 considered to be good, Serbia tallied 91.5 overall. Results included 100% website uptime, a 92% for code best practice and 92% SEO performance.
While it was top spot of World Cup websites for Serbia, strong performances were also recorded from World Cup hosts Qatar (7th) and their neighbours Saudi Arabia (10th), with Europe otherwise dominating the standings. Wales finished in a fantastic 5th place position, with a score of 83.6. Netherlands, Denmark, Poland, Germany, and Croatia all feature in the leading 10 – as well as Senegal in 9th.
There is work to be done for many of the competition's big hitters, with teams like Spain and Brazil missing out on a top-flight finish, and England's score of only 53.1 meaning they did not even appear in the top 25.
Committed to making the web faster, safer, and easier for everyone to use, RapidSpike's goal is to demonstrate the brands working the hardest – irrespective of size – to improve overall website performance, brand loyalty, and user experiences, for every online customer.
Commenting on the one-off World Cup special, tech entrepreneur Gav Winter – CEO of RapidSpike and the Web Vitals Index – said: "Usually, this league table exists to help brands benchmark themselves against competitors and take proactive steps to improve their online presence – not just for bragging rights, but to convert more customers and deliver ecommerce revenue gains.
"But we're a nation of football lovers – with some big fans among the RapidSpike team – so we couldn't let this opportunity for a World Cup special pass."
And once again, the rankings prove that website performance doesn't always correlate with the marketplace presence, popularity or wider commercial power of an organisation.
"Serbia's site is well designed and structured with a clear focus on performance. It's easy to navigate with and the information is clearly presented. Well done Serbia for winning the inaugural Website Performance World Cup!"
The Web Vitals Index's standard top 25 league of UK e-commerce brands is updated fortnightly. Currently in position 1 is pharmacy brand Weldricks with a staggeringly perfect score of 100, followed by Bathstore, BetVictor, Watchfinder and Victoriaplum.
To see how the standings currently look, visit https://www.webvitalsindex.com/