Football's Coming Home, but will England's Google Lighthouse Scores?
Football may be coming home, but will England's Google Lighthouse Scores?
Where were you in '96? Euro 2020 is here, and so are our hopes that the Three Lions' long wait for a European Championship could soon be over.
England has had one of, if not the best set of, national football matches for decades. Winning 6 games in a row with only 1 goal conceded, how can Italy beat us? Unfortunately what's true for the beautiful game can't be said about England's Google Lighthouse Scores.
We're in great form! (Sort of)
Form is a huge part of any international sport, with the likes of Foden, Grealish Sterling & Kane showing the nation how it's done, you'd like their website to be the same. England's website performance, accessibility, best practices and SEO are looking like the time we didn't even qualify in '94. Google ranks pages across a number of key factors, with most needing to score in the 75th percentile to achieve a 'good' Core Web Vitals score. As you can see here, England is doing alright… but their website isn't set to bring home the cup right now.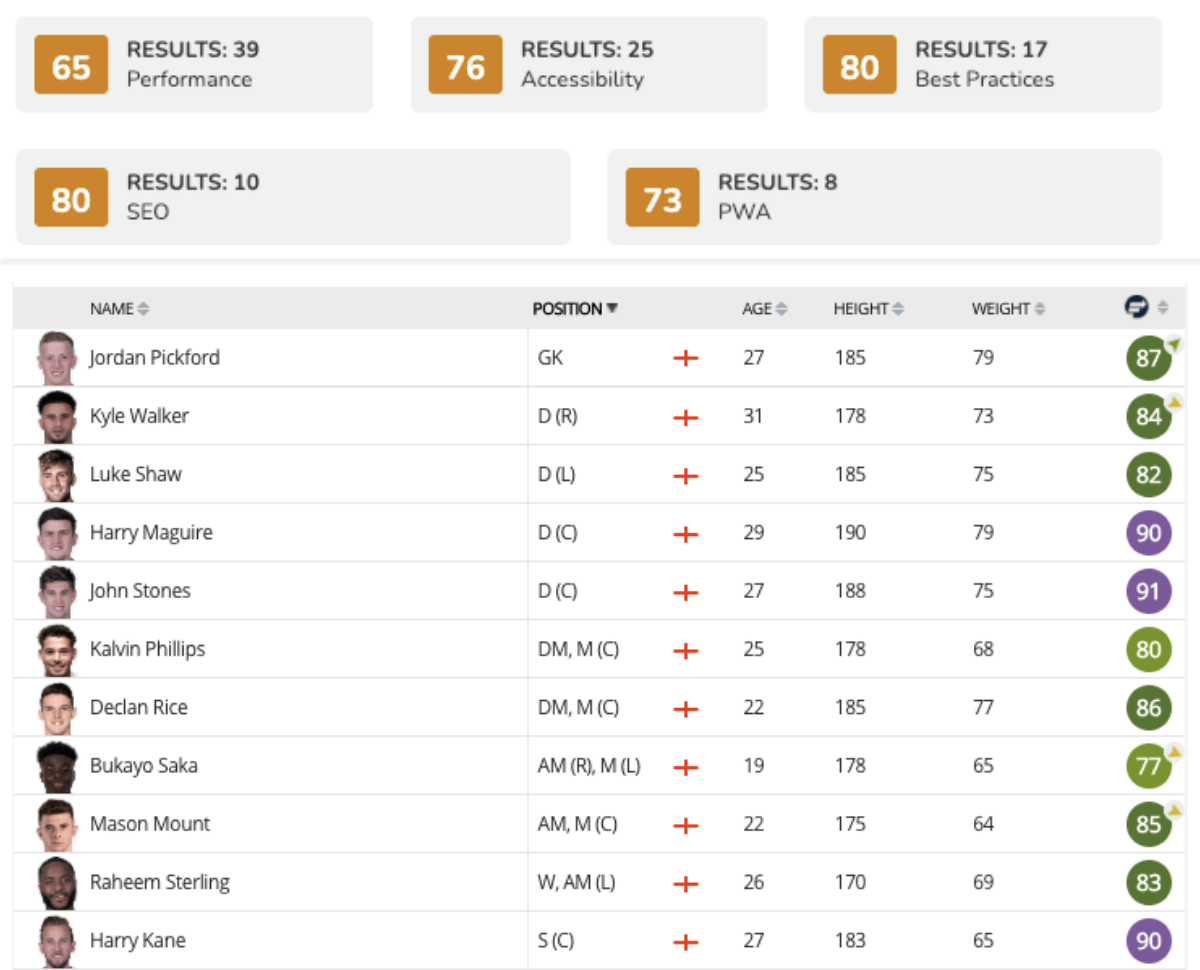 All of which begs the question, what tactics should they be following?
Park the Bus or Counter Attack?
This phrase was made famous by Jose Mourinho back when he was managing Chelsea. He brought this formation into play when Chelsea were playing Tottenham at home which ended 0-0. Should Southgate do that against Italy?
The tactic for parking the bus is to take it to the field with the purpose of not scoring a goal. Looking at England's Google Lighthouse score, this feels like a park the bus formation, they're not making any concessions, but they're not making progress either. Instead, they need to go for more of a counter attack formation, bringing their scores forward, getting them high up the board, keeping those scores in the green before they park, and not dipping back into dangerous waters. If you want to make it to the finals of Google's ranking, parking the bus early is not an option.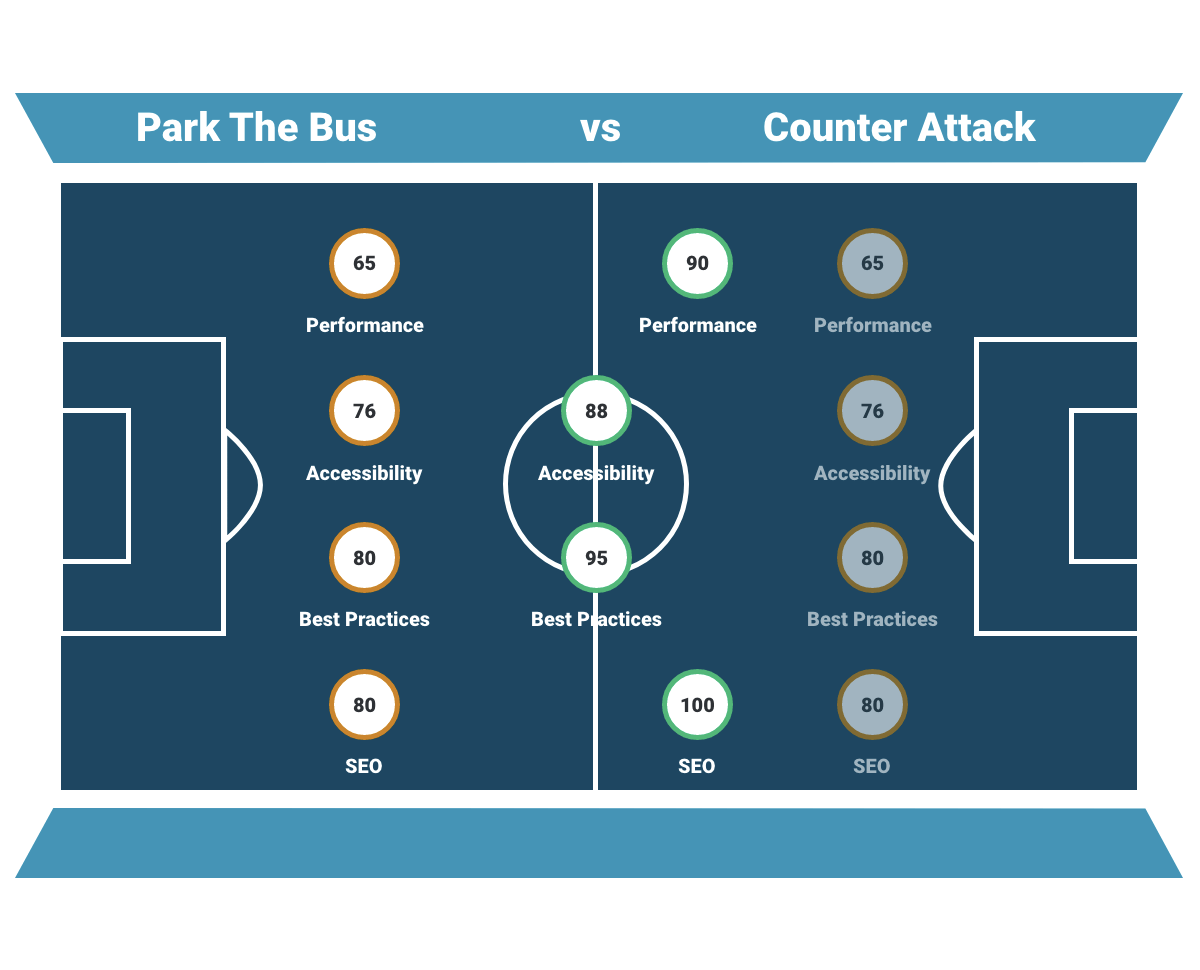 Don't get caught offside
It's every player's pet peeve. Offside. The lower the score the more offside you are and the more likely you are going to get penalised. Make sure you stay onside with Google Lighthouse. The audits offered by Google Lighthouse are grouped into optimisation categories: Performance, Best Practices, Accessibility, and SEO.
Best practices cover performance, load times, and other key factors that influence your customers' experience on your site. Accessibility refers to colour usage, meta descriptions, text reader options and a raft of other features which allow everyone to access your website more efficiently because everyone deserves a great user experience. Finally, SEO, how you use keywords, how easy it is for Google to digest your website, correlating your page's relevance to search terms, and generally ensuring that the right pages are getting to the right people. If performance and accessibility are your offence, strong SEO scores are one of the best defenses you can have against changing ranking concerns, which leads us onto showboating.
Showboat
If you have cemented a safe score in Performance, Accessibility, and Best Practices you can do a bit of showboating by showing your skill in maintaining a high SEO score. The maintenance can make as much of a difference as one big push. Take Harry Maguire for example; He's got an overall rating of 8/10, it's not 100% (yet!) but it's stable and predictable and you know he's onto a winner more often than not.
Ref, Gaffer, Target Man
RapidSpike acts as the referee, manager and player all in one, RapidSpike alerts let you tackle problems in minutes, not hours or even days. With that on side, it's going to be hard to get penalised for obvious fouls. Don't get caught out. Get into the pockets, create those clinical finishes, and most importantly win the title.
It's coming home!!!
Get your website in shape by requesting a free Google Lighthouse and Core Web Vitals audit today.