How Travel Disruptions Have Affected Website Performance
Recent travel disruptions have impacted customers in more ways than one. Cancelled flights, extended airline wait times and staff shortages have all contributed to long-awaited holidays being disrupted or cancelled, often at the last minute. 
As a result, there has been an erosion of consumer trust and confidence in the travel industry. What was once a level playing field in terms of brand loyalty, with purchase decisions often relying mostly on price or value, the market is now being led by brands with the best customer experience and response to these disruptions. 
Disruptions in physical locations, such as cancelled last minute flights, are also driving high levels of unexpected traffic to websites. Brands may not be prepared for the influx of traffic, and therefore the result on website speed and performance may be detrimental to customer conversions.
If key customer journeys, such as checking a flight time, or accessing a 'contact us' page, are broken or not optimised then customers may become frustrated, and any negative experiences may result in them removing the brand from future purchase decisions, and therefore a loss of customer lifetime value – which in the travel industry has the potential to be a large sum.
Consequently, the loss of customer trust is therefore having a negative impact on sales and revenue. Price may often be a secondary factor in the customer decision making process – with factors such as brand image and customer service ranking more highly.
This is important for eCommerce websites selling holidays, hotels and flights to consider when deciding on a long term strategy. Website performance, speed and security all have a direct impact on brand image, customer satisfaction and online conversions.
How have websites been affected?
In our recent travel report, RapidSpike analysed data from the top global travel websites, comprising both eCommerce sites and review websites. The league table from the Web Vitals Index (a website performance ranking table), as well as additional RapidSpike data, were compiled by our monitoring experts to gain a thorough understanding of how the online travel leaders perform. 
The recent onset effect of the airline industry has affected other travel websites including holidays, hotels and comparison websites. Not only this but the disruptions to airlines including EasyJet, TUI and RyanAir have caused an influx in consumers trying to access airline websites not only on these brands but customers also wanting to check on their own airlines to ensure it doesn't affect them.
We can see by comparing the results from April 2022 on the Web Vitals Index, to results from June 2022 that many major players have shifted up and down the league table. The biggest movers include On The Beach who have shifted up from position 15 to position 9 – primarily due to an increased performance score alongside improvements with SEO and Accessibility. Alternatively, Hotels.com have moved down the rankings from position 4 to position 16. This drop can be attributed to a significant drop in performance score from 54 to 83, alongside a reduced SEO rating.
It's clear from these statistics that travel websites would benefit from consistently monitoring their key pages and business critical user journeys to ensure that they remain competitive against other industry players that are already taking the time to do so.
Brands such as Trivago and Holiday Pirates, who are consistently at the top of the leaderboard, are placing a greater focus on providing a quality user experience and enhanced website performance for their valued customers. This is evident from their high scores relative to other websites, and signifies an enhanced website experience.
Another factor that has been affecting travel websites during this period of disruption is downtime. Websites that experience downtime during unexpected times of high traffic may also fall behind in customer satisfaction and could risk damaging brand reputation.
For example, Ryanair recently experienced some negative press due to the fact they were charging customers a £55 fine for checking in at the airport rather than online. This was despite the fact their online check in was unavailable due to the website being down, and therefore customers had no other option. This led to multiple public complaints on social media, further damaging the brand's reputation and likely negatively impacting long term revenue as a result of lost customer lifetime value.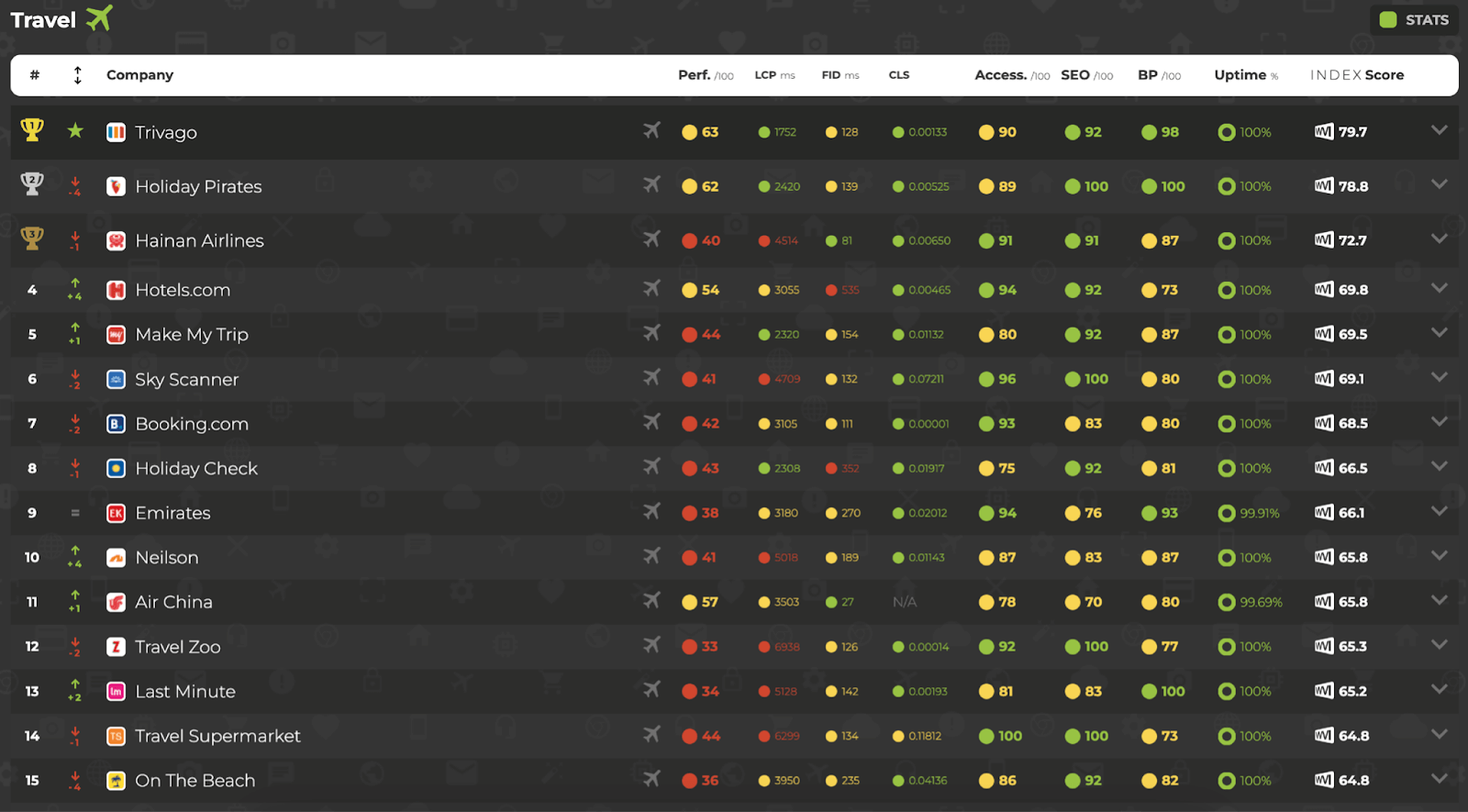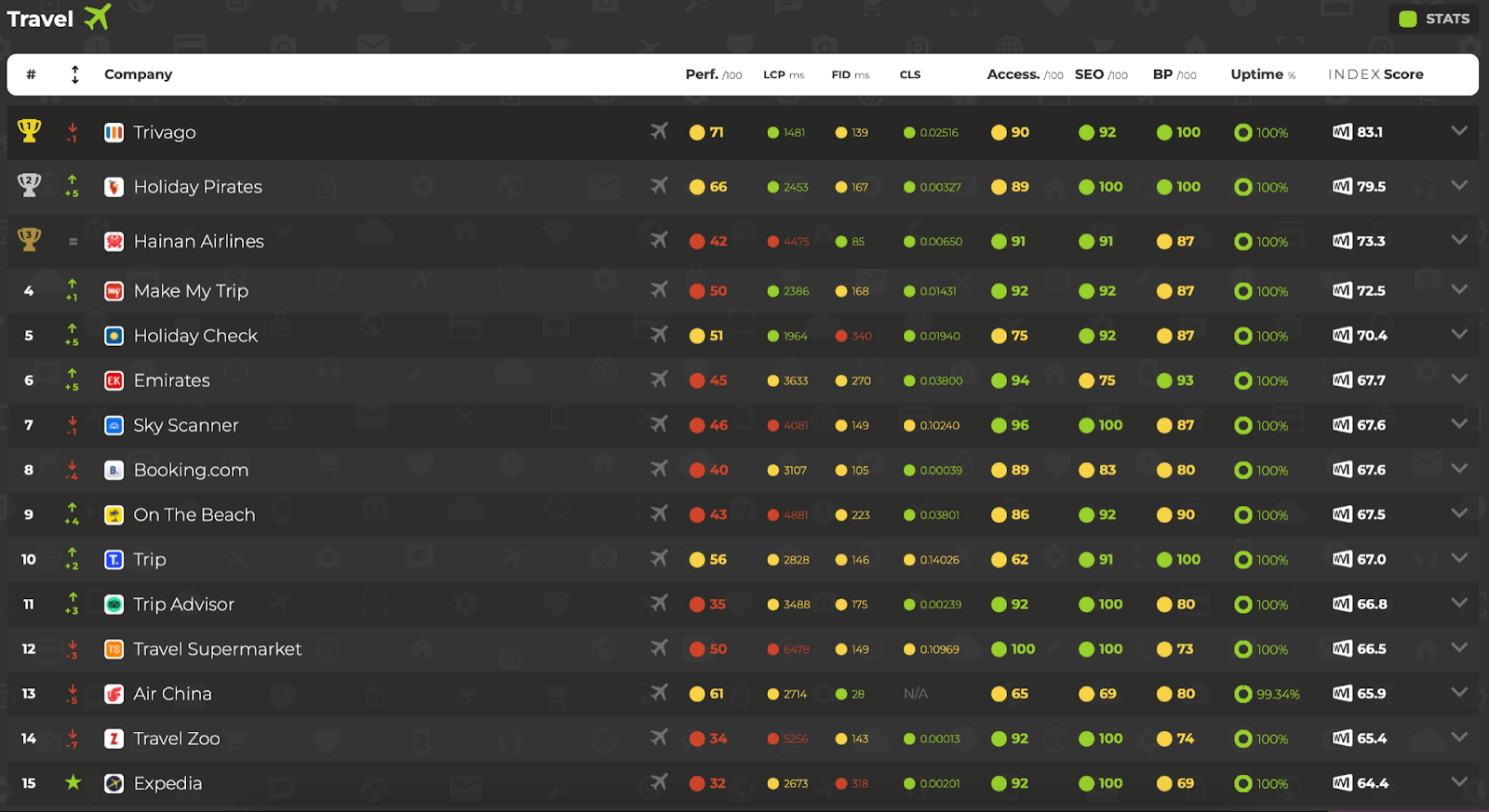 RapidSpike CEO, Gav Winter explains; "The increase in users trying to access airline and travel websites due to the disruptions has led to numerous website performance issues including slow-loading websites. With such a major purchase on the line, these website performance issues can cause increased frustration and reputational damage. These websites need to be fast and reliable to help customers and avoid revenue losses."
Recommendations for Travel Websites
RapidSpike Head of Technology James Tyler explains; "Travel websites should ensure they can scale up their infrastructure to meet the increase in traffic that they are seeing in these disruptions. This means websites can accommodate higher traffic and then decrease hosting and save on associated costs when the traffic decreases. Thinking about ways to mitigate load would also be useful – utilising visitor queuing mechanisms can help you control traffic flow and implementing serverless and caching technologies could help in absorbing traffic better.
Travel websites are being continuously updated to keep up with the disruptions, this leads to an increased threat of attacks. This gives hackers more opportunity to blend into changes when carrying out attacks. It is vital travel brands closely monitor their website for vulnerabilities in a preventative measure and monitor third parties for detection of attacks in the current landscape to avoid security breaches like British Airways."

In our latest Travel Industry Report, we analyse the latest website performance statistics to learn how travel industry leaders have remained competitive post covid-19 whilst improving website health.