A New & Improved TV Mode
We're pleased to announce a new, updated version of our TV Mode has been released this week.
TV Mode is a simplified monitor view. It enables you to display the live status of websites and servers in your account. The page is designed to work best on a wall-mounted TV or monitor, although it can be used just as a normal status screen.
So what's changed?
We recently made some improvements to the back-end code to speed up loading for large accounts. We've been successful in getting load times down to a fraction of their previous time. This has also meant that we can display lots more monitors at once in TV Mode.
However these changes should make TV Mode work better for accounts with both small and large numbers of monitors. It should also improve the experience of those using both smaller screens as well as those with a high resolution. This is because you can now toggle the number of items displayed, the orientation and size.
This means that users with only a few monitors can display them in 'large' format, but those with a lot of monitors can use 'small', and show more per page.
You can also choose to display two sets of data at once:
In one part of the screen you can show just failing monitors – in the other you can show your websites, servers or User Journeys (or nothing at all).
Depending on the size and resolution of your screen you may prefer 'landscape' or 'portrait' view:

We've also included a few extra settings – you can change the frequency that the TV Mode updates, from 1 minute up to 10 minutes. You can also enable 'Alert Mode', which briefly flashes a pink border around the screen whenever a failing monitor is discovered. This is a great way to draw attention to the screen without being too obtrusive.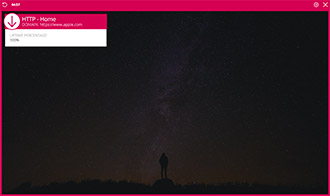 Finally – and for a bit of fun – we're made it so the "Everything is OK" status message is completely customisable. This means you can write your own status message to be displayed when there are no failing monitors.
Why use TV Mode?
TV Mode is mainly designed with agencies and development studios in mind. It is perfect for any company that offers after-sales support or on-going hosting and maintenance contracts to their clients.
TV Mode is an ideal way to keep on top of a large number of sites and to react instantly if any uptime issues occur. TV Mode will display the status not just of HTTP (website) monitors, but also server monitors like Pings and TCP checks. If any sort of problem occurs with your server – you have the chance to spot it.
Other situations where TV Mode is useful is for large online businesses with a support or IT department. The wall-mounted TV Mode is particularly popular here as it lets support representatives know if there is a problem with the website before customers start to complain.
DevOps teams like to have the reassurance that "all is well", particularly during deployment – site updates and maintenance.
How do I set up TV Mode?
TV Mode is available to customers on our Professional Plan.

Simply log in to your account and click "TV Mode" in the main app menu. You'll then be able to configure your settings and see your monitors. If you need to change the settings at any point, just click the 'Edit Settings' cog symbol on the menu. To return to the main RapidSpike app click on the cross in the corner.