---
Preparing your site for Black Friday
Posted on September 12, 2019
Read: 6 min
---
Each year ecommerce sites are named and shamed for failing to prepare their website for Black Friday, sacrificing sales revenue and reputation. We explain changes companies can make in advance to mitigate outages, reduce shopping cart abandonment and improve digital experience in preparation for Black Friday 2019.
The Black Friday Facts
In recent years Black Friday weekend has become the most important shopping weekend for ecommerce companies, with the holiday season representing as much as 30% of annual sales. Black Friday 2018 fell on 23rd November, commonly people are paid later in the month which left unprepared consumers unable to participate in the sales until Cyber Monday. This year Black Friday falls on 29th November 2019 and annual sales are once again predicted to increase. 
Adobe Analytics reported the U.S. spent over $24.2bn across the Black Friday weekend in 2018. With Cyber Monday as the biggest sales day of the year with online revenues of $7.9 billion, which became the highest U.S. ecommerce sales day in history.
Black Friday in the UK continues to grow in popularity, RealBusiness reported that purchases made on Black Friday and Cyber Monday reached over £7bn 2018. Online shopping for Black Friday weekend is increasing in popularity over traditional brick and mortar stores due to convenience. IMRG reports in 2018, the UK spend on online retail sites on Black Friday alone reached £1.49bn with 194 million visits.
Understand your Traffic
The first step ecommerce sites should do to prepare for Black Friday is to understand their traffic. Using analytics services such as Google Analytics you can monitor and benchmark your average traffic volume and can make an educated estimation on how much traffic your site is expecting by looking into previous sales period data. 
Site traffic is highly linked to your marketing campaigns and therefore looking into how your specific social channels and campaigns perform is important too. If you are new to using analytics you can look into comparable averages for Black Friday. In 2017 Ometria reported the number of on-site visits from Black Friday to Cyber Monday was 150% higher than in an average 4-day period on sites.
Make Technical changes
Once you have understood your traffic and estimated the expected increase on Black Friday weekend, you need to make technical changes to ensure your site runs smoothly with high traffic increases. RapidSpike's Lead Systems Architect explains best practices to take in advance to Black Friday:
Step 1: Load testing gives you an idea of how much traffic volume your website can take. Analyse the data from all your infrastructures to figure out where the bottlenecks are, helping to gauge what your system can handle.
Step 2: Ensure static content is loading from a CDN (content delivery network) to offset unnecessary requests from your servers.
Step 3: Implement a load balancer and consider hosting SSL on it – SSL decryption is resource-intensive so taking that load off the web servers is ideal.
Last resort: Implement a queue system so that the number of people interacting with their website can be controlled. This can be frustrating for customers and can lead customers away from your site. RapidSpike recommend a queue system as a last resort and as a preferred message to communicate the site traffic issue compared to the alternative of a time-out message. Finally, if you do experience an outage, let customers know by creating a Custom Status Page. 
Speed Up
Speed is incredibly important for Black Friday, sites need to load in under 3 seconds to avoid customers leaving. Google Lighthouse is an open-source quality testing tool built by Google. Lighthouse is a great tool for analysing your website in order to improve your overall site performance. Lighthouse analyses a given url and performs a series of audits, testing on a number of broad categories, including; Performance, Progressive Web App (PWA), Accessibility, Best Practices, and SEO. Run a Lighthouse test to debug any issues which may be holding your site back from performing efficiently and effectively.
To thoroughly understand your website speed, Page Performance tests can give you precise result figures on your site page. The Page Performance Monitor will download all elements of a page and show file size and load time, which you can track over time. One of the best ways to increase site speed is to compress large images and videos to make them smaller and remove any unnecessary third-party tools. 
It is important to fix slow-loading elements in general, however, you may decide to turn off all non-essential third-parties entirely for Black Friday weekend, as these usually take a long time to load. Once you have made changes to your site, make sure to monitor page performance and compare tests to ensure new elements don't create new issues.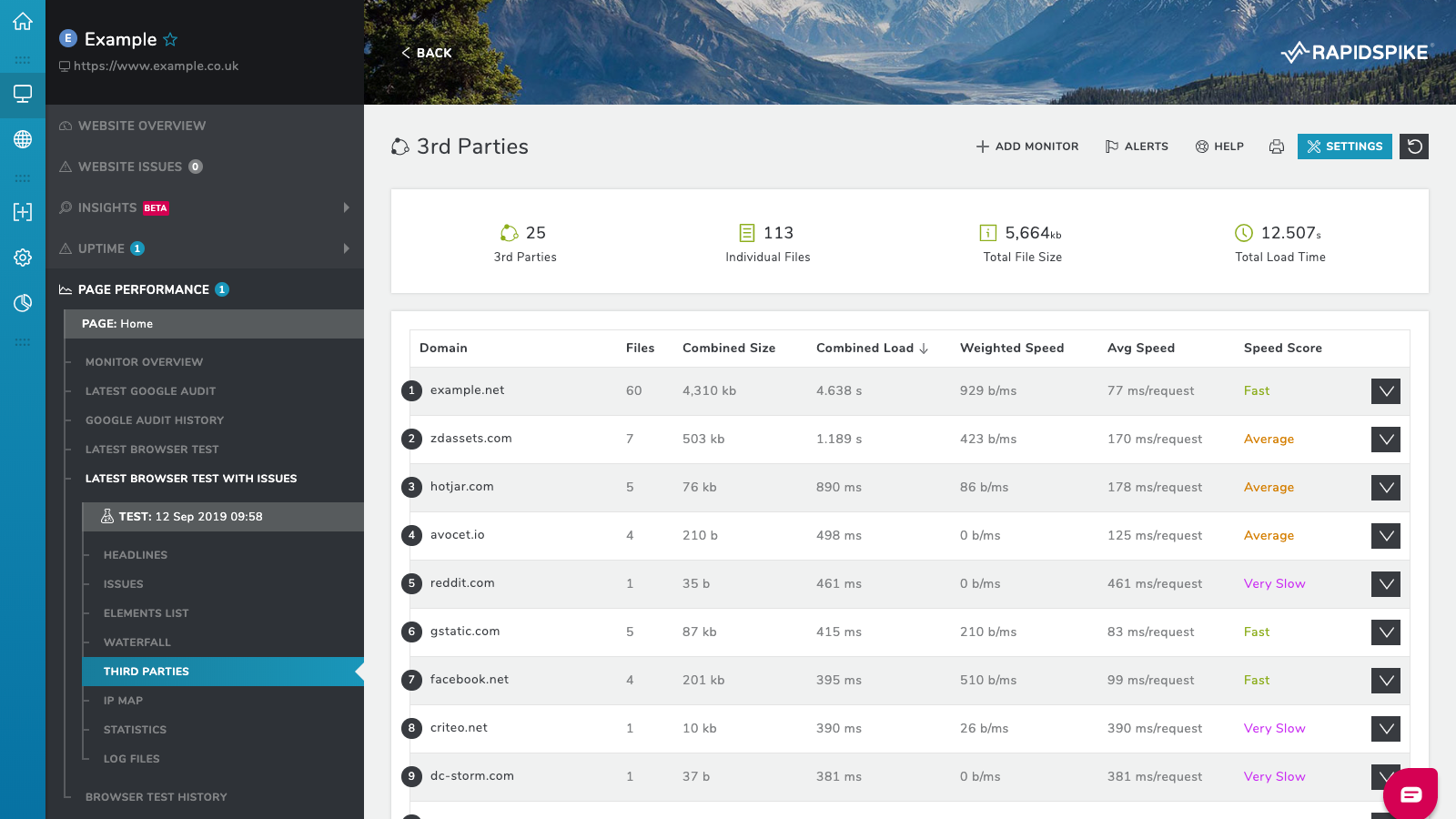 Customer Experience
Looking into your Real Users is not only beneficial for marketing efforts but can also help understand conversions. Track real users interactions with your site, pinpoint when traffic volume impacts the website and make changes to improve those areas of the site. 
Make sure site navigation is optimised to work with consumers and is what customers would expect of an ecommerce site. Avoid making stylistic choices which poorly affect customer experience. Poor website designs lead to frustrated customers, follow a simple navigation checklist to ensure your site is customer-focused.
An ecommerce company's nightmare situation is a customer being unable to complete a purchase. Checkout functions can stop working by something as minor as a pop-up banner. Test common User Journeys such as 'Add to Cart' to make sure customers can shop without issues.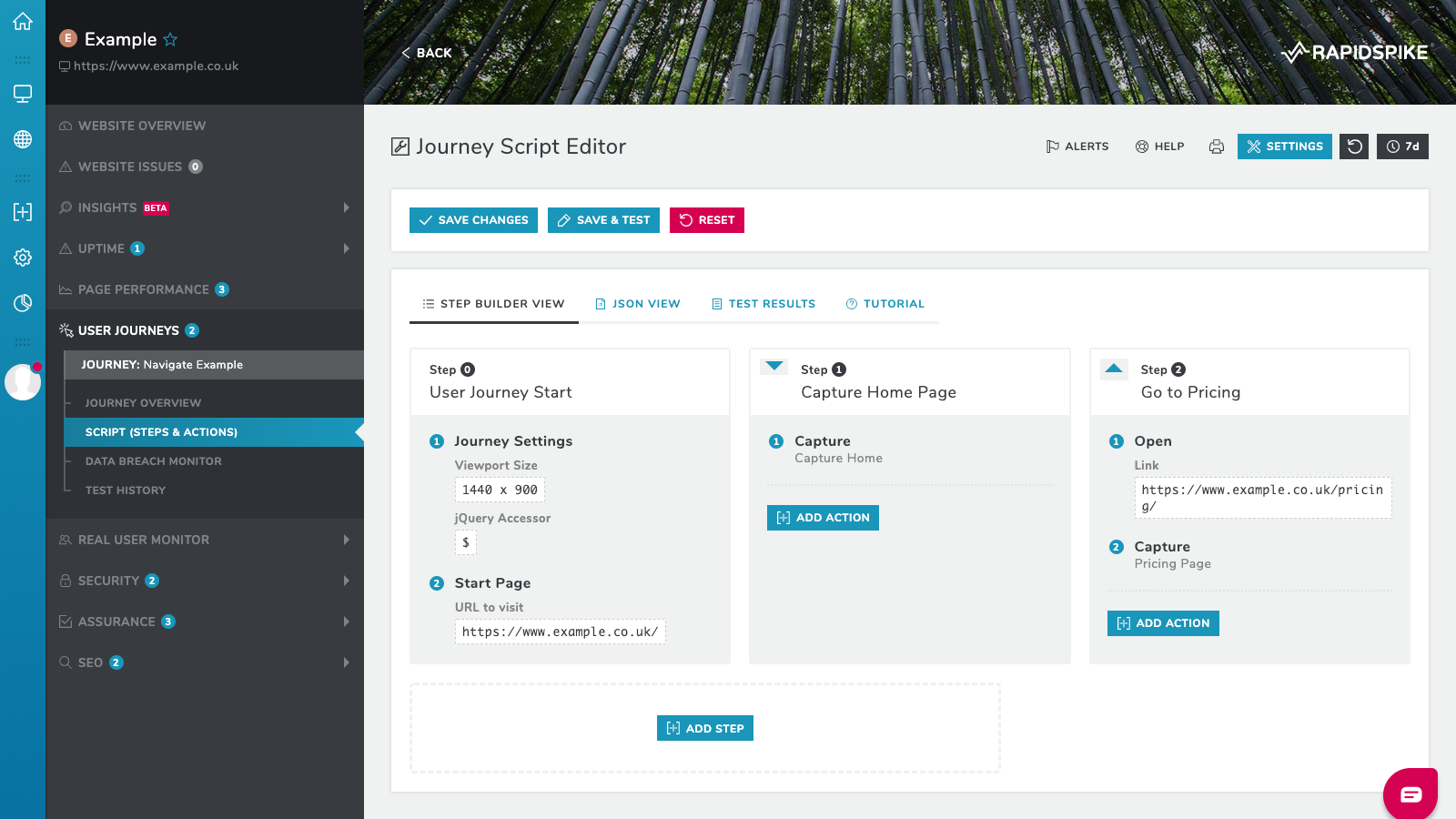 Black Friday Security
A growing threat that ecommerce companies should be aware of this year is Magecart. With an increase in online sales, there's an increase in opportunity for Magecart victims. Magecart will be preparing for Black Friday and taking advantage of any site with vulnerabilities. 
Ecommerce sites need to take responsibility of customer's data, prepare in advance by tracking where your data is being sent to and being alerted of any new hosts. RapidSpike Data Breach Monitor can detect web-skimming, formjacking, and supply chain attacks, reducing; data loss by 99.9%, ICO fines and managing reputational damage.

Become a part of RapidSpike and start looking after
your online business – request a trial today