Features
TV Mode
Track the live status of all your monitors on a large format
dashboard display designed for wall-mounted TVs with RapidSpike TV Mode.
---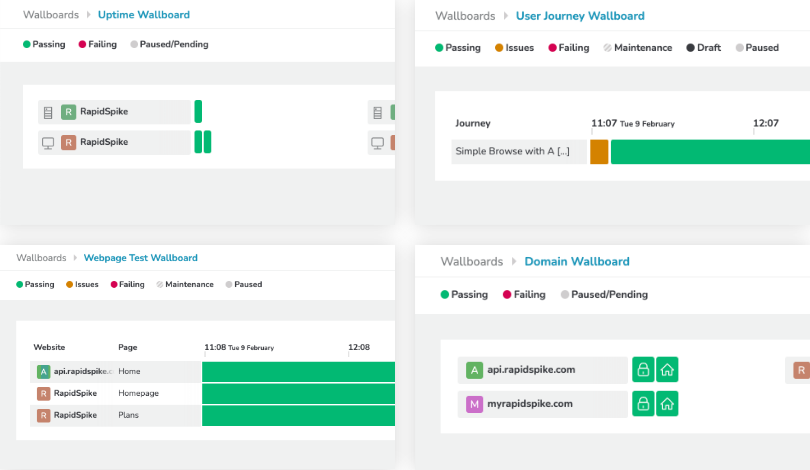 ---
---
AUTO-REFRESHING UPTIME STATUS
Keeping up to date with your current uptime
---
TV Mode is a live-updating, full-screen dashboard with access to a wide variety of detailed metrics. Completely customisable – it can give you a powerful overview of your account, or focus on the minor details with specific monitors.
We have designed the display to work best on large-format wall mounted TVs, although TV Mode will work equally well on a laptop or smaller screen.
The perfect tool for a design agency keeping track of hosted sites or for the support division of a larger online business where keeping an eye on current uptime is a high priority.
---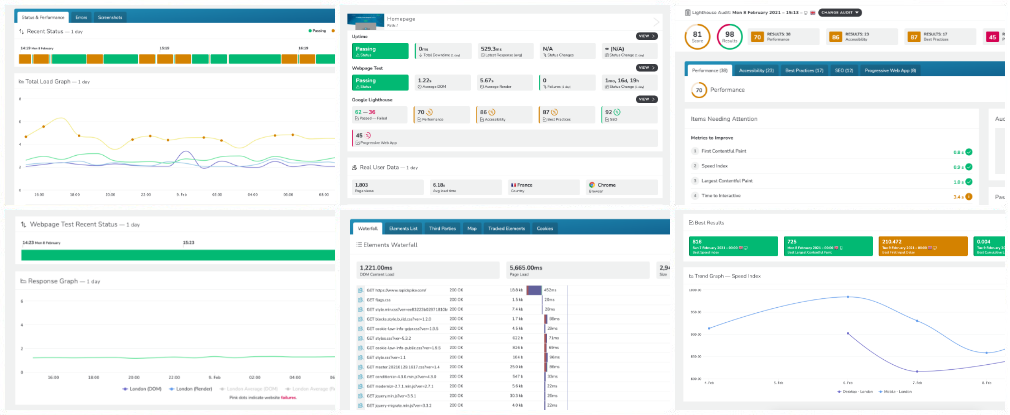 ---
Customisable according to the size/shape of your available monitor or TV screen. You can customise it in a number of useful ways:
Frequency
Change the frequency that TV Mode refreshes from 1 minute up to 10.
Data History
Display data from the last 24 hours up to 2 years ago (depending on your RapidSpike plan).
Layout
Built up of custom widgets which you can add, remove and rearrange yourself. Some widgets provide the option to view at "large" or "small" size, which condenses them to allow more to be displayed on screen at once.
Account Overview
Add widgets that give you an overview of the Servers, Devices and Websites in your account – along with their current live status.
Critical Monitors
Focus in on particular Servers, Devices, Websites, Web Pages and User Journeys and choose exactly what is displayed – including performance graphs and monitor status from different kinds of monitors.
Certificates, Domain Registration
Display a live updating record of your current SSL Certificates and Domain WHOIS Registrations for an at-a-glance insight into your online assurance.
---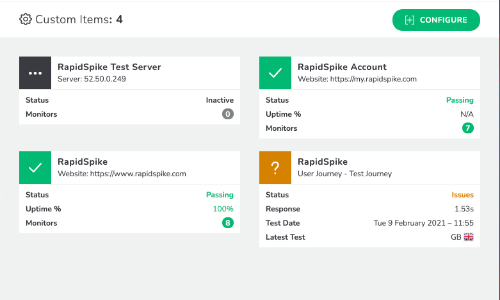 HOW DO YOU GET TV MODE?
This feature forms a part of our paid Plans.
To reach TV Mode, click the button in the main menu – you'll then be able to configure Settings and choose what to display.