COVID-19: Helping our People Work from Home
It's been a crazy few weeks, and it's going to get crazier for some time, but most of the craziness is going to happen in our own homes, in front of TV's, on phones and on our laptops, so how you approach you team working from home is absolutely key to both your people's and your business success in the coming weeks and months.
RapidSpike immediately closed down our office to reduce the risk to our people and moved straight to social distancing. It was really important we moved quickly because the more you do which requires contact with anything outside your own home, the more risk we were putting on our people and their families. Our people are super important to us as is our business continuity.
As a workplace we have always had a full work from home strategy and our people often work from home as part of their normal week. As a business we hope to have set ourselves up to be successful in delivering for our clients in difficult times, but more importantly keeping our people happy and engaged (and most importantly – sane!). Here's a sample of what we do:
Physical Environment
Our core stack is AWS locales across the world in global locations accessed via 2FA and strict security measures with our core environments accessible only via VPN. We lock down everything in order to protect our clients. Everyone has a laptop (mostly Macs), broadband, desk and a monitor at home, but we largely leave it upto the individual. We have said to all our people if there is anything they need that will make their life easier over the next few weeks working from home, we will get it sent to their address (within reason of course!).
Mental Environment
It's really important that when you are asking people to work from home you don't demand they work exactly when you want them to, as long as they get the work done, what do you care! As we are in unprecedented circumstances due to COVID-19, it's even more important not to put unreasonable and stressful demands on people. Our people have their children to think of, vulnerable members of their family, pets, going to get groceries at sensible times, exercising and more. It's important we don't put additional pressure on people when they feel anxious already. The only meeting we have that is compulsory is our Team Call, however, even that can be missed under exceptional circumstances like when a team member had a call at the same time with their school or someone wanted to go to the shops early to avoid missing out due to people panic buying.
Team Call
Every day we have a full team call at 9:30am to 10:00am. If someone can't make it that's fine as long as they send an update before or afterwards. We quickly talk about the priorities (2 minutes max), quick update and blockers from each team member (2 minutes each max), recap (2 minutes max) and then we get 5-10 minutes to just socially chat and discuss any worries anyone might have. These help keep our social bonds going. People in the workplace want to work with people they like and care about, and this is done best face to face so we also encourage everyone to show their face on the video rather than being a pulsating icon!
Collaboration Platforms
All work is monitored and managed via Trello and we operate a Kanban style of delivery with a deploy when ready strategy. We have a number of plug-ins to help us record time against clients and have both Trello, BitBucket and Fresh Desk alongside RapidSpike Alerting integrated into Slack so everyone gets a good understanding of progress without having to trawl through the boards to find out who has done what.
Social Tools
We use Slack as our social tool, and as we suggested previously, we flow everything through a variety of channels to keep us all informed but we also chat, giphy and emoji our way through the day with not just updates from work but also pictures from home, jokes (clean ones!), work chatter, an end of day update and games. It's so important we encourage people to chat openly without too many rules to keep our social bonds.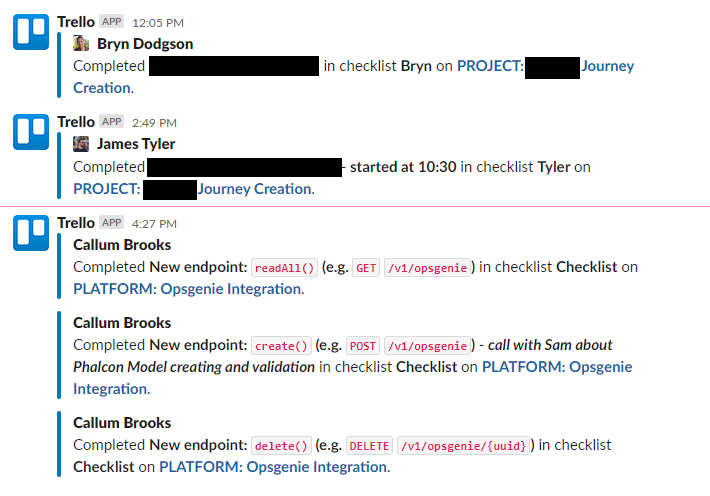 Finally…
Truly we are using this time to take a deep breath, slow down and get some things in place that we have been meaning to do for ages, we will be a more resilient business post crisis for sure. We hope you enjoyed reading this blog and that your company and families are well set up to ride out this most challenging time. We are really proud of our team and how they have approached everything in a professional, open and honest manner, we hope they love working at RapidSpike too.