Performance
Enterprise-level support with our
Managed User Journey service
Our technical account managers can assist you in
creating and maintaining Synthetic Journeys across your app.
---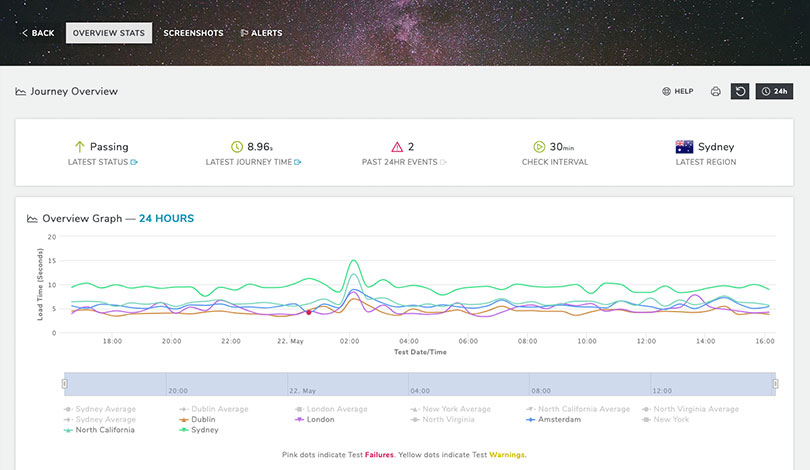 ---
---
Managed Synthetic User Journeys
Utilise the power of our Synthetic User Journey performance monitoring service, but with the added benefit of a dedicated account manager to take away any headaches.
Relax and leave the monitoring to us
For busy operational and support teams, where time is a rare commodity – why not out-source the monitoring of your digital platform to RapidSpike?
RapidSpike's managed monitoring service helps you be certain that your platform is working as it should. It's affordable and offers a high degree of flexibility.
Hands-off monitoring
All the advantages of user journey monitoring, none of the stress.
Simply tell our team your user journey, test locations and test frequency – we'll do the rest.
Our aim is to make your application monitoring effortless – so you can focus on providing a great service and 100% uptime.
Your critical processes, cared for
With our managed service, our engineers are on hand to support and manage your business critical scripts.
Our team will manage any neccessary script changes, adjusting your Synthetic Journey to your needs.
An account manager that cares
All of our managed user journey clients receive the benefit of an account manager to discuss and configure their needs.
We'll assist in configuring your alerts, understanding the data itself, managing your script locations and every other aspect of the journey.
Just explain the journey… we'll do the rest
RapidSpike takes the pain away from traditional user journey monitoring. Simply describe your user journey and our highly skilled engineers will create a dynamic script to help you monitor your most complicated application processes.
---
---
Journey creation included
We understand every application is bespoke, so all journeys are tailored to fit each client engagement. This approach provides a great deal of development creativity and flexibility.
Engineers on hand ready to support changes
The expert team of engineers at RapidSpike will modify and update any journey for you, meaning no technical expertise is required.
Global monitoring infrastructure
Configure your journey to run from locations around the world, with separate alerting thresholds for each location – simulating an international audience to your application.
Want to know more?
Speak to our friendly sales team about a live demo of the service,
or just to find out more about our Managed Service.