Performance
On-Demand
Synthetic User Journeys
Self-Service scripts enable your team to write and manage your
own custom Journeys to test your web application.
---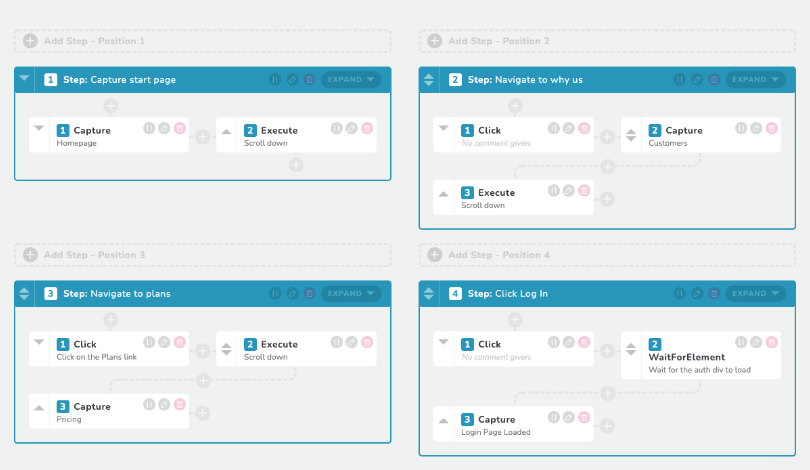 ---
---
Self-Service Synthetic User Journeys
Empower your technical team to take full ownership of your Synthetic User Journey scripts, allowing you to tweak and manage your application testing like never before.
Fine-tuned and fully editable
For more technical operational and performance teams, nothing is better than taking control over your own test scripts. Using RapidSpike Self-Service you can write your own scripts for our Selenium-powered testing platform.
Write scripts in simple JSON format, and test on-demand to verify your script is performing correctly.
Complete control over your testing
Take total control and run your own scripts from as many locations and as often as you want.
Made important site changes? Edit scripts as and when your team needs, keeping you permanently up-to-date.
Selenium made simple
Our custom translation layer converts simple JSON commands into your user journey, utilising the powerful Selenium framework.
No need for you to manage your own Selenium environments, all the technical aspects are handled under the hood.
As simple or as complex as you need
Whether testing a simple browse or a complex user journey, our self-service system gives you the flexibility to write and manage the scripts that matter.
Custom scripts allow you to tweak and balance as you see fit, giving your performance team fine control over your journeys.
Utilise the power of custom page interactions
Our journeys are made up of actions that allow you to script page interactions and browse your app like a user does. Below are just a few of the most common actions our journeys use:
---
---
Click
The purest form of interaction: a click simply clicks on whatever element you specify, allowing you to navigate to new pages, open page controls and more.
---
Assert
The assert checks to see if a specified element exists – so you know that the content has loaded as expected and your journey is running correctly.
---
Wait
Pauses the journey for a set period, allowing page content or timed interactions to complete. Often we use a wait simply to allow content to load completely.
---
Capture
Capture takes a screenshot of whatever is currently on screen, providing you with a great way to verify why an error might have occurred, or just to see how much of the page is currently loaded.
Want to know more?
Speak to our friendly sales team about a live demo of the service,
or just to find out more about our Self-Service Synthetic Journeys.