Security
Network and Web App Vulnerability Scanning
Continuously monitor your digital eco-system for security vulnerabilities
---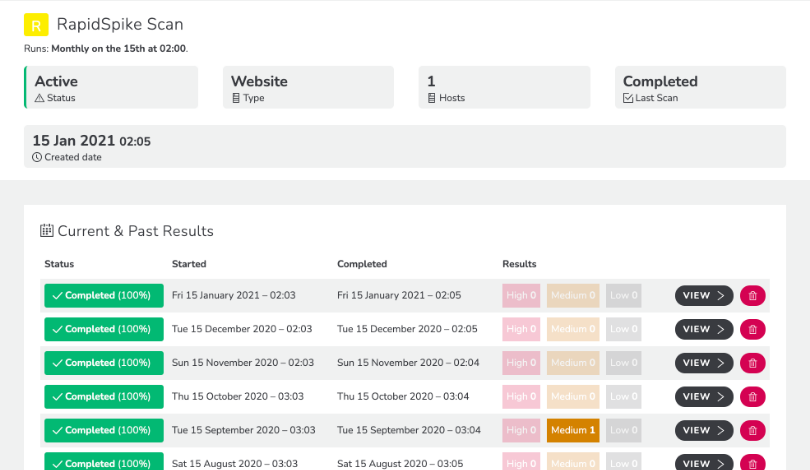 ---
---
Why Vulnerability Scanning?
Checking for vulnerabilities is vital to ensure malicious attack attempts don't exploit poor configuration, out of date patching, cross-site scripting or injection vulnerabilities of your website or web application.
---

---
Scan Management
Scan management enables you to manage your on going vulnerability scans to work with your team.
Schedule your scans to run when they suit you; from Daily, Weekly, Monthly, Quarterly and Annual frequency. Set the time of day the scan should run to ensure granular control over your website testing.
---
How Does the Vulnerability Scanner Work?
Checking your platform for security vulnerabilities couldn't be easier. Simply configure either a Network Scan – pointed at one or more IP Addresses – or a Web App Scan, which is performed on one or more Domain Names. We will then run an automated vulnerability assessment against your entire digital ecosystem.
Assessments can be either run on-demand or can be set up as a scheduled process at a time to best suit you. Once the assessment has run you will be provided with a dashboard listing the vulnerabilities found by severity.
Protect your online world
The RapidSpike Vulnerability Scanner is supercharged with the ability to detect and suggest solutions to vulnerabilities in the web's most popular platforms.
---

WordPress
The world's most popular CMS, WordPress is also a prime target for hacking attempts.

Magento
A powerful ecommerce platform, Magento is used for some of the biggest online stores.

Drupal
RapidSpike will scan Drupal websites against a library of known vulnerabilities.

Joomla!
Joomla! is a popular content management system and therefore a target for vulnerabilities.

Silverstripe
Automatically detect specific vulnerabilities within your Silverstripe-powered website.
Benefits of RapidSpike's Vulnerability Scanner
---
Single view of your digital ecosystem
Freedom to run a security test when it suits you
Continuously monitor your perimeter for unexpected changes
Effortless Operation
Reduce the risk of being hacked
Meet audit and compliance controls