RapidSpike Roundup 2021
2021 has been an incredible year for RapidSpike. We've produced some brilliant features and made platform changes to help our clients produce faster, safer and more reliable websites. Additionally, we've had some great successes as a company. Here are some of the highlights in the RapidSpike Roundup 2021.
January
To kick off the new year, we made significant improvements to our Webpage Performance monitoring with a major upgrade and new technology. We use a serverless global network to deliver the key 'Web Vitals' to ensure you are not only aware of your speed, but you measure, monitor and improve it. We combined an upgrade of Google Lighthouse v7 and Web Vitals, alongside our proprietary technology that grabs every detail on your website or page to deliver a whole plethora of information, organised to help you improve your web performance.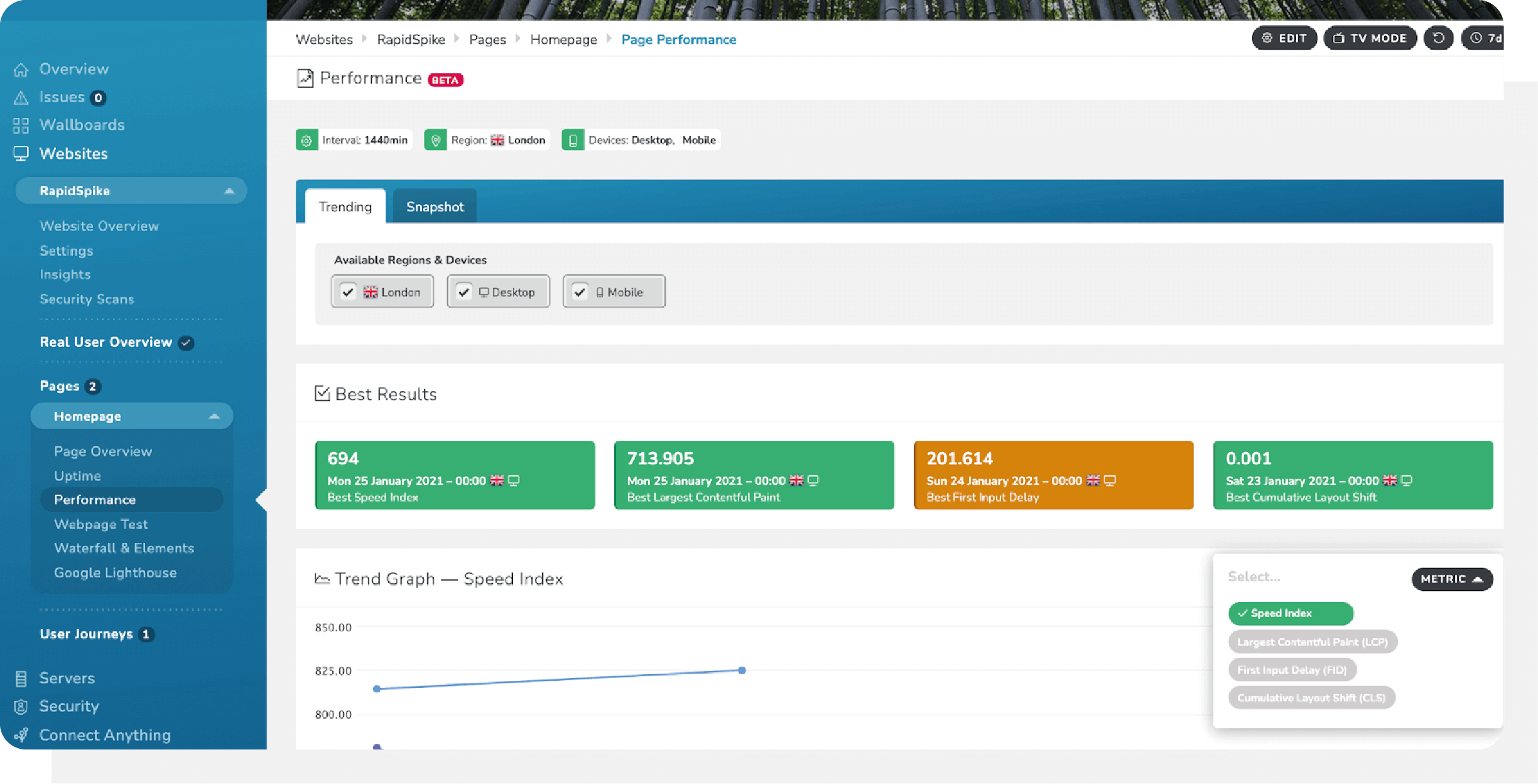 In January, we fulfilled a customer-requested feature – Journey Pre-Actions. This feature allows users to add a set of "Pre-Actions" that will run at the start before the Synthetic User Journey initiates. This is especially useful for applying cookies to the browser session before the journey starts or for generating data items for use later in the journeys. You could even generate data items to add into cookies.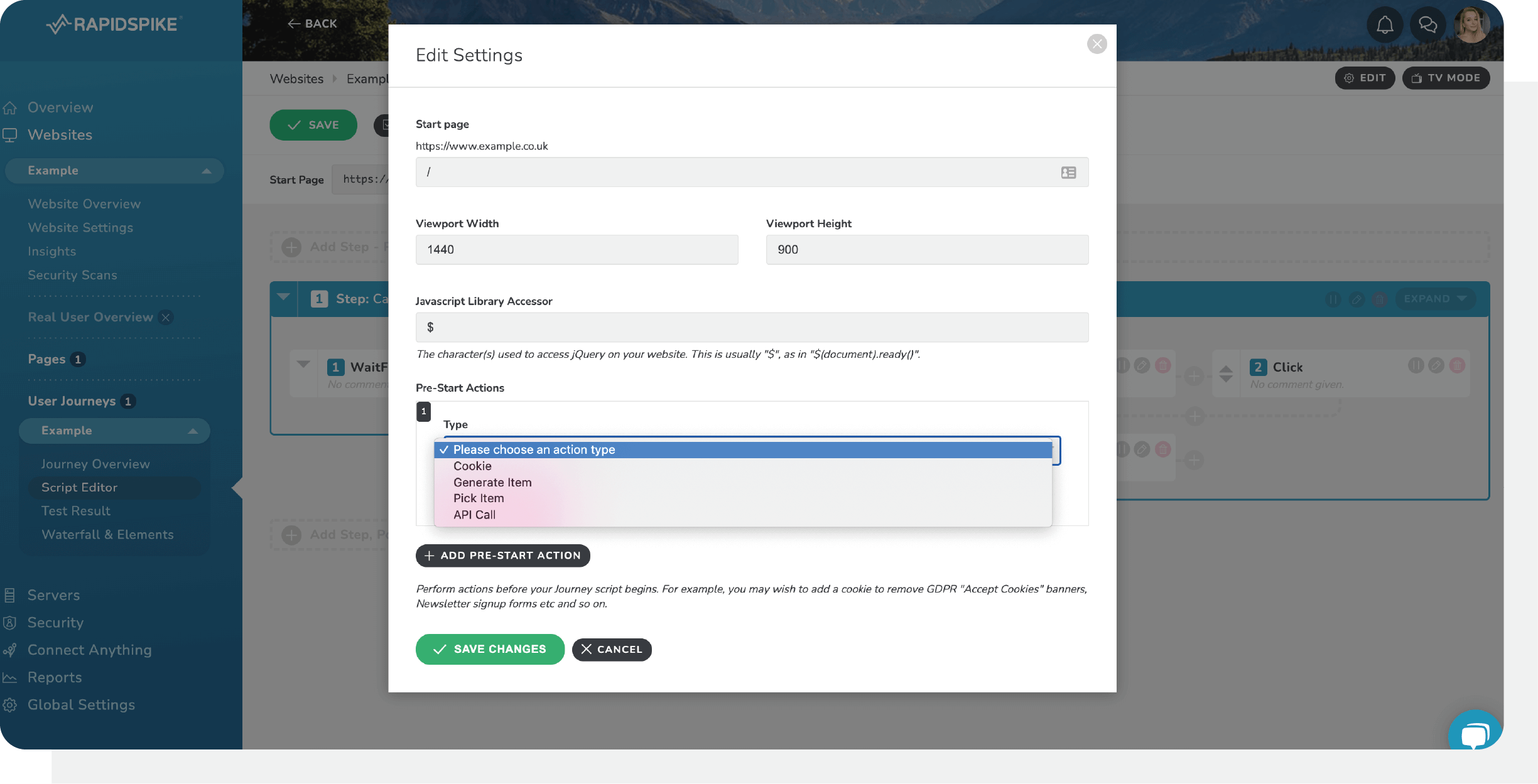 Our alerts protect customers from both common and complex failures. That's why we decided to release enhanced alerts for our assurance monitors. Configurable assurance alerts allow you to have more control of when and how you are notified of a variety of potential issues, ranging from SSL expiry dates to Google's Safe Browsing lists.
Our first win of 2021, RapidSpike were named Northern Digital Awards Best Digital Tool 2021! RapidSpike CEO Gav Winter states: "We are absolutely delighted to win Best Digital Tool at the Northern Digital Awards. The team have worked supremely hard over the last year and they deserve all the plaudits, they are an amazing bunch. Winning awards is excellent validation and generates a great deal of positivity, but it's tough times for many, so I'm glad we got a chance to celebrate our successes."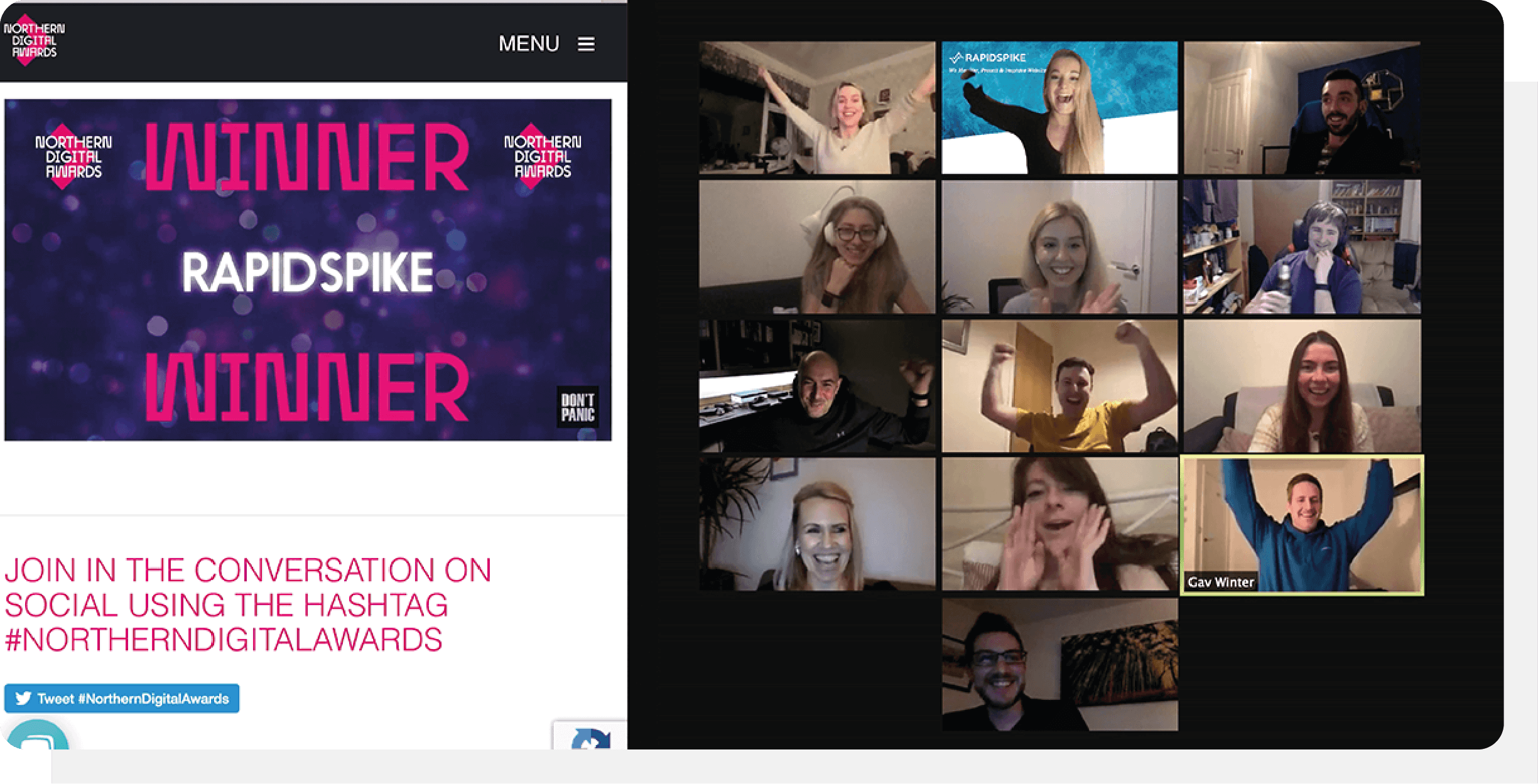 From February 2022, Google will start judging your website on both mobile and desktop, based on a new set of performance metrics called Core Web Vitals. RapidSpike developed a new feature to not only consistently and continuously measure for Core Web Vitals on website and mobile anywhere in the world, but using all our other features you can debug and fix issues that will help protect your SEO and also improve it. Find out more in our blog – Core Web Vitals: One Test Just isn't Enough.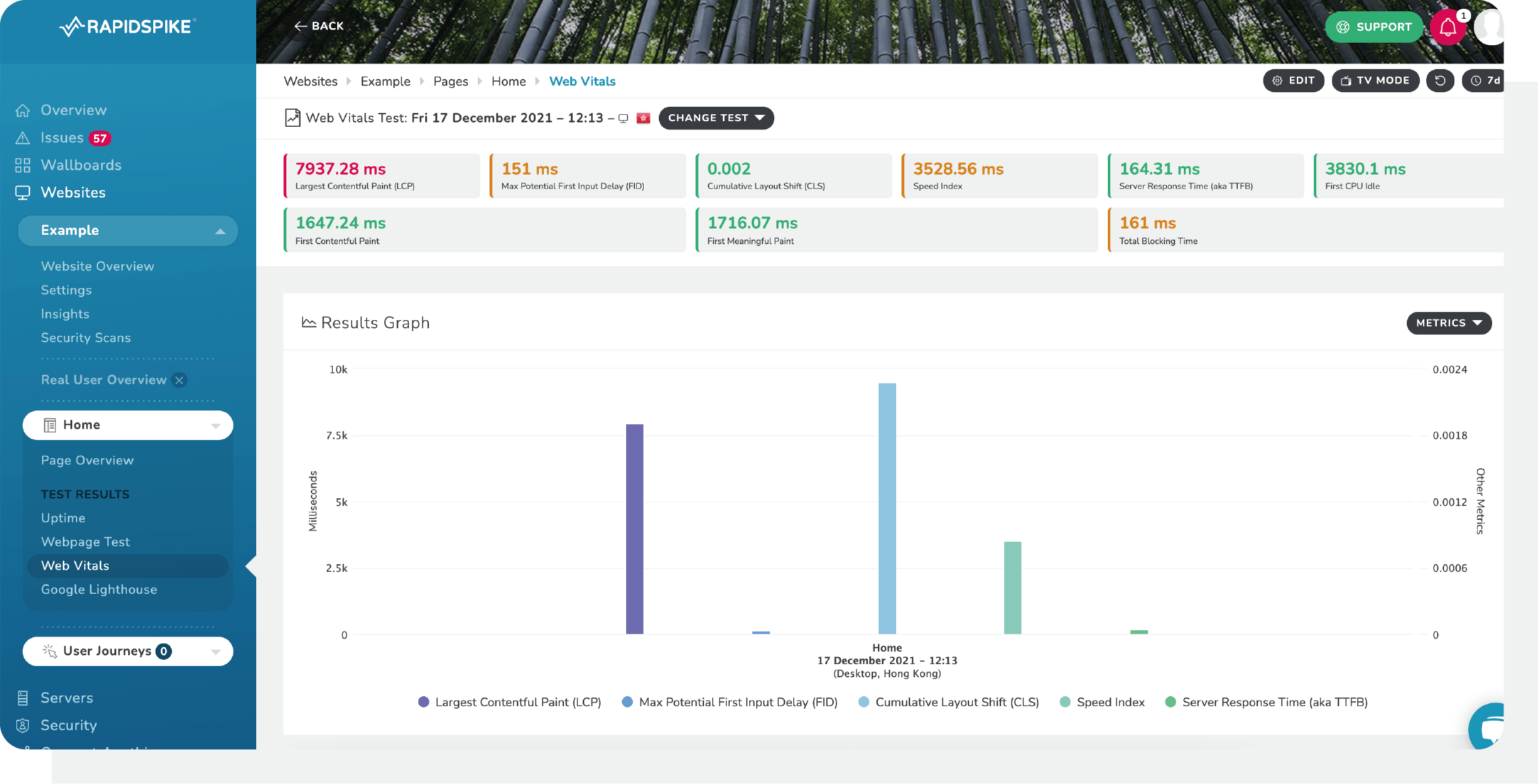 February
We started February off releasing our Security Headers feature. When a customer visits your website's homepage, the metadata in the header tells their device how to act, how to respond and what rules to expect. On more complicated sites, the header can become very large and the complexity can introduce risks and lower the overall performance of your site.
Also in February, we made lots of little app updates. Among them, a welcome addition to the Synthetic User Journey results screen. Now, if your step completed but had issues, it says so and lists the issues. The quick links to Page Source, HTTP Archive, and Waterfall & Elements help you debug issues faster than ever.
Our second award success of the year came in the form of the UK Dev Awards for Platform of the Year 2021. A massive achievement for the team and in particular our Tech team who have worked hard to create a platform that supports brands around the world.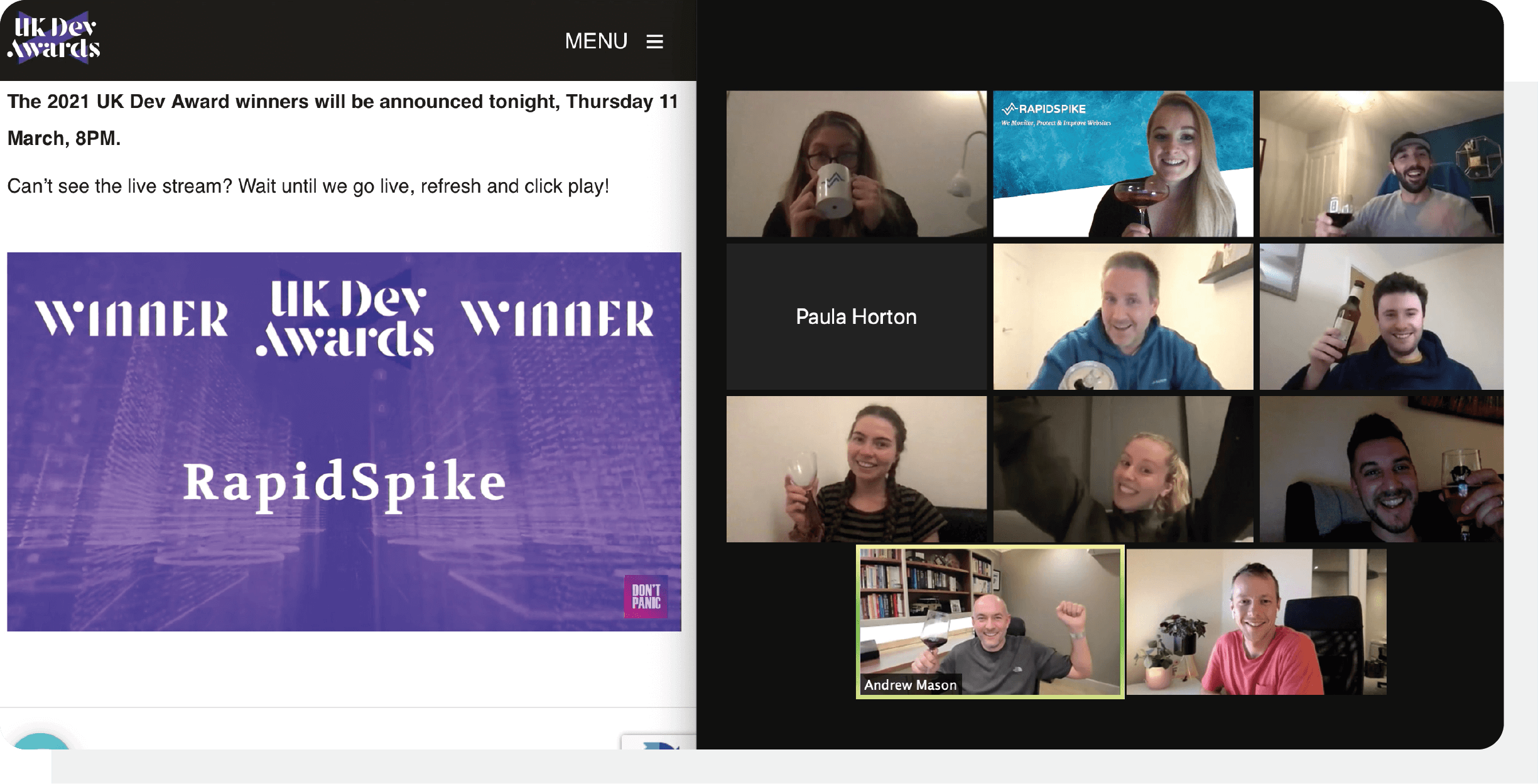 April
A new way to view your data – trending graphs demonstrate how each of your test results fit together and show progress (or a lack of progress). To improve how we report our performance metrics we introduced an average result. In the past, we showed your stats by 'latest result', however, this could present an inaccurate picture if your latest result was anomalous, or during off-peak times. Your average result is based on your current view (e.g. 7 days, 30 days, etc). This is simply an average of the total time of all completed tests.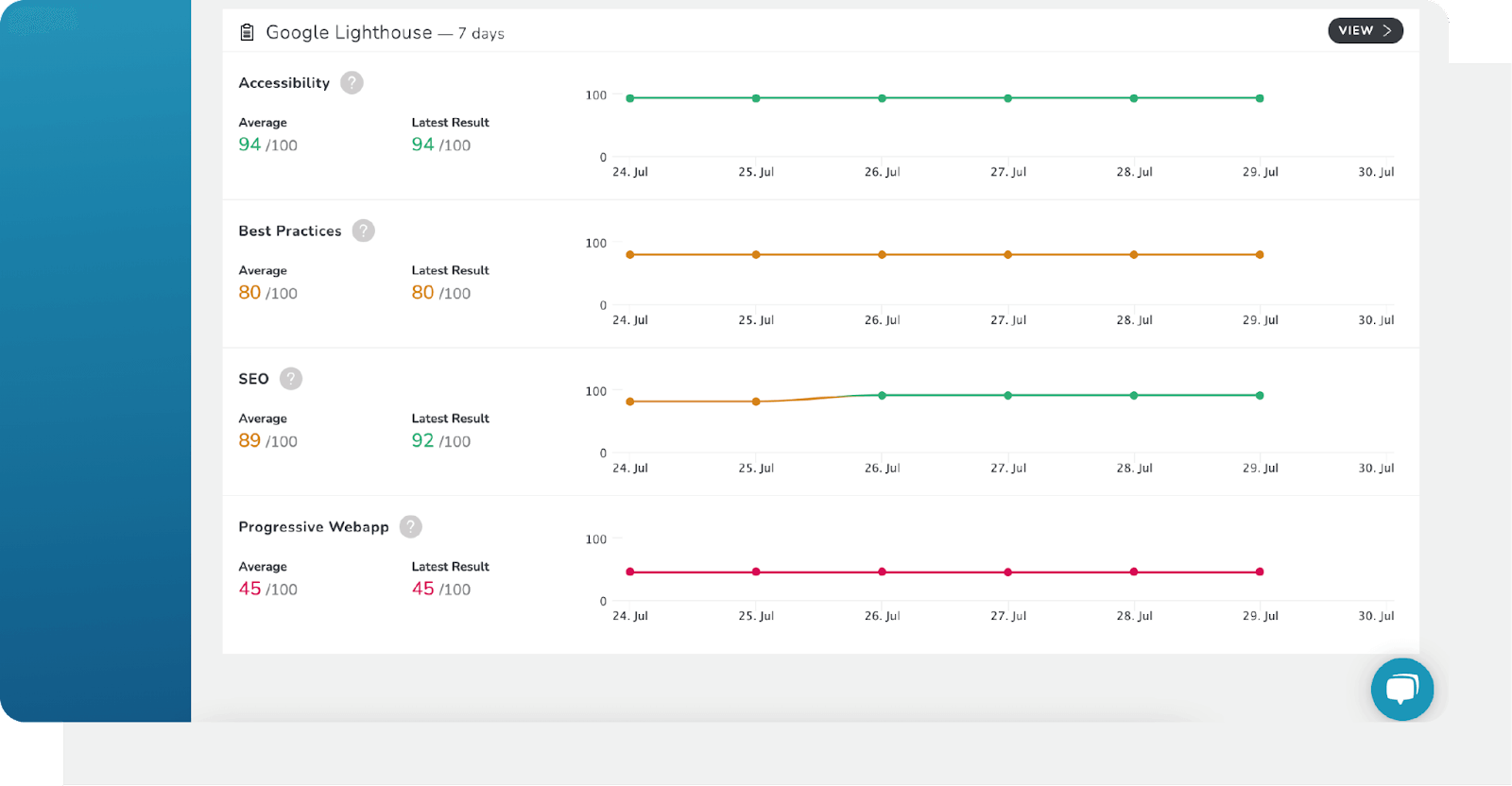 RapidSpike allows you to monitor your website from different locations around the world, as well as on different devices. Another update to the dashboard is the way we display the data, when monitors are run from different conditions you can now see that information separately. Using the Profile filter you can see how different customers experience your website.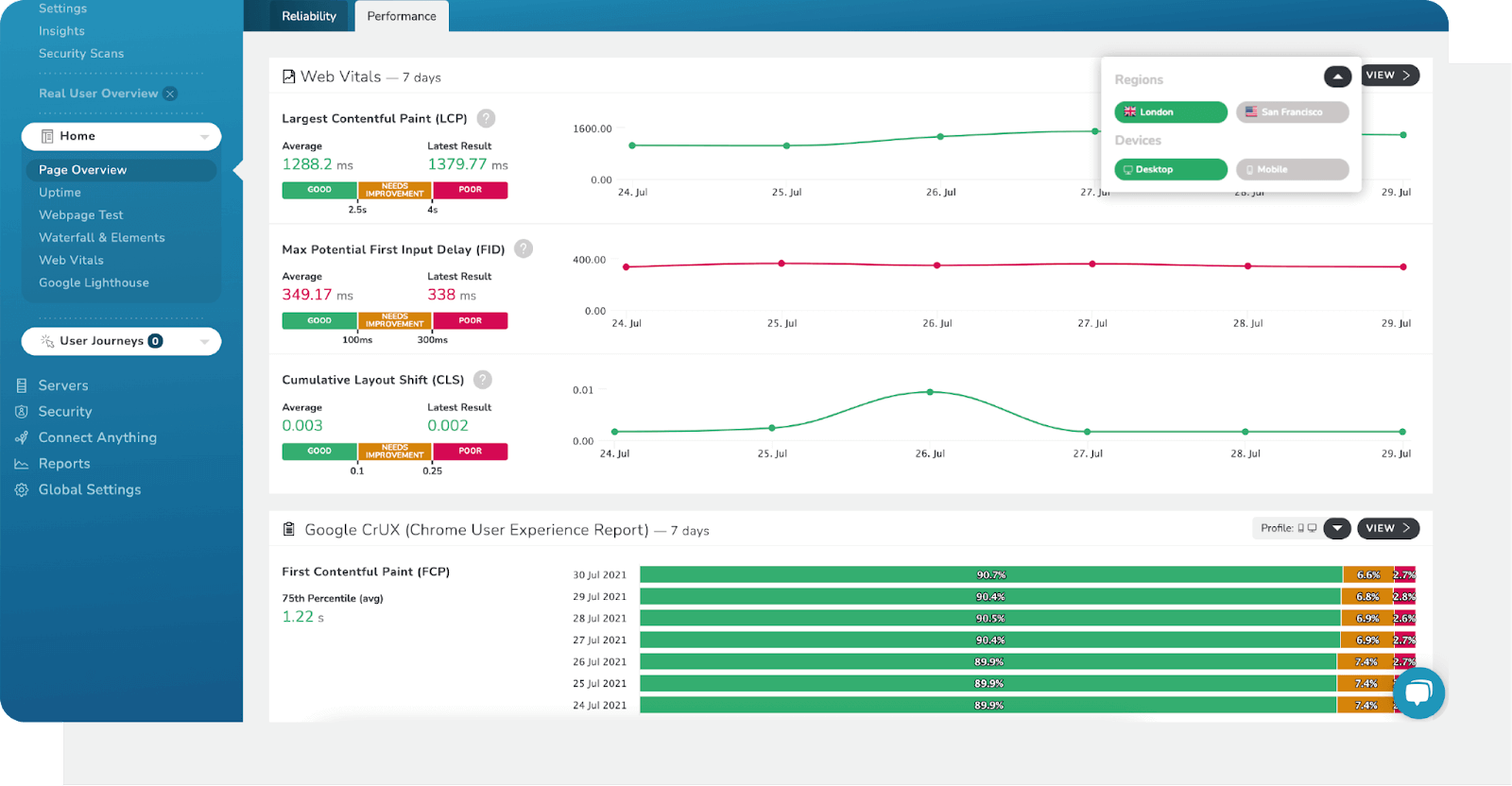 May
In May, we added the CrUX (Chrome User Experience) Report into RapidSpike. CrUX provides metrics for how real-world users experience your website and is also known for powering PageSpeed Insights Field Data. Information includes First Contentful Paint, First Input Delay, Largest Contentful Paint, and Cumulative Layout Shift.
Websites with enough data to be shown a CrUX report will be able to access this data via Google Lighthouse test results. Each test will also show whether the website passes or fails Google's new search signals – Core Web Vitals.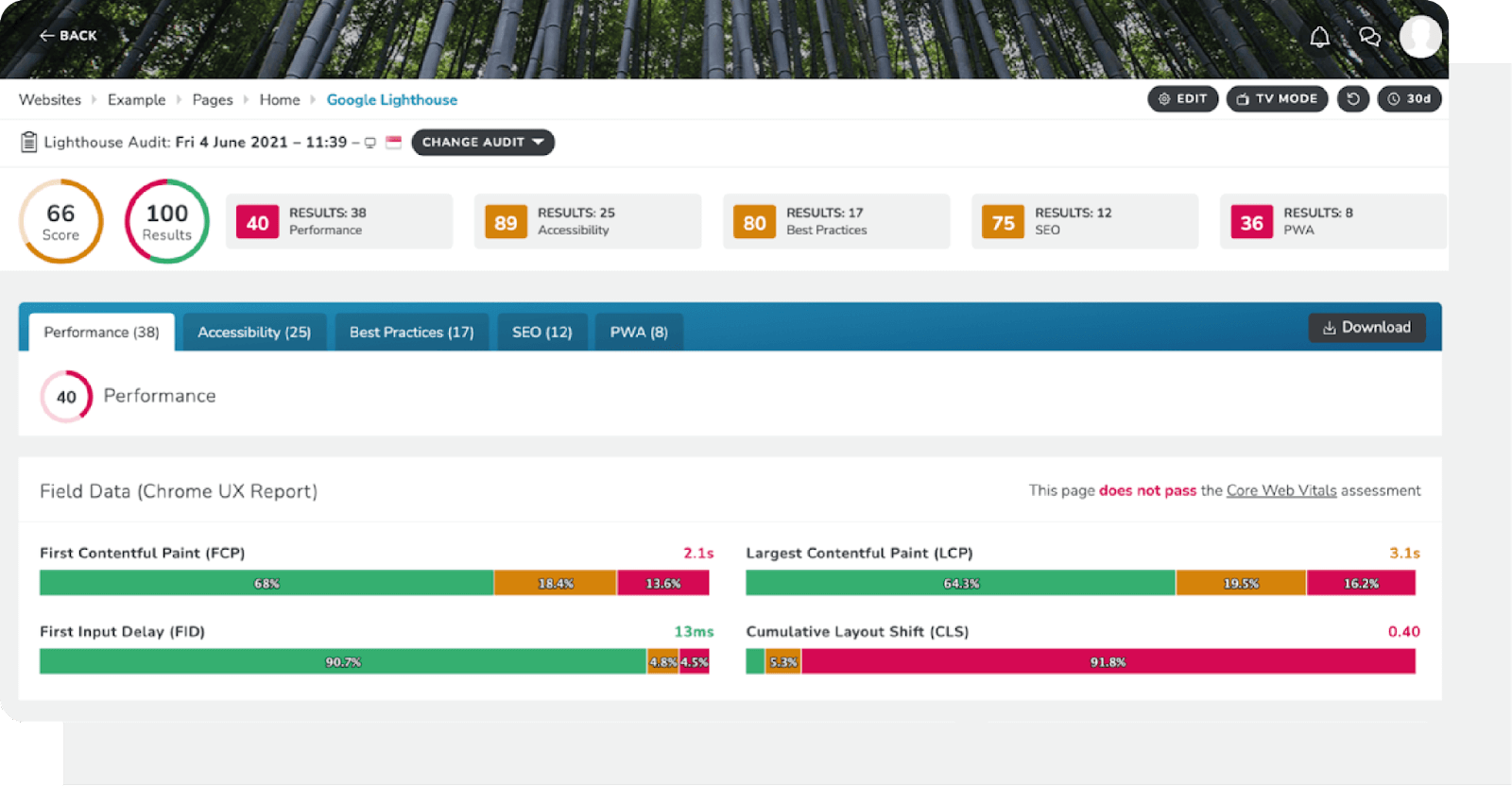 Third parties can be essential for providing cool features and tools for your website. However, they must be monitored to ensure they aren't ruining user experience by slowing down your site or even worse, leaving you open to Magecart-style attacks!
We introduced the new Google Lighthouse Third Parties view to give a detailed view of all third parties seen in your Google Lighthouse result. Valuable information shown includes Total Thread Execution Time and Total Transfer Size which shows the third parties impact on page execution time, blocking and size. Third parties will be broken down into subgroups so you can easily decipher what is slowing you down.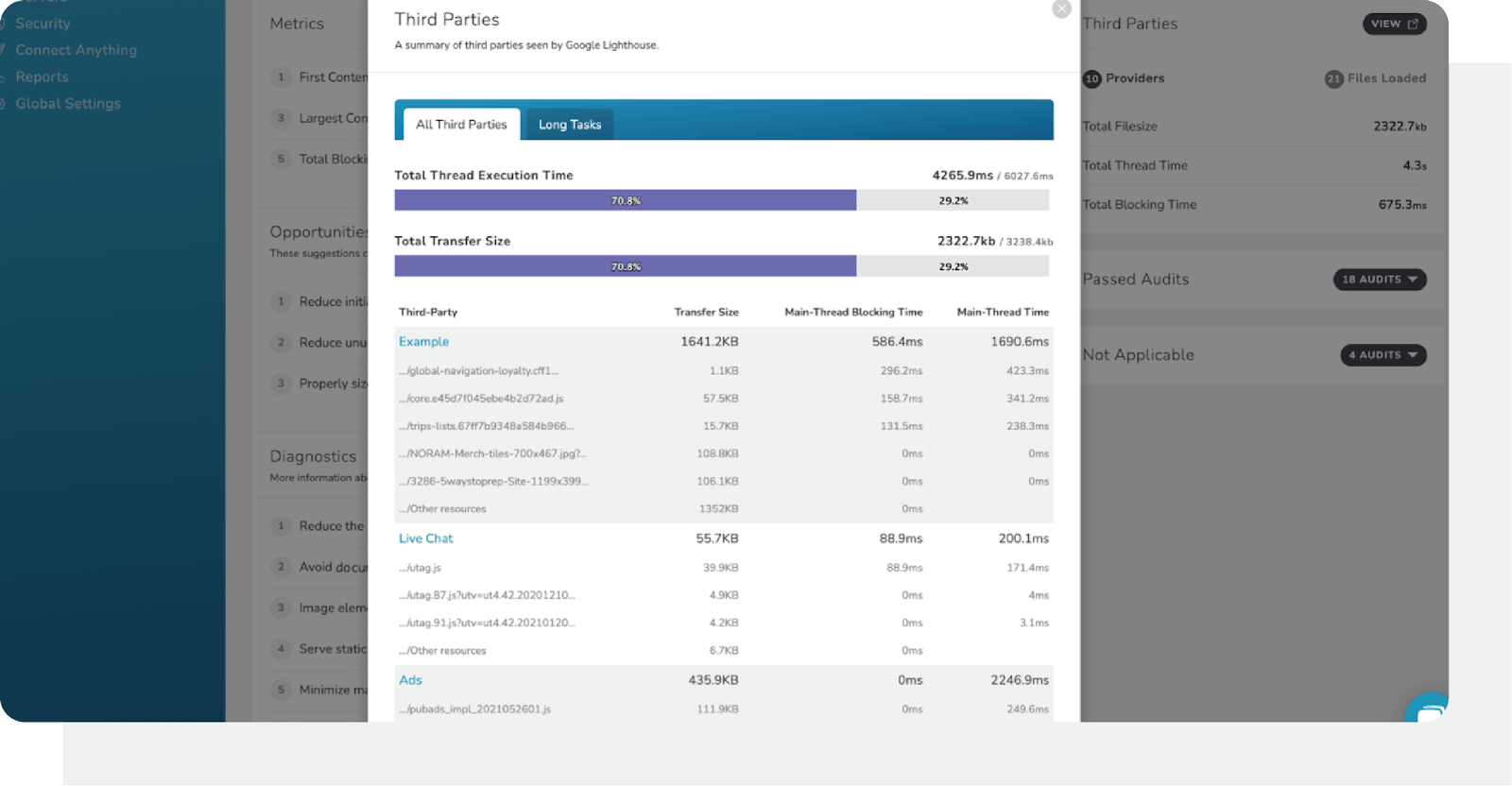 The Long Tasks tab gives you a summary of third parties seen by Google with a long task time. You'll be able to see the URL, start time and duration time.
At RapidSpike, we take mental health seriously. On World Mental Health Day we launched our new Wellbeing Team and Mental Health Guide to support the mental well-being of the whole RapidSpike team. The Wellbeing Team aims to support employees by focusing on four key areas of wellness: physical, financial, emotional, and social. Future activities include mental health first aid training, organising activities including group exercise classes, community events, and expert speakers, and implementing workplace benefits such as gym memberships, health insurance and a cycle to work scheme.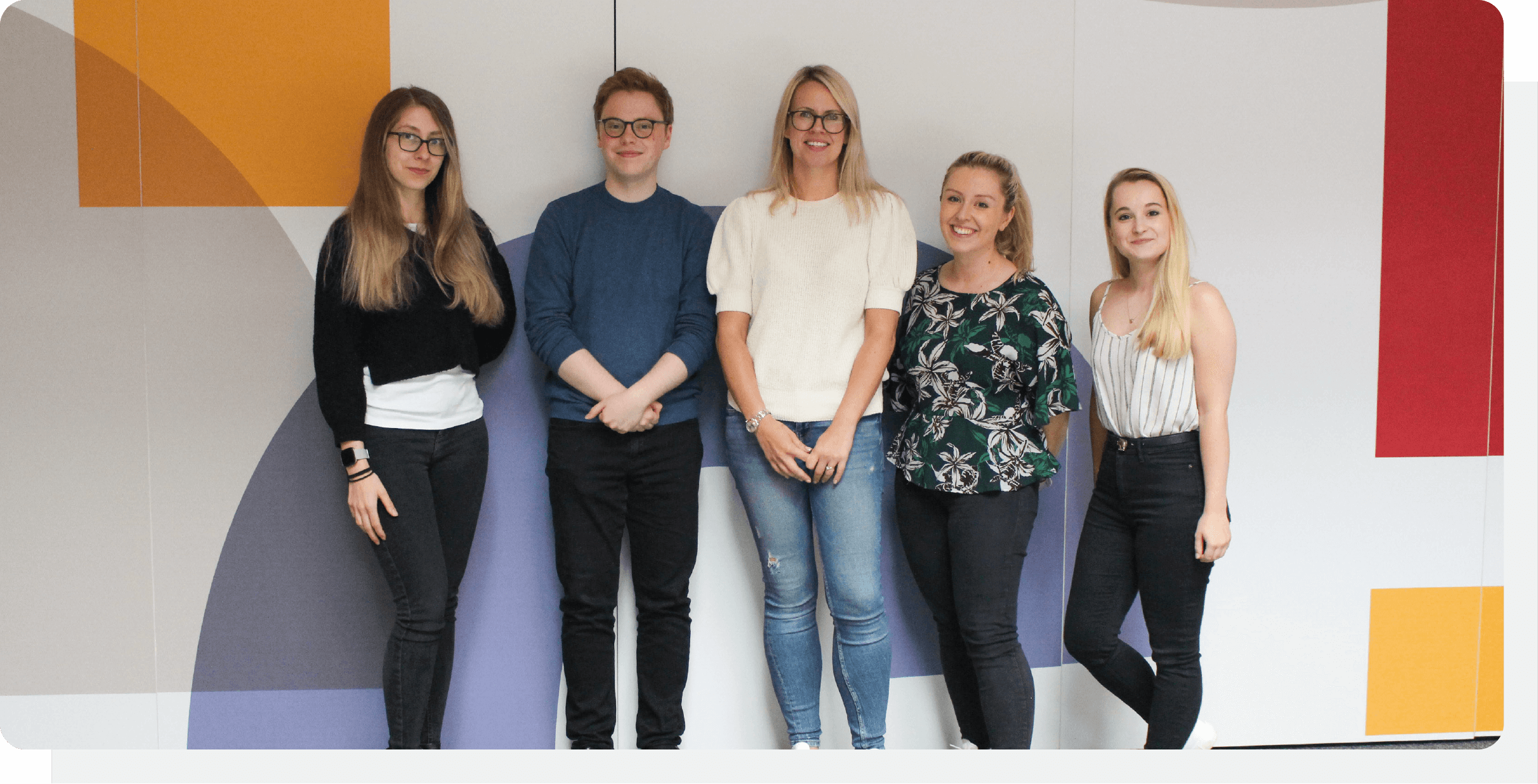 July
We are constantly looking for ways to improve the user interface of our platform. In July, we released a brand new and improved page overview dashboard with new data points, trend graphs, filters and more including our new Web Vitals monitor and the Chrome User Experience Report.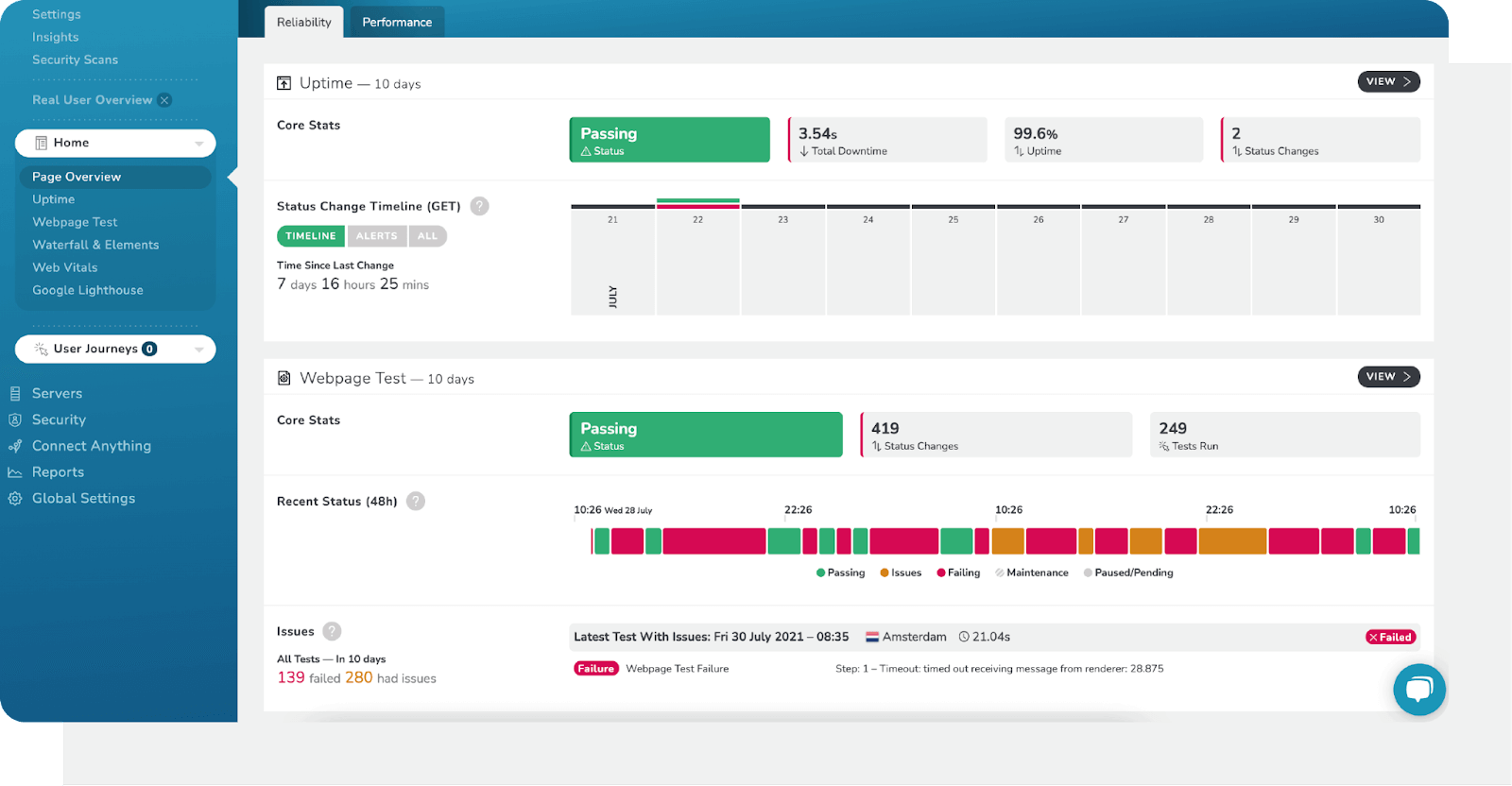 We also introduced Google Lighthouse throttling, allowing you to emulate how different customers may experience your website for a holistic picture of your website visitors experience's. This might include emulating older, slower mobile phones or desktop computers connecting over slow internet.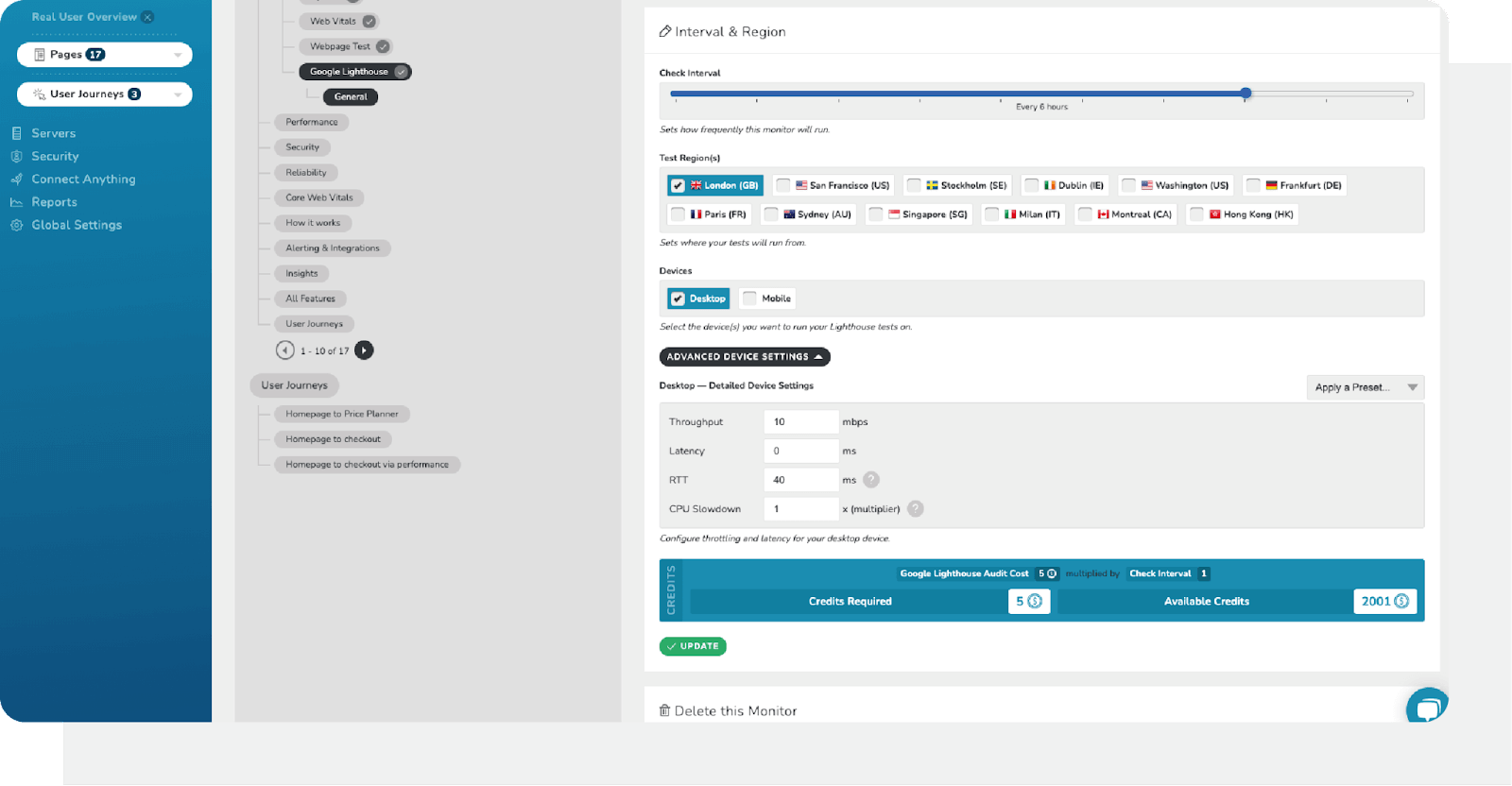 August
In August, we built RapidSpike baselines into the platform, meaning you can now gauge how your website performs in relation to others. Consistent website monitoring is important, but how does your website compare? Baselines help you understand where you need to improve, and showcase average scores across all RapidSpike accounts.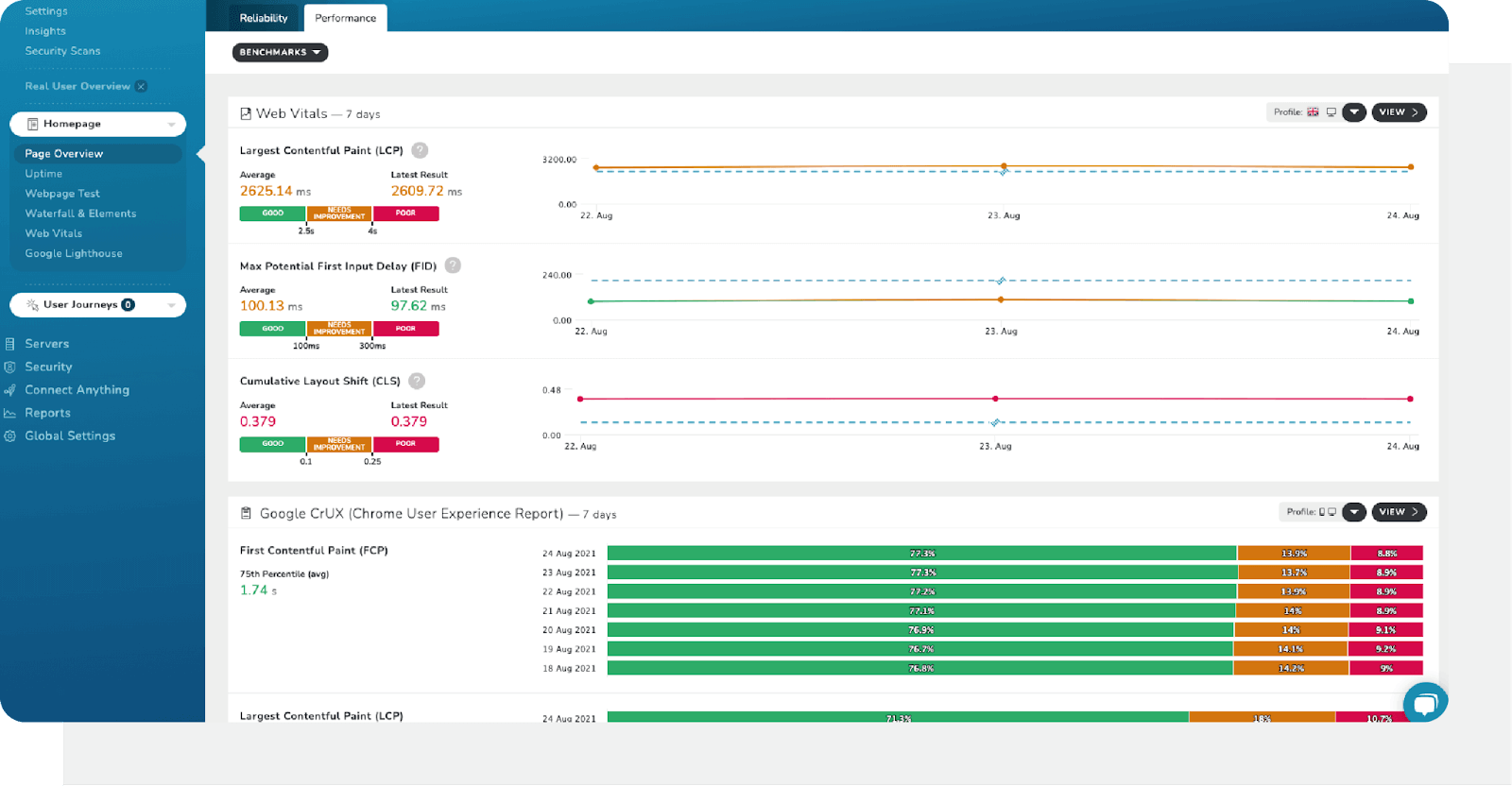 September
September was an eventful month for the RapidSpike team. We embarked upon the Yorkshire Three Peaks on World Suicide Prevention Day to raise money for Andy's Man Club.
RapidSpike CEO Gav Winter comments: "We all need to be heard, especially when we feel like we can't confide in our friends or loved ones for fear of judgment or feeling like we are failing. Andys Man Club fills a void that if left unchecked, unheard or unseen can lead to terrible consequences so more people need to know about them. Male suicide is a huge problem and just providing a safe talking space is one of the best solutions which is why we support Andys Man Club."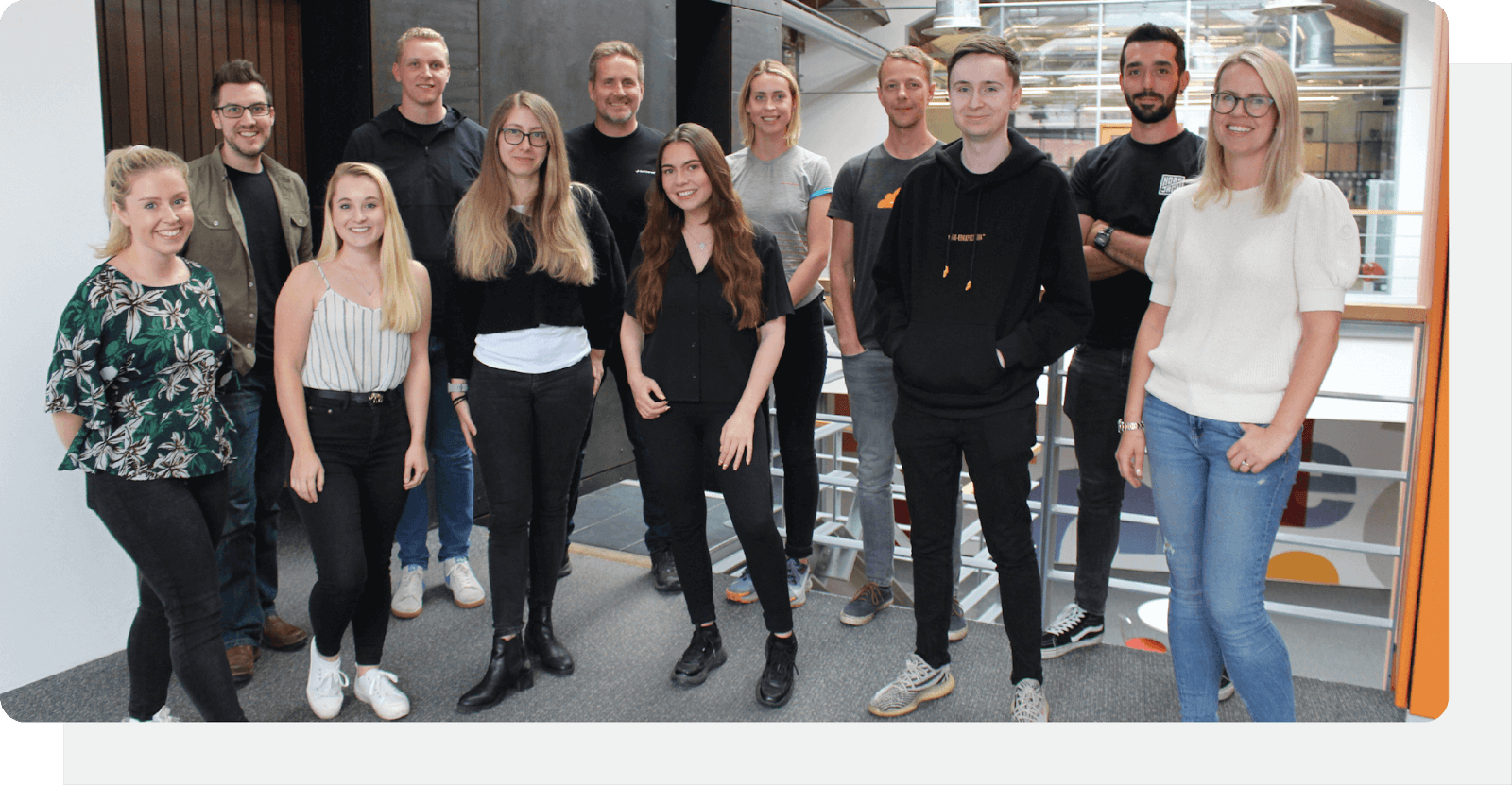 We were also named the winners of Global Ecommerce Software of the Year in the Global Ecommerce Awards. This was a huge recognition of the team's hard work over the last year. We are continuing to improve our platform to provide the very best next-generation website monitoring.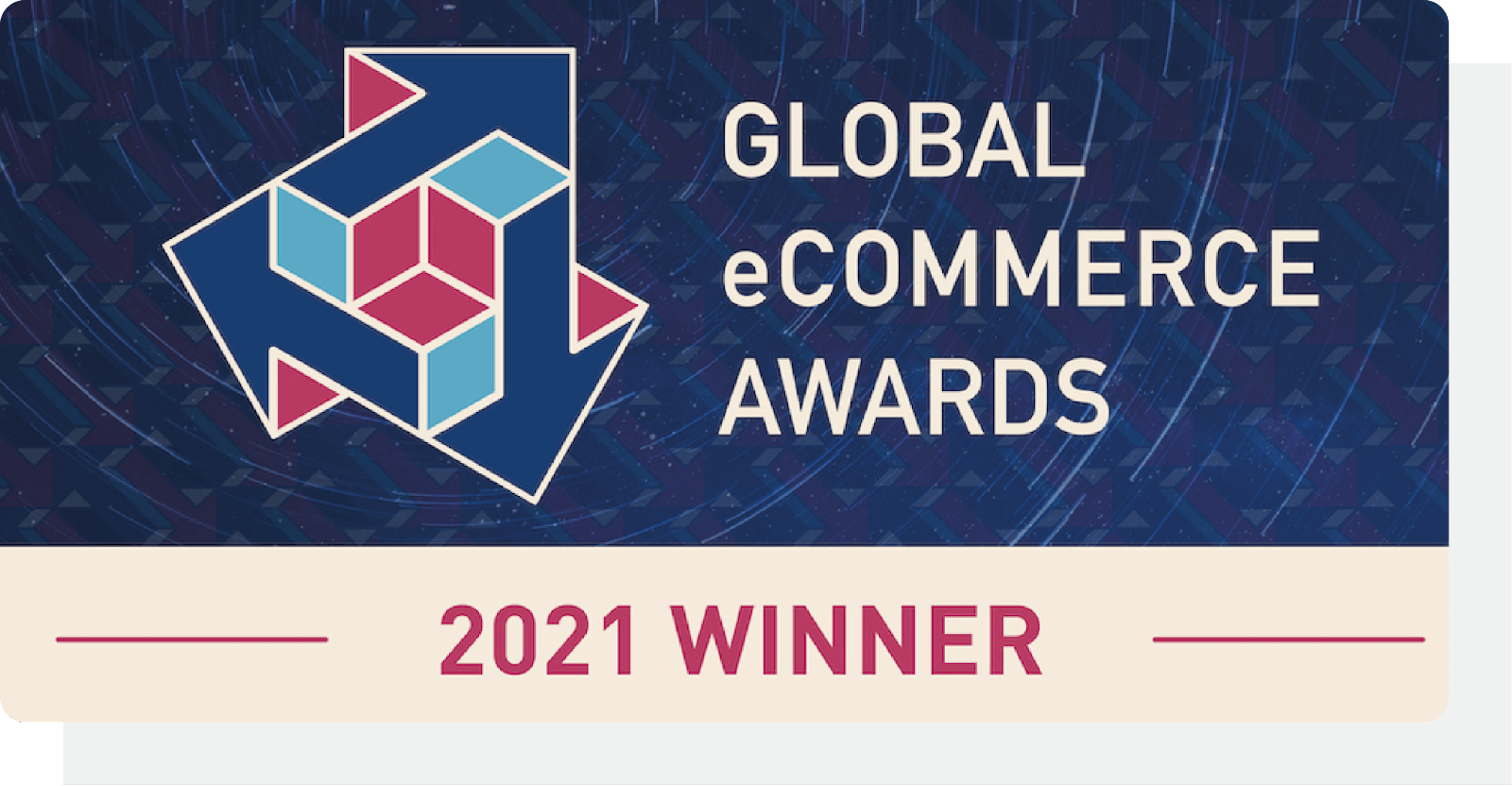 In the background our developers were also working hard to deliver a new Website Overview Dashboard that helps you view what is happening on your website at a glance. You can now view up to five pages at a time to quickly see issues across your site, and even add a new page directly from the dashboard. The dashboard allows you to toggle between the latest result and average views, and the data history setting ranges from 1 day to 18 months, so you can see how your website is performing over time.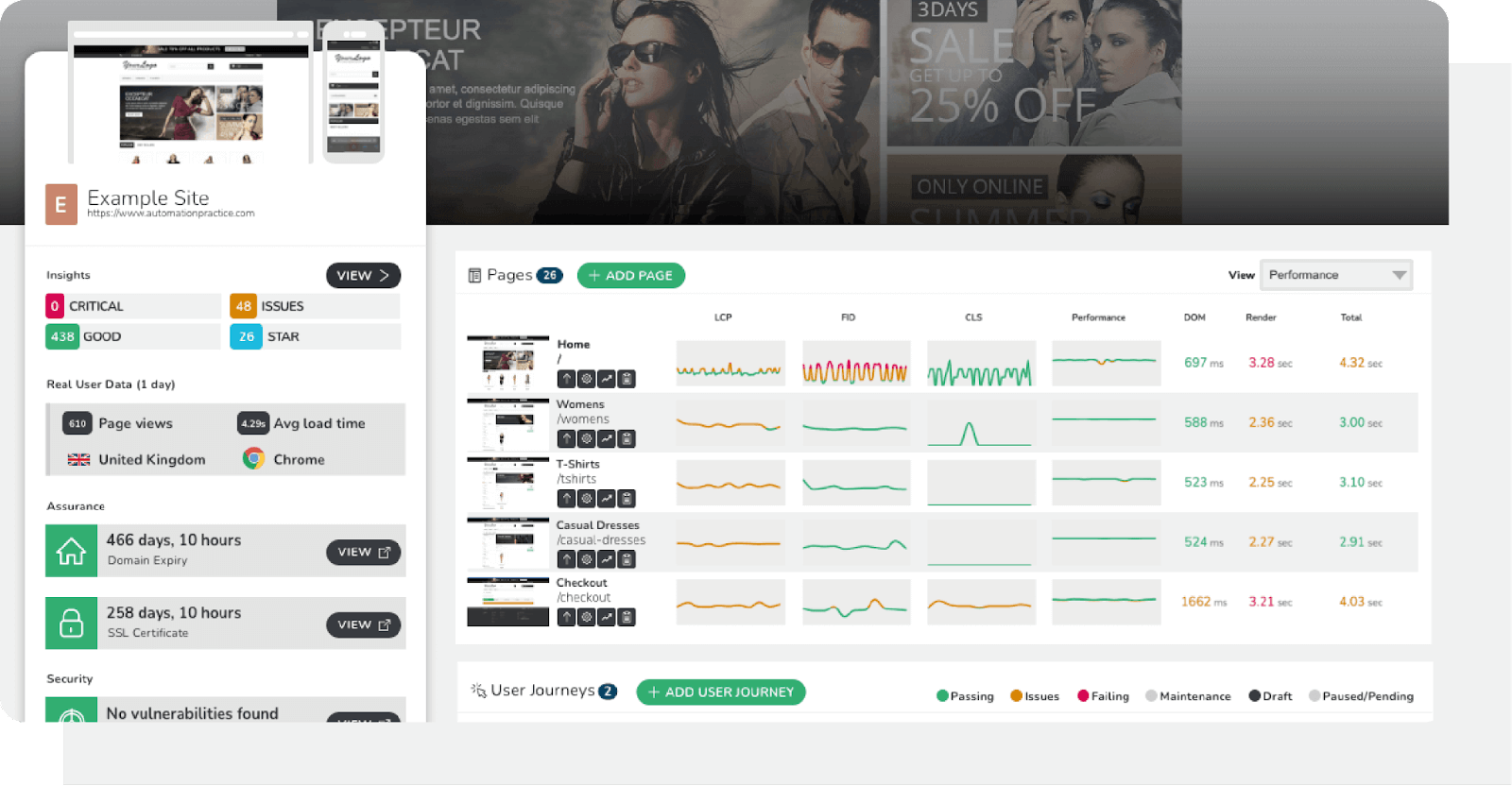 As well as the Overview Dashboard we also introduced two new Wallboards in September, the Web Vitals Wallboard and Google Lighthouse Wallboard! Wallboards are a great way to view all your monitoring data in a series of auto-refreshing wallboards designed for full-screen viewing.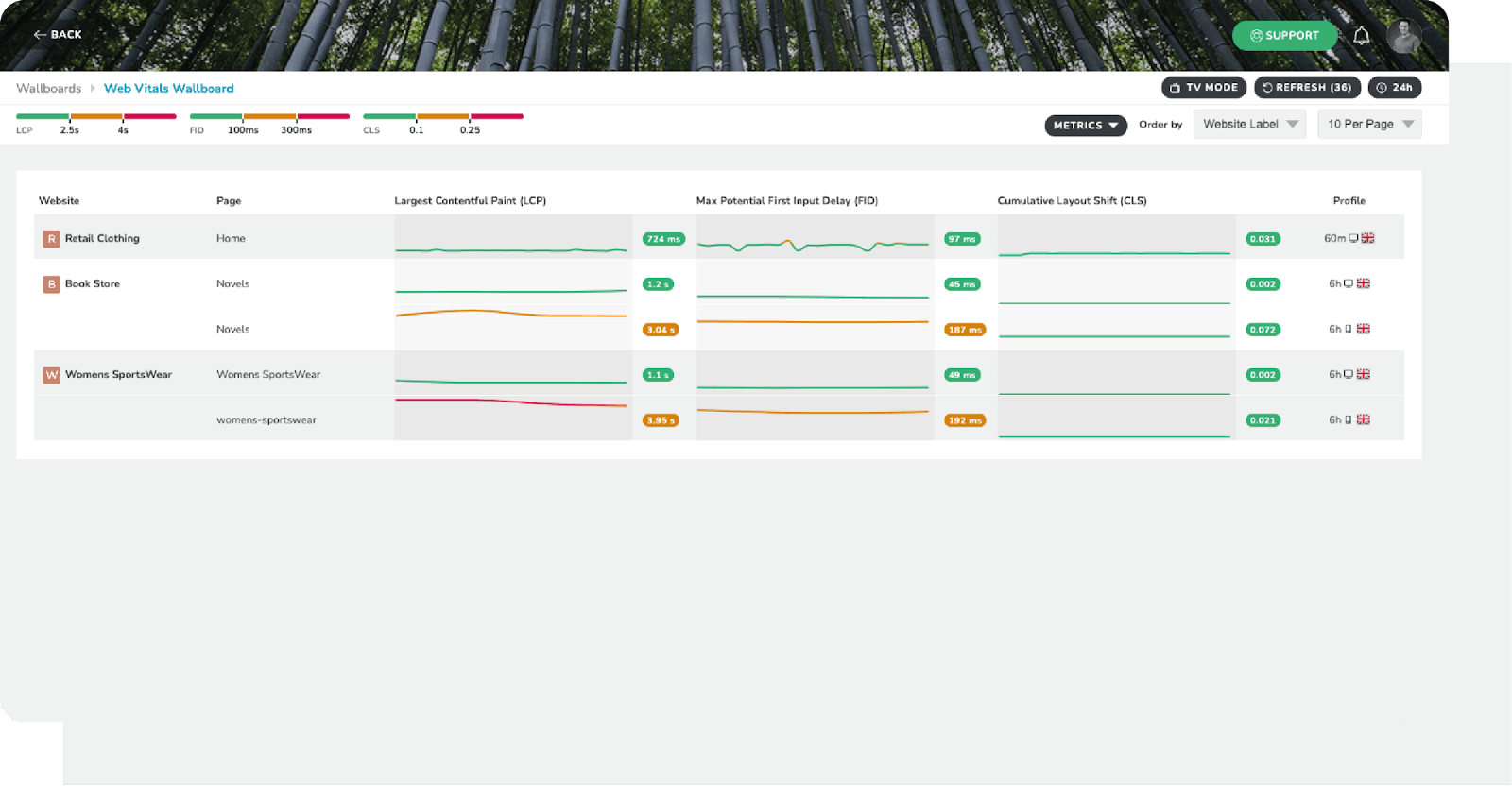 As well as improvements to the platform, to make using RapidSpike even easier for our clients, we also introduced the Help Center to our Knowledge Base. This gives you a way to browse and search the Knowledge Base, tutorials, view videos and more!
To end the month RapidSpike were delighted to be involved in 2021's Leeds Digital Festival, with our science themed event The Science Behind: Core Web Vitals. We teamed up with SEO experts from Rise at Seven, Enjoy Digital and Creative Race to explore Core Web Vitals. With recommendations from industry experts, delving into how Google has evolved to serve people the best results/experience over the years, and session segmentation with machine learning.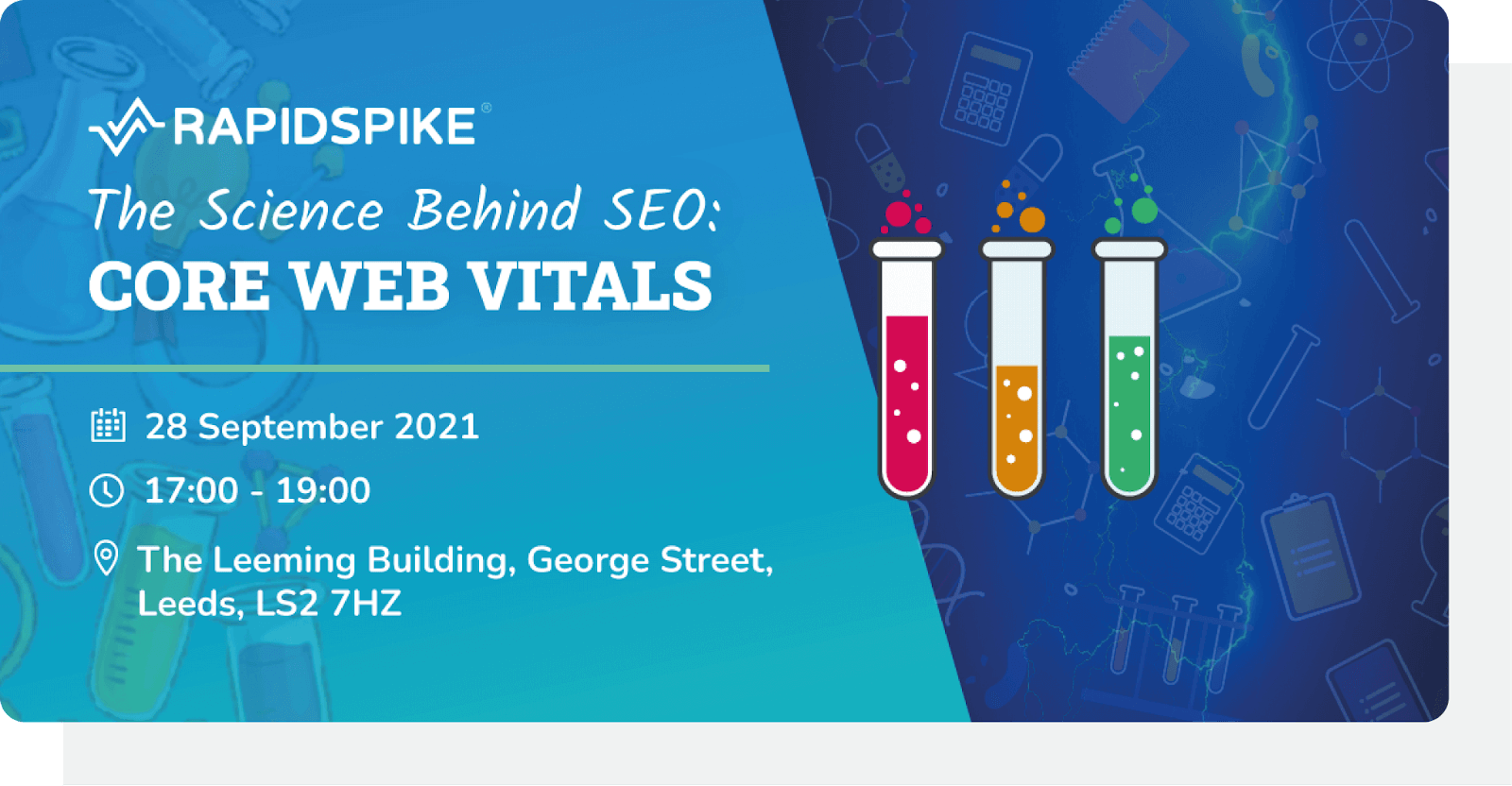 November
In November RapidSpike got involved in an exciting new project by powering a brand new company "The Web Vitals Index". This was a chance to use our expertise in website monitoring to help improve customer experiences, social impact and brand loyalty for the good of every online customer.
The Web Vitals Index looks at the critical aspects of websites, giving them a score, and ranks them amongst their competitors to help them understand where they stand in the world and what they must do to become number one.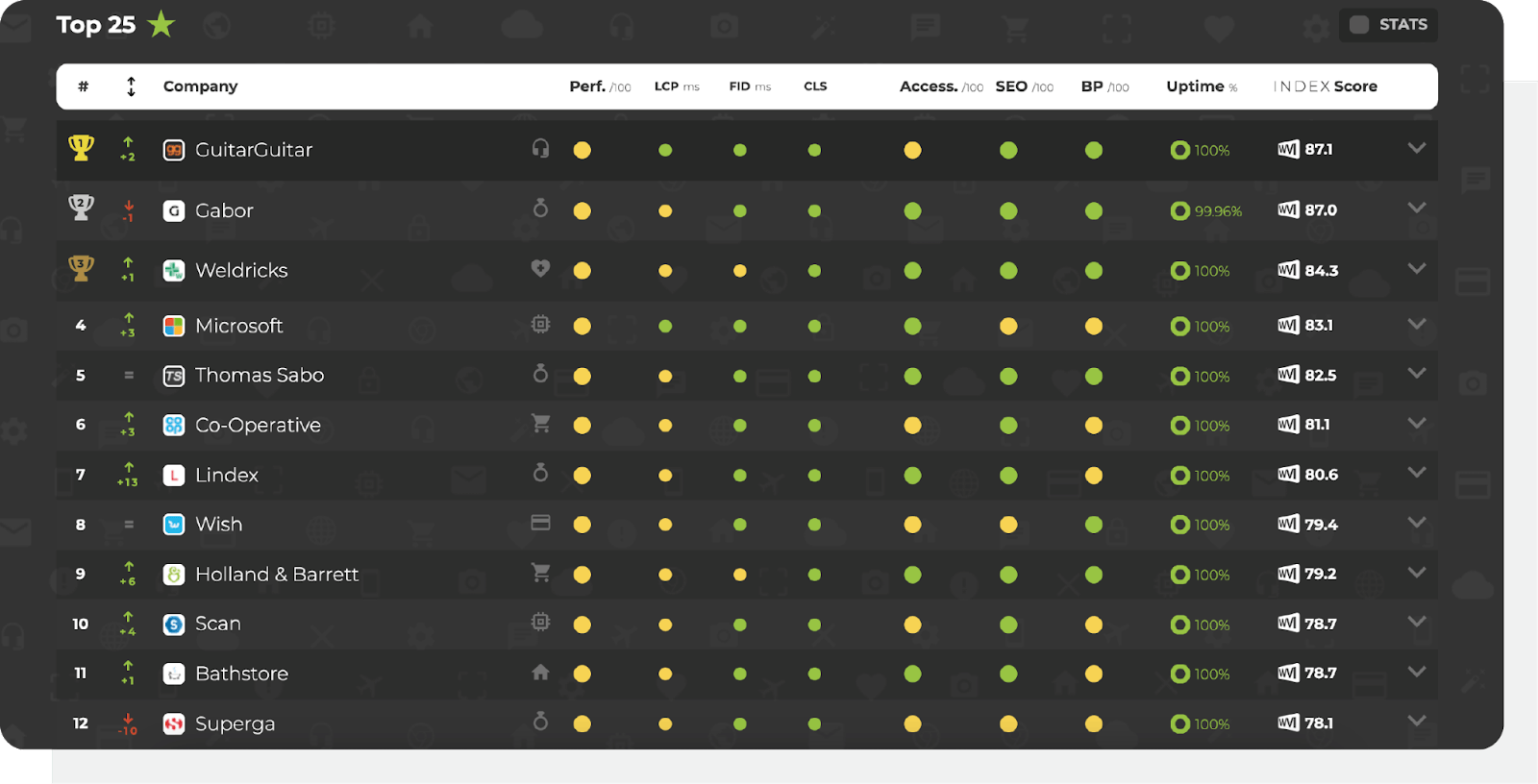 December
We managed to squeeze in a few more awesome feature deployments before the end of the year. Tagging allows users to group websites into different categories. Tagging is completely customisable and you can have as many tags as you'd like. Some useful tags may include website category, brands, campaigns and more! Wallboards and Reports can be filtered by specific tags so you can get the vital information you need – fast. Throughout the app you can now search and filter by tag as well as label or domain, helping teams work more efficiently.
In addition to Tagging, you can now 'Select All' when creating reports and maintenance windows, speeding up the time it takes to set things up, great for users with multiple websites.
To end the year we released our fourth annual low-budget Christmas video – check it out here!
Thank you for following along with our journey so far and from the whole team at RapidSpike, we wish you a very Merry Christmas and a Happy New Year!